The emerging technology – AR
Do you know AR is a growing trend that has high potential or just consider as it is a gimmick? This blog post will tell you more about it...
28 Mar 2018
2274 Views
Written by Beiyao Yang
Nowadays we are living in an innovation era, especially in digital space, where a new application or technology is introduced every week that has the potential of revolutionizing the world of brand experiences. 1 Particularly, unlike web 1.0, web 2.0 encourages participation, collaboration, and information sharing which facilitates interaction between people and companies and this allows people to interact more freely with others as well.2 Indeed, the emergence of social media plays an essential role in changing consumers' role towards companies that from a passive listener to a more active participant.2,3 Besides, there is a clear transformation that marketing power has rapidly shifted from the marketers to the consumers. 2,4 The customers are armed with amounts of information which allow them gaining strength and having greater control over the market/purchasing process. Thus, companies have started to focus more on the consumers and trying to be nimbler and more innovative, customizing experiences to satisfy customers needs, engage them in a completely new way to stay competitive.
At present, augmented reality (AR) is one of the most popular technologies used by companies to bring an exclusive experience to the customers. Though closely related, AR brings about an interactive experience which aims to supplement the real-world.5 It is about enhancing real-world experiences with a digital interface which uses digital technology to overlay information in video, text or image format onto everyday objects in the real-world. Smartphone, tablet or headset will be used while accessing AR. Indeed, many enterprises have started using this new technology, and it's not just in the entertainment and gaming industry but also in retail, automotive, healthcare, manufacturing, education, military and real estate.6 The future development trend of AR cannot be underestimated. According to Digi-Capital's AR/VR report 2017, mobile AR is expected to become the primary driver of $108 billion VR/AR market by 2021 (with AR standing the share of $83 billion and VR $25 billion).7
How do people perceive VR?
Although it's very cool to see and experience things from a brand new point of view, there's a somewhat limited scope. That is, the information and popularization of AR still stay in a preliminary stage where market resistance is relatively high, and people think it's a "fad" or "gimmick" or don't fully understands the value of what AR could bring. Therefore, from the current market situation, except the early adopters, many customers still need more time to accept it and use it.
In fact, it is a growing trend that has high potential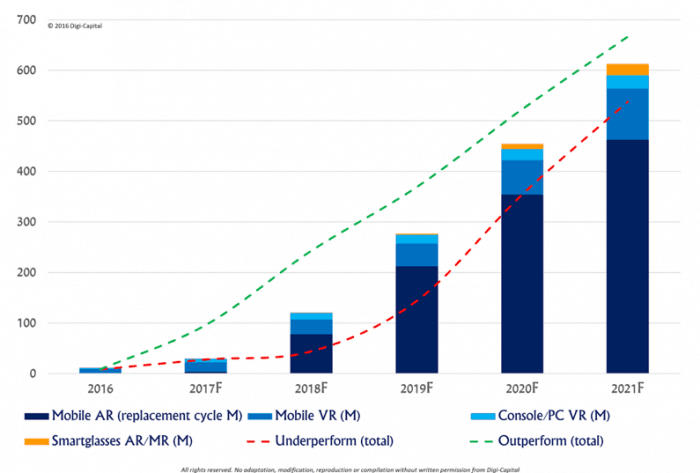 Image 1: VR/AR Installed Base (M)7
As mentioned before, the usage of AR is expected to expand significantly in the upcoming years. Especially, according to Digi-Capital's AR/VR report, the mobile AR feature is probably going to be the mainstream consumer platform which is estimated to generate $83 billion shares in the VR/AR market by 2021. 7 In fact, there are some impacts that AR has already made in the branded experience world. For instance, it increases empathy which results in a deeper, more authentic connection and emotional engagement with customers (e.g. some brands could make people experience life through another person's view by using AR).3,8,9 Moreover, it helps companies not only tell stories but also build the world that those stories are taken place in.
Since VR is quite new to the market and its potential has probably just been discovered at a surface level. The following section will demonstrate how companies apply and expand the use of AR technology to please their customers.
This is how VR works in brand experience
IKEA Place: AR furniture shopping
In 2017, IKEA collaborates with Apple and has introduced an AR app for iOS called "IKEA Place" to the market.10 This app may help people visualize their furniture in their home. More specifically, customers could actually get a real life 3D feeling of their home, virtually place IKEA products in their own home, and see how those products would fit by 1) opening up the IKEA app on the iPhone; 2) stepping into any of their rooms and using the phone's camera measuring the space around them; 3) scanning, browsing, selecting and placing an IKEA furniture item in front of them and 4) walking up to/walking around the item. 10 By doing so, they would be able to know how the product looks in their room, get a sense of the product size as well as see the materials and texture of the product.10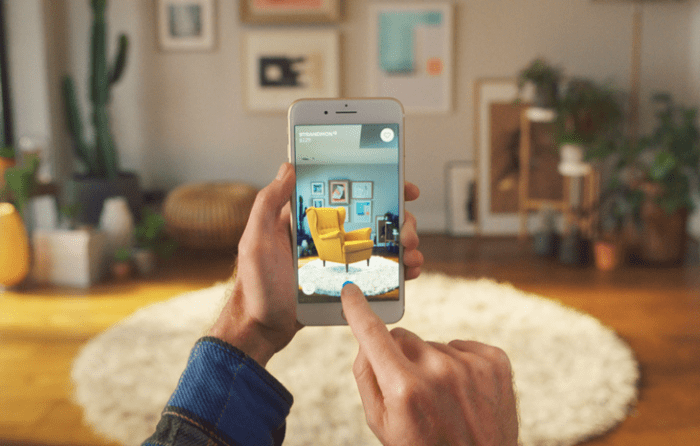 Image 2: IKEA's Place App for iOS Previews Furniture in Your Home11
TG mag extra: AR magazine
Top Gear Magazine (TG Mag) partnered with the UK Engine Creative agency and had become the world's first fully augmented magazine that transforms printed advertisement or publication into immersive 3D videos, commercials, adverts, and content for the readers through AR. 12 By pointing a smartphone device at the pages that carry the TG Mag Extra icon, a new and exciting reading experience could be unlocked and explored by them. Furthermore, research has shown that there are 50% of the TG Mag readers have used their smartphones accessing the magazine during the first two editions and 27% of the readership has engaged with the video content. 12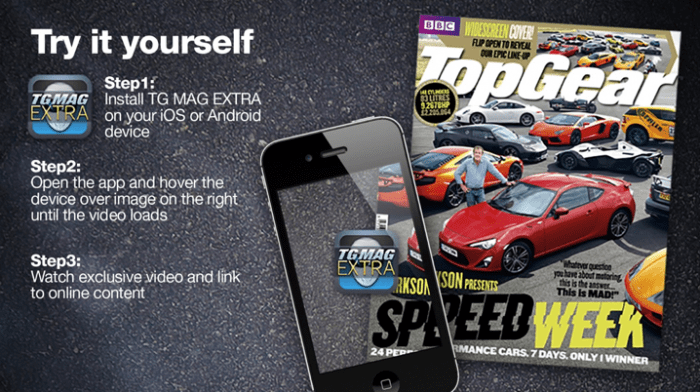 Image 3: TG Mag Extra Augmented Reality12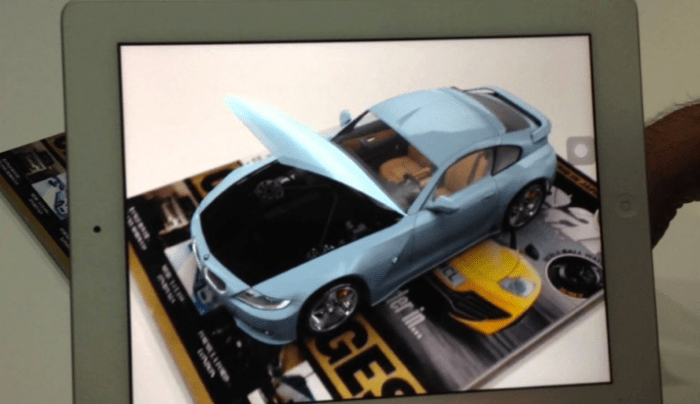 Image 4: TG Mag Extra Augmented Reality13
Starbucks: Cup Magic app for Valentine's Day
Starbucks launched an AR app on Valentine's day. The app works by pointing people's smartphone's camera at Starbucks Valentine's Day-themed cups. Then love-themed effects will appear. 14 Moreover, people could also interact with the characters. For instance, the boy on the sled will somersault if people tap him and the colorful flying message will be formed as a flower shape if people touch them. 14 The app was not really so functional as just a fun way to interact with the company's product, and people could possibly win an as-yet-unnamed prize for playing with all of the AR scenes. But the app did provide interactivity with customers and had developed its brand and enhanced its retail experience.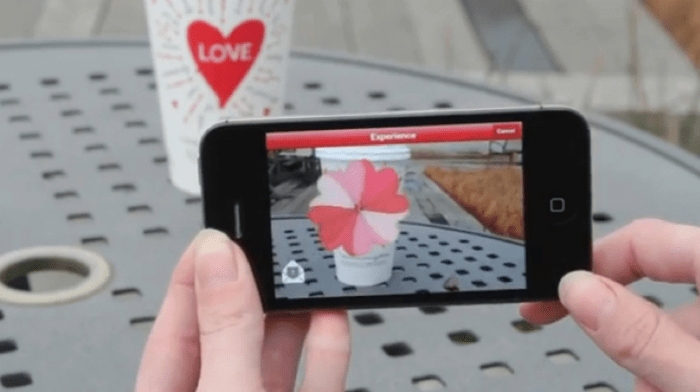 Image 5: Starbucks Cup Magic AR14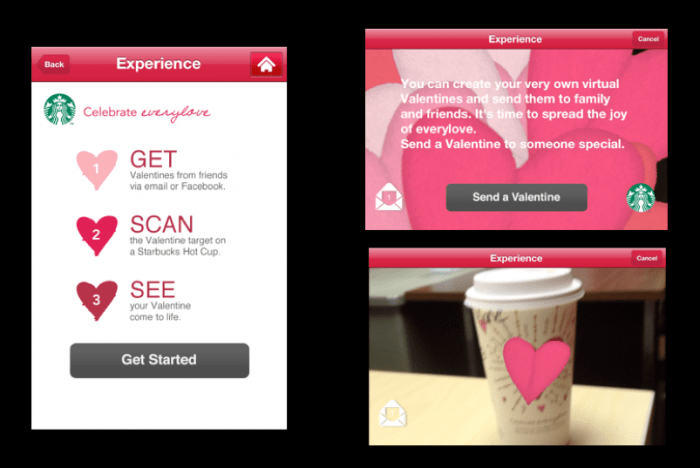 Image 6: Screenshots of Starbucks Cup Magic AR
AR City: AR Maps and Navigation (Beta)
AR City is a maps and navigation app developed by Apple that provides a visualization of walking routes in AR with 3D arrows for people. It could track user's movement as well as provide additional information about the places around the person such as street names, building names and local points of interest.15 For example, by using the camera to align the street hotel, then the name of the hotel, phone numbers and rating information will be displayed on the screen.15 This app allows travelers no longer feeling any disconnect while using the GPS and they don't need to always spin on the spot trying to work out which way the arrow is pointing.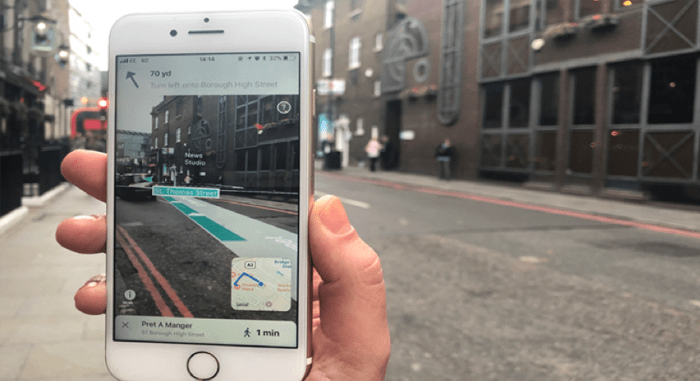 Image 7: AR City Used on the Street15

Image 8: AR City App Used on the Street15
Will it last?
As mentioned before, VR is not quite reaching the mainstream status yet. To make it become fully accepted which is still a challenge to be overcome. For example, many Android users have written reviews on Google Play complaining about the "IKEA Place" doesn't work well on their Android. In fact, it requires specialized hardware to experience the most accurate features of the app. Meanwhile, iOS users comment that it's a great idea launching AR app, but there is still a considerable gap between the IKEA AR app and their expectations. For instance, there is a problem with the screen out of focus, and the app has limited furniture which makes them feel disappointed.
I've also downloaded and experienced the IKEA AR app. I was impressed at the way the app works, and it made all the measurements and the home design became so much easier. However, I thought it was cool, but I still want to feel and try furnitures physically to make confident purchasing decisions. Moreover, it has limited furniture categories and it was very battery consuming. Although, customers have perceived VR as an "awesome technology" or "things that good to experience", there are still some obstacles that block VR growth in its tracks such as lack of quality experiences to download, use or stream the AR apps, etc.
What's next?
It is inevitable for any transformative technology to undergoing judgments and scrutiny, acquiring oppositions and supports during its development and growth period. As for AR, although it is still far away from where it needs to be, it is still a fast pace emerging technology that could help bringing brand new ideas and experiences to life in ways previously unimaginable and can also contribute to marketing activities. According to the current development trend with so many advantages and positive predictions of market growth, there's no doubt augmented reality is a robust platform that will eventually make a breakthrough. In this case, marketers should manage brands by keeping the brand performance alive, and consider how to actively expand and address the use of VR technology down the road in order to optimize brand experience as well as strengthen customer relationships.
References

1 Christodoulides, G., 'Branding in the Post-Internet Era', Marketing theory, vol. 9, no. 1, 2009, p.141-144.
2 Deighton, J., and Kornfeld, L., 'Interactivity's Unanticipated Consequences for Marketers and Marketing', Journal of Interactive Marketing, Chicago, vol. 23, no. 1, 2009, p.4-10.
3 Singh, S., and Sonnenburg, S., 'Brand Performances in Social Media', Journal of interactive marketing, vol. 26, no. 4, 2012 , p.189-197.
4 Labrecque, L. I. et al., 'Consumer Power: Evolution in the Digital Age', Journal of Interactive Marketing, vol. 27, no. 4, 2013, p.257-269.
5 Höllerer, T., and Feiner, S., Mobile Augmented Reality, Telegeoinformatics: Location-Based Computing and Services, Taylor and Francis Books Ltd., London, UK, 2004.
6 Close B., '8 Industries Benefitting from Augmented Reality', Light Guide System, [web blog], 27 July 2017, http://lightguidesys.com/blog/industries-benefitting-from-augmented-reality/, (Accessed 18 November 2017).
7 Digi-Capital, 'After Mixed Year, Mobile AR to Drive $108 Billion VR/AR Market by 2021', Digi-Capital, [web blog], January 2017, https://www.digi-capital.com/news/2017/01/after-mixed-year-mobile-ar-to-drive-108-billion-vrar-market-by-2021/#.Wg3wcbQ-dE5, (Accessed 16 November 2017).
8 Gensler, S., Völckner, F., Liu-Thompkins, Y., & Wiertz, C. (2013). Managing brands in the social media environment. Journal of Interactive Marketing, vol. 27, no.4, pp. 242-256.
9 Caffyn G., 'The Empathy Machine: Three Charities Going Immersive with VR', Digiday UK, [web blog], 14 June 2016, https://digiday.com/marketing/empathy-machine-three-charities-going-immersive-vr/, (Accessed 18 November 2017).
10 'Introducing IKEA Place', [online video], 2017, https://www.youtube.com/watch?v=-xxOvsyNseY, (accessed 16 November 2017).
11 IKEA Customer Service, 'Say Hej to IKEA Place', http://www.ikea.com/au/en/apps/IKEAPlace.html, 2017, (accessed 18 November 2017).
12 Engine Creative Agency, 'Unite Top Gear's Print Magazine with Their TV Content through Augmented Reality', https://www.enginecreative.co.uk/portfolio/tg-mag-extra-augmented-reality/, (accessed 16 November 2017).
13 Peyman K., 'Augmented Reality Technology New Mutation in Modern Word', https://www.linkedin.com/pulse/augmented-reality-technology-new-mutation-modern-word-peyman-karafsi/, 2015, (accessed 16 November 2017).
14 'Starbucks Cup Magic for Valentine's Day', [online video], 2012, https://www.youtube.com/watch?v=8nvqOzjq10w, (accessed 16 November 2017).
15 Blippar, 'Welcome to AR City: Beta of Augmented Reality Maps and Navigation', Digi-Capital, [web blog], 6 November 2017, https://blippar.com/en/resources/blog/2017/11/06/welcome-ar-city-future-maps-and-navigation/, (Accessed 17 November 2017).
Like this post? You'll find more marketing insights in my new book: International Brand Strategy: A guide to achieving global brand growth, now available from booksellers globally. Order your copy here.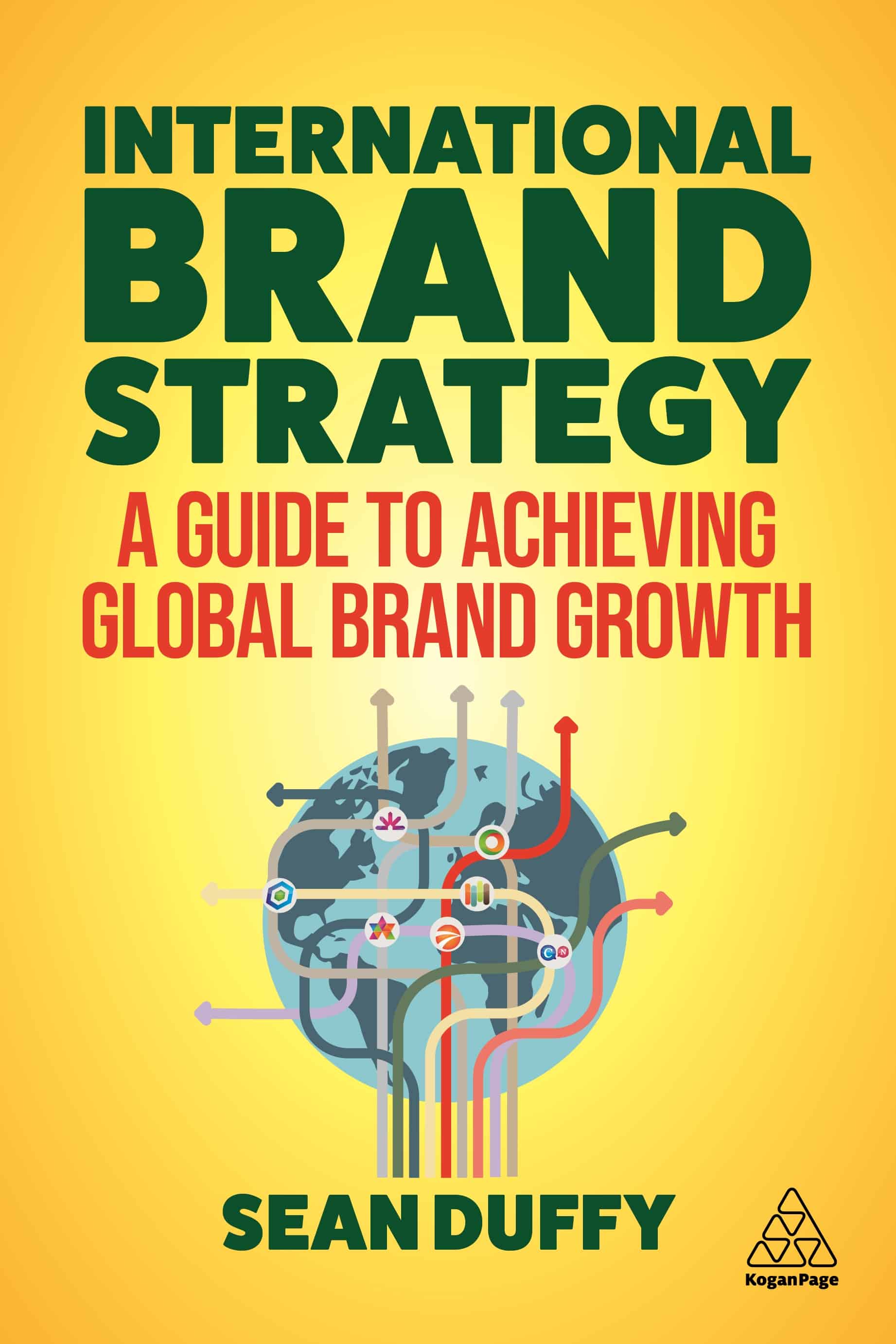 Order Your Copy
Students from the International Marketing and Brand Management program at Lund University are the contributing authors for the BrandBase blog.