Shoppable Instagram Posts
How product tags have successfully brought online shopping to Instagram...
12 Mar 2019
1990 Views
Written by Julia Ausserdorfer
With their latest feature, namely shoppable Instagram posts, the social media platform has managed to revolutionize online shopping. Only one tap on the post or the story leads users immediately to more information on the product and the price. Another click forwards users directly to a product page where the item can be shopped.
Surprisingly for many social media researchers, this tool has received positive feedback by consumers. As of April 2018, 90 million users click on one of the shoppable Instagram posts every month (Instagram for Business, 2018a). Until now, experts believed that brands should not use social media to sell but rather to listen to their audience. Moreover, social media users have perceived brands as disturbing in their digital social environment (Barwise & Meehan, 2010; Fournier & Avery, 2011).
Taking this information into account, how could Instagram be successful in launching their shoppable feed? Does the success of this tool suggest that consumers are now ready to welcome brands to their private parties in social media?
To answer this question, let's first take one step back.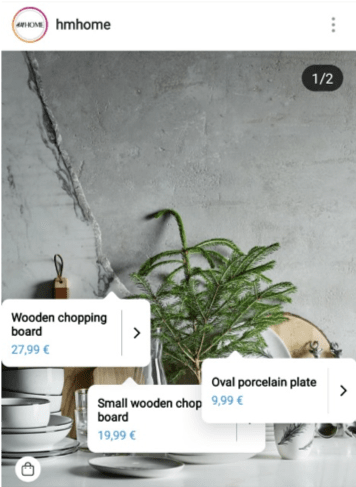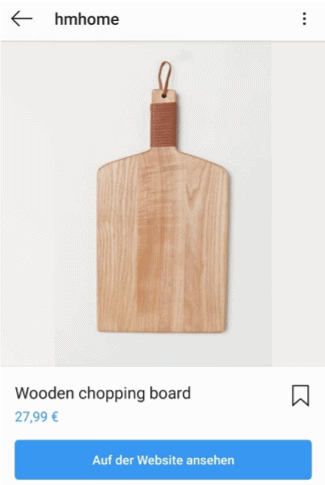 Shoppable Instagram posts by H&M
Shoppable Instagram posts shifting the landscape from brands crashing the social media party to brands standing on the guest list
With the evolution of the internet and the introduction of social media, consumers started to gain power. This has turned the digital landscape into a pinball game. Hence, communication is no longer one-sided. Consumers can now "bounce back" and actively communicate with both companies as well as their social environment (Hennig-Thurau, Hofacker & Bloching, 2013; Labrecque et al., 2013). Brands had to learn the hard way that social media was created for people, not for brands. Thus, sales attempts in social media have failed as consumers ignored brands' ads. At that time, consumers perceived brands as the uninvited party crashers in the Web 2.0 (Fournier & Avery, 2011). Instead, experts suggested that brands should use social media to gain insights that bring knowledge about customers, build trust and directly communicate with their target group (Barwise & Meehan, 2010).
According to that, the success of shoppable Instagram posts seems to be a mystery. Consequently, I ask myself what on earth has changed that consumers suddenly use social media as a shopping tool?
First of all, it is important to point out that even though sales attempts via social media have been mostly unsuccessful, there is potential for sales if done competently. Direct shopping features might remain ineffective. However, tools such as ratings and tags could indeed promote click-through to the retailer (Yadav et al., 2013). The social media platform has recognized this trend by implementing shoppable Instagram posts. Thus, companies now have an opportunity to tag their photos and stories in a way to generate sales traffic. Besides that, the question here is not how can retailers successfully implement social shopping? But rather what are the conditions allowing for that success?
Conditions favoring successful implementation of shoppable Instagram posts
In my view, users have accepted this social shopping tool since they use Instagram not mainly for the purpose of verbal communication. As a result, I would argue that, unlike Facebook or WhatsApp, Instagram is less of a social playground for users to (directly) communicate and interact with their network but rather for self-presentation and inspiration seeking. As I see it, users stay in touch with their social network by sharing their experiences in photos or videos and watching their friends do the same rather than by verbally communicating with them. Previous studies support that belief (Abbott et al., 2013). Instead of directly asking "What did you have for breakfast today?" users look at their friends' Instagram posts or stories which show their breakfast and then share their own meal. This form of visual communication replaces the more personal verbal communication for which other platforms have a competitive advantage.
Due to this visual communication, many users are on Instagram to seek inspiration from influencers, their friends and brands. This can be inspiration for their next lunch, outfit or holiday destination. Users compare themselves to others, envy the lifestyle presented on Instagram and want to imitate them (Meier & Schäfer, 2018). My theory is that once users find a source of inspiration, they immediately feel the urge for imitation. Therefore, Instagram users are more receptive to any information provided. This includes also the direct link to the company's online shop which shoppable Instagram posts promote. As a result, they might not perceive sales attempts on Instagram as disturbing as on other platforms.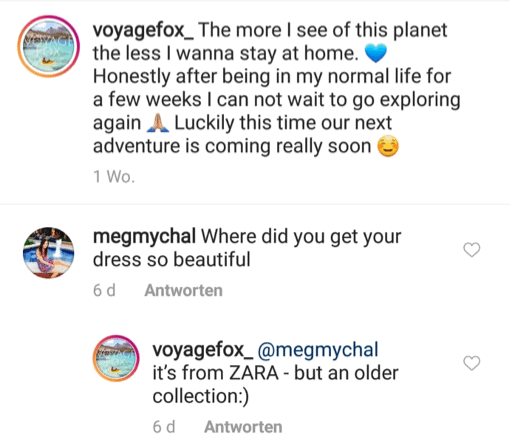 Example of users requesting information on Instagram indicating the need for shoppable Instagram posts
The recipe for success of shoppable Instagram posts
Before launching the product tag feature, users could only
indicate locations of where they took the photo
tag profiles in the photo or story
mention profiles in the comment section
or use hashtags
if they wanted to share e.g. where they got a specific outfit from. These hints provide additional information but fail to forward users directly to the site where the items could be purchased.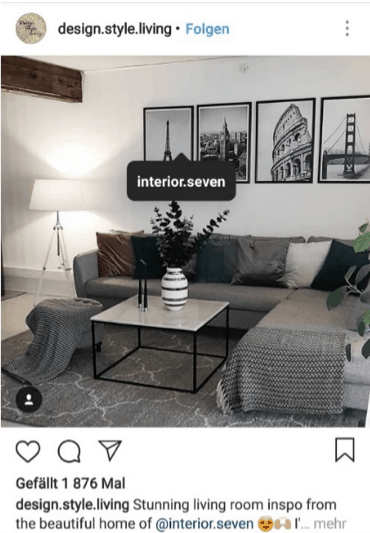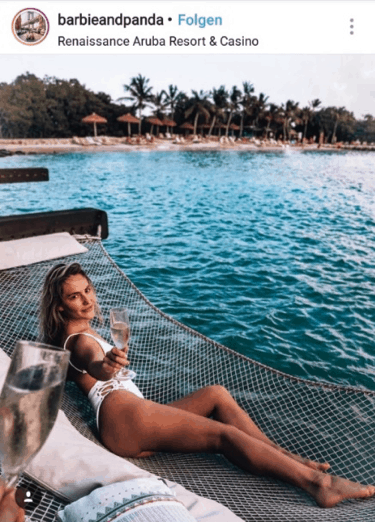 Examples of tagging and mentioning places and profiles – the pre-stage of shoppable Instagram posts
With consumers demanding simplicity in their online shopping experience, Instagram has done a brilliant job offering users exactly that. From discovery to checkout, users can complete their buying journey without ever having to leave the app. On the one hand, this makes online shopping much easier and less time consuming for customers. On the other hand, Instagram also gives brands a tool to generate sales through the platform. The success has proven them right. Every month 90 million accounts tap on one of the shoppable Instagram posts. Also companies are enthusiastic and share their success stories. One marketing manager for example states that their traffic from Instagram has increased by 44% since implementing the shopping tool. Companies now also plan their content in great detail to make as much use as possible of the shoppable Instagram posts, creating posts in which every item is available for purchase (Instagram for Business, 2018b).
Due to the positive feedback received for that tool, Instagram is currently also testing other shopping features such as a topic channel for shopping in Explore. These display shoppable Instagram posts from a variety of businesses that the user may like based on each user's specific shopping interests (Instagram for Business, 2018c).
And in the end, everybody lived happily ever after?
Even though with 1.500 million users Instagram is currently "only" the third most used social media platform in the world, I reckon that this will change in the future (Statista, 2018). In my perception, one of the reasons why the social network will experience considerable growth in the coming years is the implementation of shoppable Instagram posts. The reason is that this tool offers benefits for both companies and consumers which other platforms don't offer. And even if they did, consumers might not be as receptive for them as on Instagram.
However, I believe that the downside of shoppable Instagram posts is that brands with less followers will suffer. As the power law suggests, the biggest (in terms of followers) are getting even bigger. With the introduction of the product tag tool, this means that those brands with a lot of followers will experience an unproportioned increase in sales compared to those with a lower follower base. Consequently, it will be even harder for them to survive in a landscape in which big corporations are dominant (Van Dijk, 2012).
Shoppable Instagram posts in a nutshell
To conclude, the success of shoppable Instagram posts has illustrated that social media indeed represents a channel to sell and not just to listen if done competently. Nevertheless, I would argue that Instagram distinguishes itself from other platforms. Mainly because people don't use the platform for the purpose of direct, verbal communication, but for self-presentation and inspiration seeking. Therefore, I believe that the recipe for success cannot be copied and pasted to any platform. For example on Facebook users might perceive sales attempts as disturbing.
Considering that consumers are receptive to that tool and companies are satisfied with the success it brings, I believe that Instagram will be of increasing importance in the social media landscape. It might eventually even overtake platforms which currently have a higher user base. Speaking in the metaphor of the introduction: consumers might not see brands as uninvited guests anymore but they apparently only welcome them to their Instagram party.
Unfortunately, this tool will not only bring benefits, but also disadvantages especially for brands with few followers. Since shoppable Instagram posts might mainly contribute to the sales increase of companies with a higher number of followers.
Nevertheless, shoppable Instagram posts create value for the user in my opinion. Thus, I am excited to see how Instagram will develop as an online retail channel over the next years.
For more updates on that topic, follow me on LinkedIn.
References:
Abbott, W., Donaghey, J., Hare, J. and Hopkins, P. (2013). An Instagram is worth a thousand words: an industry panel and audience Q&A. Library Hi Tech News, [online] 30(7), pp.1-6. Available at: https://www.emeraldinsight.com/doi/full/10.1108/LHTN-08-2013-0047 [Accessed 24 Nov. 2018].
Barwise, P. and Meehan, S. (2010). The One Thing You Must Get Right When Building a Brand. Harvard Business Review, pp.1-5.
Fournier, S. and Avery, J. (2011). The uninvited brand. Business Horizons, [online] 54(3), pp.193-207. Available at: https://doi.org/10.1016/j.bushor.2011.01.001 [Accessed 22 Nov. 2018].
Hennig-Thurau, T., Hofacker, C. and Bloching, B. (2013). Marketing the Pinball Way: Understanding How Social Media Change the Generation of Value for Consumers and Companies. Journal of Interactive Marketing, 27(4), pp.237-241. Available at: https://www.researchgate.net/publication/259143423_Marketing_the_Pinball_Way_Understanding_How_Social_Media_Change_the_Generation_of_Value_for_Consumers_and_Companies [Accessed 22 Nov. 2018].
Instagram for Business. (2018a). Verkaufe deine Produkte online mit Shopping auf Instagram. [online] Available at: https://business.instagram.com/a/shopping-on-instagram?locale=de_DE [Accessed 22 Nov. 2018].
Instagram for Business. (2018b). Bringing shopping on Instagram to more countries. [online] Available at: https://business.instagram.com/blog/shopping-on-instagram-goes-global/ [Accessed 24 Nov. 2018].
Instagram for Business. (2018c). Announcing shopping in Instagram Stories and Explore. [online] Available at: https://business.instagram.com/blog/announcing-shopping-in-instagram-stories-and-explore/ [Accessed 24 Nov. 2018].
Labrecque, L., von dem Esche, J., Mathwick, C., Novak, T. and Charles F., H. (2013). Consumer Power: Evolution in the Digital Age. Journal of Interactive Marketing, [online] 27(4), pp.257-269. Available at: https://doi.org/10.1016/j.intmar.2013.09.002 [Accessed 24 Nov. 2018].
Meier, A. and Schäfer, S. (2018). The Positive Side of Social Comparison on Social Network Sites: How Envy Can Drive Inspiration on Instagram. Cyberpsychology, Behavior, and Social Networking, 21(7), pp.411-417. Available at: https://doi.org/10.1089/cyber.2017.0708 [Accessed 24 Nov. 2018].
Statista. (2018). Most famous social network sites worldwide as of October 2018, ranked by number of active users (in millions). Available at: https://www.statista.com/statistics/272014/global-social-networks-ranked-by-number-of-users/ [Accessed 24 Nov. 2018].
Van Dijk, J. (2012). Network Society. London: SAGE Publications.
Yadav, M., de Valck, K., Hennig-Thurau, T., Hoffman, D. and Spann, M. (2013). Social Commerce: A Contingency Framework for Assessing Marketing Potential. Journal of Interactive Marketing, [online] 27(4), pp.311-323. Available at: https://ac.els-cdn.com/S1094996813000364/1-s2.0-S1094996813000364-main.pdf?_tid=77f09812-ca0b-4955-9f7f-4fb6bda00778&acdnat=1542899976_edb96e39a532b23286510d98fe59cedd [Accessed 22 Nov. 2018].
Like this post? You'll find more marketing insights in my new book: International Brand Strategy: A guide to achieving global brand growth, now available from booksellers globally. Order your copy here.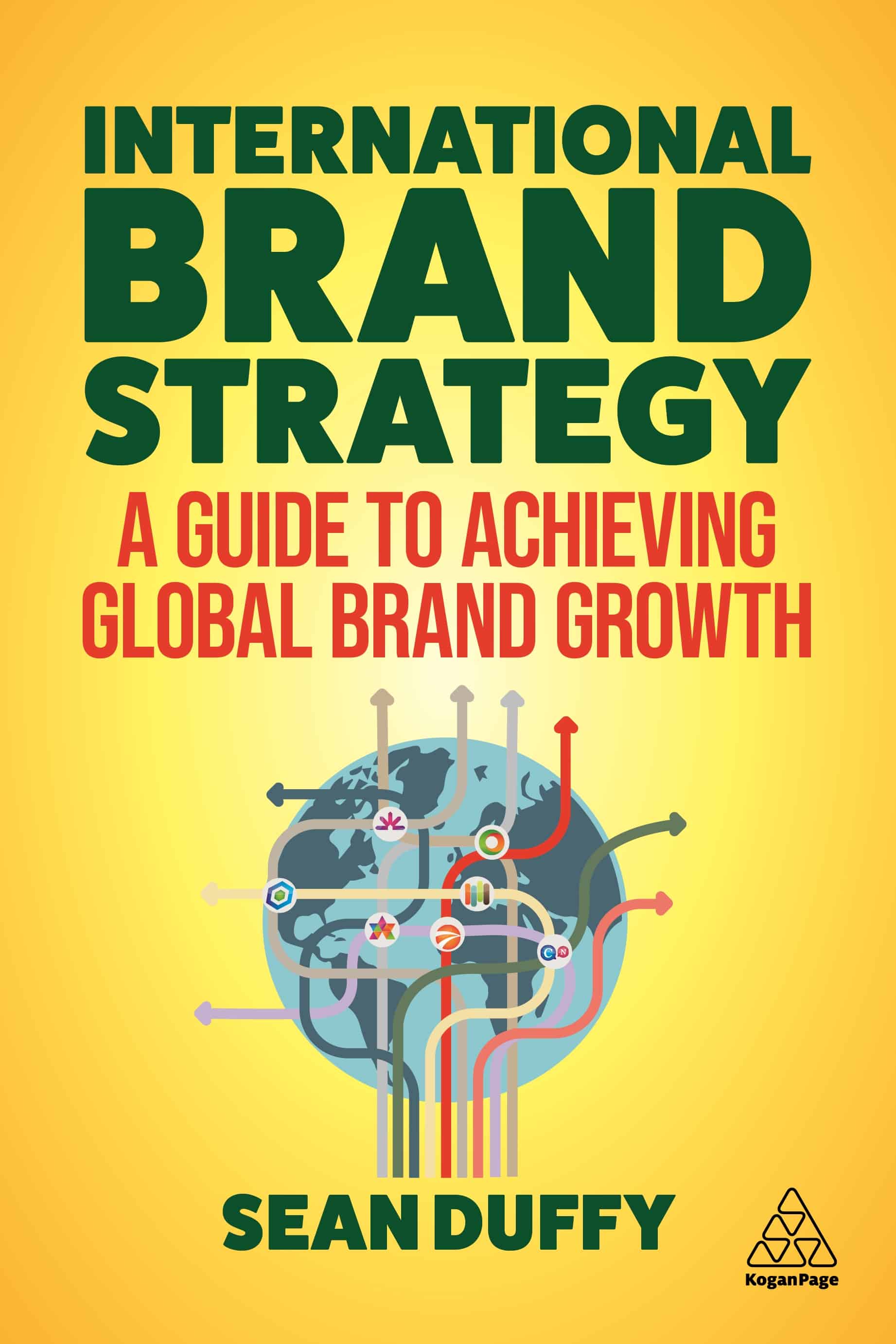 Order Your Copy
Students from the International Marketing and Brand Management program at Lund University are the contributing authors for the BrandBase blog.