Say Halo to Instagram: The Story of a New Generation
With more than 300 million active users, Instagram Stories gains in importance, but what does that mean for brand managers?...
31 Jan 2018
3540 Views
Written by Fiona Frevel

Source: pexepls.com
Why social media marketing is more relevant than ever
A new age has come: generation z is passing the border to become grown-ups, earn their own money and therefore become increasingly relevant for many companies. But since they grew up with the internet and with social media, they handle it differently and have new usage preferences, resulting in challenging times for marketers. But don't worry, with the help of some basic psychological knowledge about heuristics – simple rules for daily judgements – you can improve the impact of your social media activities.
The key is: find out how to make the most of it
First of all, it is important to admit that with social media, consumers have more power than ever[1]. Therefore, it is even more important to understand the new behavioral habits and how to handle them. A study of college and high school students in the US found important insights about the usage patterns of social media[2]:
Generation z spends up to 11 hours per day in front of a screen and uses social media to stay permanently in contact with friends
Instagram is more relevant than Facebook: 76% of respondents (compared to 66%) said they use Instagram on a daily basis
Moreover, Instagram became even hotter since the introduction of Instagram Stories in August 2016. And of course, marketing experts should know exactly how and when and where to use it. The feature is quite similar to Snapchat Stories and its key idea of a temporal availability of content, since the picture or video in a Story disappears after 24 hours[3]. And the users like it: the number of active users of Instagram Stories doubled since the beginning of this year up to 300 million daily users in October, and on the way up Instagram Stories overtook the number of Snapchat users in passing.
The concept of ephemeral content is here of high importance: users can share pictures that are more imperfect, less relevant and even less flattering because the pictures' availability is temporal and will last only 24 hours. As a result, platforms for ephemeral content like Snapchat and Instagram Stories allow for a faster and more uncomplicated way of communication.
Thus, smart marketers should be aware of the importance of more than 800 million active Instagram users and the rising relevance of the ephemeral content of Instagram Stories, especially for generation z. Very smart marketers should even ask themselves: Why not addressing the huge number of potential customers more effectively?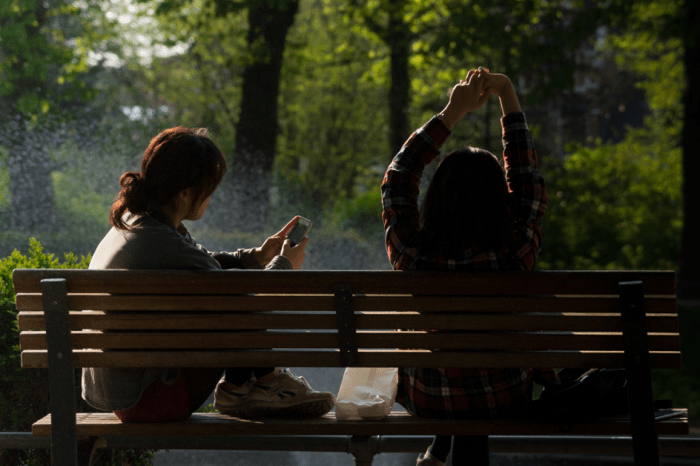 Source: pexels.com
How to make the most of it: understand the consumers
To take advantage of the development in social media, it is of high importance to understand the customers' point of view. And here, a key insight gains in relevance.
A general problem in social media marketing is that its purpose to connect people and make fast and easy communication possible doesn't really fit to the marketing perspective. As the two researchers Susan Fournier and Jill Avery point out, social media was originally made for people, not for marketing activities and brands[4]. They state that companies shouldn't use social media to promote products, but rather to:
Actively listen to consumers
Be transparent
Don't hide secrets
Furthermore, Fournier and Avery state that it is increasingly relevant to accept that brands shouldn't use social media to target consumers, but that consumers use social media to target brands. And even though this might look like a paradox, it opens a lot of opportunities to brands.
A bright new world
Generation z favors more brand interaction in social media, especially with brands that post relevant and fun content and brands that seem to understand them as individuals[5]. The two most followed brands on Instagram, National Geographic with more than 83 million followers[6] and the sports brand Nike with more than 75 million followers[7], satisfy these requirements: both focus on promoting a certain lifestyle instead of just promoting their products. While National Geographic uses Instagram to post engaging pictures with story-telling descriptions about the background of the photos, Nike shows motivational and inspirational pictures of athletes and 'normal' people. In the case of National Geographic, its open-minded and economic responsible identity is shown, whereas Nike underlines its overall mission to "bring inspiration and innovation to every athlete in the world"[8].
Both cases show that a key strategy for brands on Instagram is to create the image of a certain lifestyle instead of promoting its products in the sense of classic advertisings.
And at this point, heuristics enter the game.
The Halo-Effect in Social Media
People use heuristics- general rules of thumb- to make fast and uncomplicated daily decisions and judgements: heuristics make life easier and can often help to find reasonable solutions to daily challenges[9]. The knowledge about heuristics can help to understand consumer behavior patterns and to communicate with consumers, and this is certainly also true for social media.
With regard to social media, one particular heuristic is of relevance: the Halo-Effect. The psychologist Edward Thorndike first showed the Halo-Effect[10]  and, I am sure, even you know it from your daily life.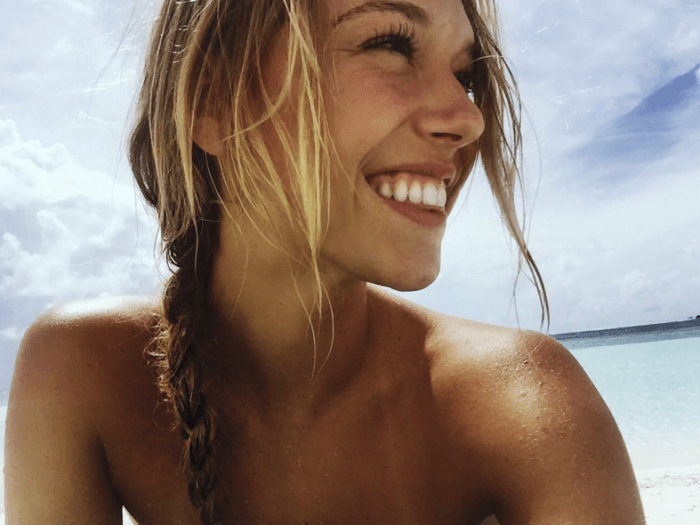 Source: alexisrenupdate.tumblr.com
Imagine you scroll through Instagram and stumble upon an interesting account of a young women. She might be very attractive, have a lot of followers and post pictures of her latest vacations from all over the world. Would you think she has a pleasant life with close friends, a nice family and maybe a loving significant other by her side? Do you think she might be funny and that it is pleasurable to be around her? Most people, without considering it thoroughly, would answer 'yes' to questions like these.
But why?
According to the Halo-Effect, people assume that attractive persons are nice, smart and in general terms, just wonderful people. Moreover, Thorndike explains that due to the Halo-Effect, a first perceived feature colors the perception and rating of an individual as a whole[11]. Therefore, "an image produced by Halo looks like a real image and may function like one"[12].
And what does that mean for a brands' Instagram profile?
The initial impressions of positive aspects of an Instagram profile count. A first glimpse of an Instagram profile might for example show:
Pictures that promote an attractive lifestyle
A high number of followers
And with the Halo-Effect, this can lead to a positive bias: if this first impression is positive, the overall profile, and the brand behind the profile, has to be cool and interesting too. On top, not just posting a picture, but also using Instagram Stories is a way to create this impression most efficiently, since it feels more authentic to consumers and is an essential part of their everyday casual communication.
In accordance with this, a recent study points out the relevance of authentic pictures at Instagram by showing that consumers prefer authentic photos that look more like snapshots[13].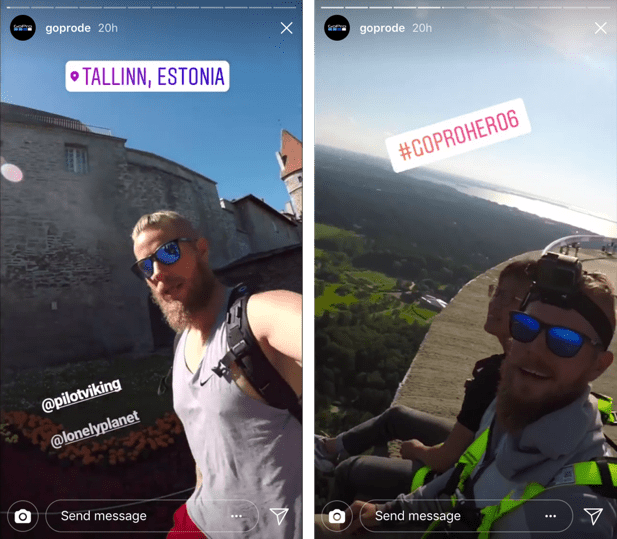 GoPro Germany Instagram Story (23 November 2017)
And that is exactly what GoPro does: the company posts Stories of trips around the world and shows a fascinating lifestyle of traveling, exploring other cultures and having fun. And the halo of this first impression lights up the whole brand: consumers might assume that the brand must be overall fantastic and produce great products that support this lifestyle. Furthermore, the fact that GoPro has more than 13 million followers lets the brand shine brighter in the broad landscape of Instagram profiles, because certainly, with this huge number of followers, the brand must be quite relevant.
Happily ever after?
So overall, if a brand takes advantage of the knowledge about the Halo-Effect in its Instagram strategy, there are many ways to benefit. Therefore, brands should keep in mind:
Promote a lifestyle rather than specific products
Remember: the first impression counts!
Consumers want to communicate, so join the conversation
Be aware of the rising importance of ephemeral content: use it for image creation and a faster, more authentic and less perfect way of communication
Because in the end, "Instagram has always been a place to share the moments you want to remember. Now you can share your highlights and everything in between, too"[14]. So adjust your halo, hold it a bit higher and shine as bright as you can.
Reference
[1] Labrecque, L.I., vor dem Esche, J., Mathwick, C., Novak, T.P., & Hofacker, C.F. (2013) Consumer Power: Evolution in the digital age. Journal of Interactive Marketing, vol. 27, pp. 257-269
[2] SGC (2017). SURVEY: Snapchat, Instagram, Facebook in dead heat for student use. SGC- Advertising & Public Relations, Available Online: https://ss-usa.s3.amazonaws.com/c/308459428/media/ 58ed36a9d997f/SNAPCHAT%20SOCIAL%20WHITE%20PAGES%20version%202%20rev3.pdf?utm_medium=email&utm_source=sharpspring&sslid=MzW1sDSxNDA2tDS2BAA&sseid=MzExN7G0MDIxBgA&jobid=8c9ff63b-88fb-42d8-a0e9-a18ca6 [Accessed 23 November 2017]
[3] Instagram (2016). Introducing Instagram Stories. Available Online: http://blog.instagram.com/post/148348940287/160802-stories [Accessed 23 November 2017]
[4] Fournier, S. & Avery, J. (2011). The Uninvited Brand. Business Horizons, vol. 54, pp. 193-207
[5] Salpini, C. (2017). Study: Gen Z seeks more brand interaction. Retail Drive, Available Online: https://www.retaildive.com/news/study-gen-z-seeks-more-brand-interaction/448378/ [Accessed 23 November 2017]
[6] National Geographic (2017). Instagram Profile. Available Online: https://www.instagram.com/natgeo/ [Accessed 23 November 2017]
[7] Nike (2017). Instagram Profile. Available Online: https://www.instagram.com/nike/?hl=en  [Accessed 23 November 2017]
[8] Nike (2017). About Nike. Available Online: https://about.nike.com [Accessed 23 November 2017]
[9] Hoyer, W., Pieters, R., & MacInnis, D. (2013). Consumer behavior (Sixth edition). Mason, OH: South-Western Cengage Learning
[10] Thorndike, E.L. (1920). A constant error in psychological rating. Journal of Applied Psychology, vol. 4, no. 1, pp. 25-29
[11] Thorndike, E.L. (1920). A constant error in psychological rating. Journal of Applied Psychology, vol. 4, no. 1, pp. 25-29
[12] Reynolds, W.H. (1965). The role of the consumer in image building. California Management Review, vol. 7, no. 3, pp. 69-76
[13] Colliander, J. & Marder, B. (2018). 'Snap Happy' Brands: Increasing publicity effectiveness through a snapshot aesthetic when marketing a brand on Instagram. Computers in Human Behavior, vol. 78, pp. 34-43
[14] Instagram (2016). Introducing Instagram Stories. Available Online: http://blog.instagram.com/post/148348940287/160802-stories [Accessed 23 November 2017]
Like this post? You'll find more marketing insights in my new book: International Brand Strategy: A guide to achieving global brand growth, now available from booksellers globally. Order your copy here.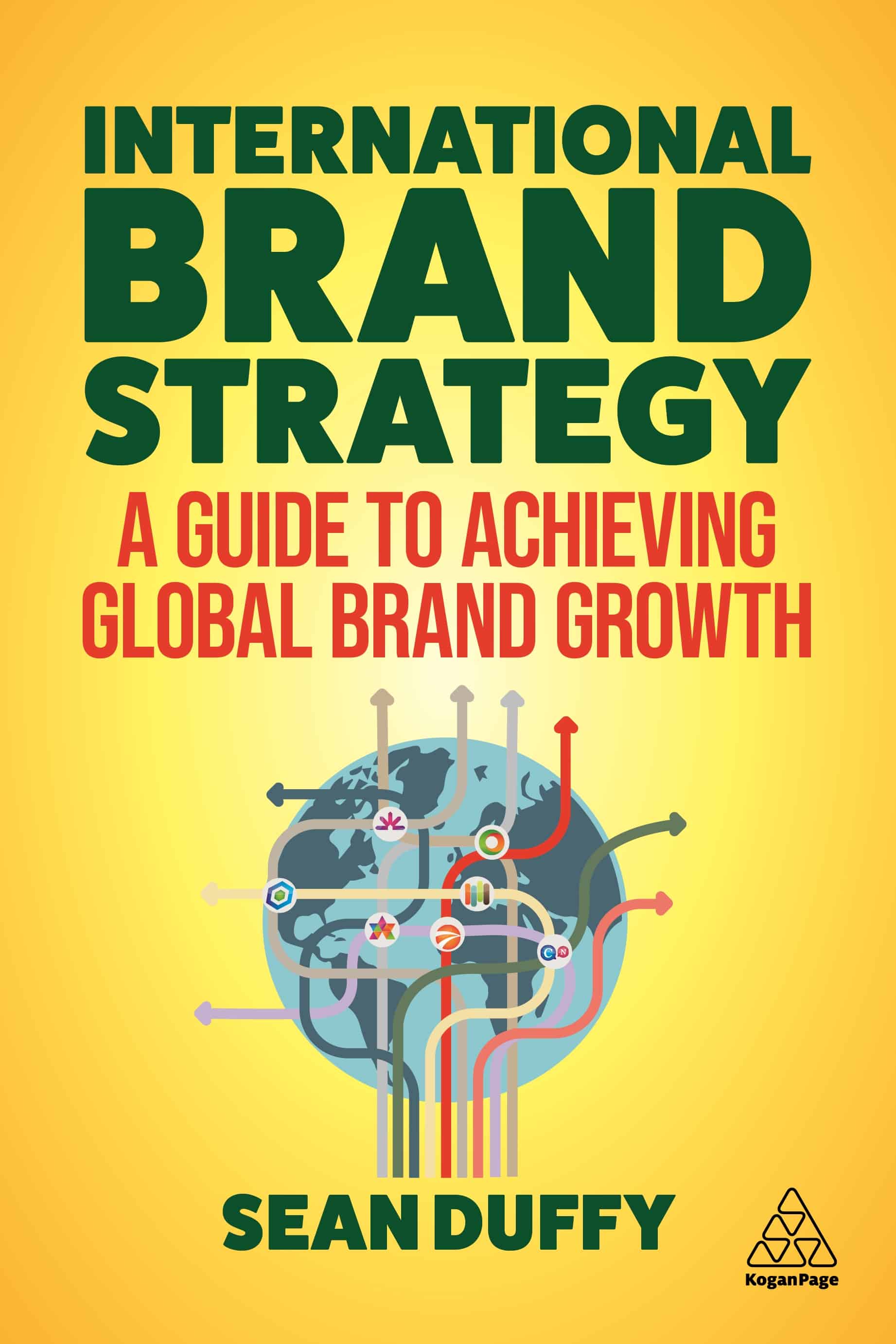 Order Your Copy
Students from the International Marketing and Brand Management program at Lund University are the contributing authors for the BrandBase blog.