Not tell a story, make it together: 3 main components of effective 'storymaking'
When it comes to storytelling everybody has an agenda, but who knows storymaking? Now, it is time to make stories together...
5 Feb 2020
2564 Views
Written by Orkun Aydin
People love to talk about their experiences with brands and products, and those experiences are crucial for brands to build their stories. Thanks to digital age it is much easier to amplify those thoughts and to reach a wider audience than previously. In the recent ecosystem, consumers with high power of visibility in social media demand authenticity and role of creating the experience from the brand. This co-creation process introduces us different terminology: Storymaking. In this post, I aim to explain what is storymaking, how is evolving and underline to the basic component of effective storymaking.
Heineken #OpenYourWorld: Igniting consumers with a meaningful story
"We would like to thank everyone for their contribution, giving us a good idea as to what open your world means to our consumers!" – Heineken International
While the Heineken's real-life experiment was bringing together strangers with fundamentally opposing views, the company were generating global engagement across 150 countries. Campaign #OpenYourWorld became a trending topic on Twitter with 22,000 social media mentions and enjoy the attention of 17.7M video views on YouTube. (Ghafoor and Williams, 2018) Those significant numbers show how brand successfully made their story with consumers and how they added value to the business.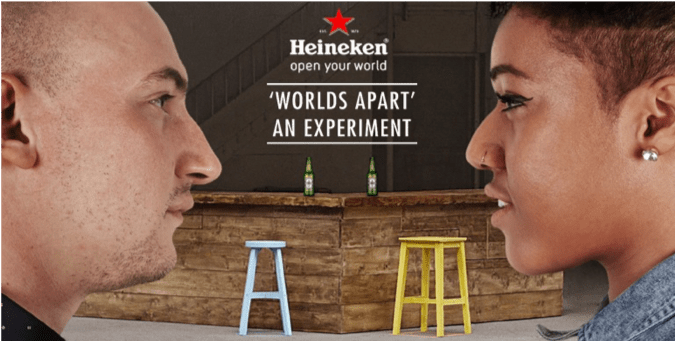 The slogan of the campaign was 'Open your world' but the keywords that we should see in this campaign are 'consumers, contribution, meaning, and openness '. In this post, we won't analyze Heineken campaign in detail, so, if you want to read more about Heineken case, click here). Besides, it is really convenient to underline some outcomes of the Heineken case on our journey to storymaking:
Real people can tell more relatable stories. Heineken didn't prefer any celebrities to act in the campaign. They use community power with ordinary people.
They shared and opened up their vulnerability with the audience. This made it easy for the audience to see similarities between themselves and the people in the campaign
Campaign ignited conversations which can cause polarization easily. However, they didn't avoid any critics. Thanks to that, credibility and visibility were provided.
As a brand that stands for openness, they succeed to match the brand's message and the brand's voice

Evolution of storytelling towards storymaking
Storytelling has always been relevant to marketers. It is designed for the different channels and customized for brand audiences. The relationship between consumer and brand are expected to be strengthened by providing a theme for conversation, and such conversations help customers to relate their own-brand related experiences and thoughts into the brand stories.(Escalas 2004; Singh and Sonnenburg 2012). These stories are the main tools to provide meaning to the brand by building awareness, empathy, and recognition (Singh and Sonnenburg 2012, p. 189). Now, marketers are more willing to invest in a brand's stories than previously, changing customer needs have required new approaches with regards to storytelling. Here are some compelling approaches that influence the market.
The new trends of storytelling

1) Data-driven storytelling
For each person, 1,7 megabytes of data will be created every in 2020. It means driving insights from those data may be relevant to create demanding content. To what extent marketers use engaging and targeted stories based on these data will be one of the crucial points.
2) Mini-ads
When people use Facebook, they spend 1,7 seconds with any mobile content. And those interactions become even shorter with younger audiences (Saric, 2017). There is no doubt our attention span is getting shorter. However, decreasing attention spans aren't necessarily a bad thing because research from Nielsen shows that people can get impressions in two seconds and these two second can provide 38 percent of brand recall, 23 percent of brand awareness and 25 percent of purchase intent (Saric, 2017). So if you have only 6 seconds what would you tell?
3) Customer-led storytelling
Consumers are 92% percent more likely to trust close friends and families when they purchase (Little, 2015). It is obviously more than just statistical numbers. Yes, people really care what their peers think. In that sense, it is not a bad idea to let customers add their personalities' to your story.
4) Philanthropic storytelling
Let's talk about transparency. Customers are more curious and interested in how brands conduct their businesses, how they use their materials, what is their main messages. Therefore, stories have to be honest and authentic.
5) Immersive storytelling
According to research firm Tractica, over 200 million virtual reality headsets will be sold by 2020. (Gaudiosi, 2018). With immersive storytelling technique, feeling the reality of product or message will be much easier. Convergences of media and tech can create new spaces to convey their stories.
Next step is co-creation: Storymaking
"A brand is no longer what we tell the consumer it is — it is what consumers tell each other it is." (Scott Cook, co-founder, Intuit)
The problem about storytelling is it's a one-way journey that brand decides whole conversation and methods. However, in this era, customers are enabled to create their own brand content thanks to the emergence of social media and interactivity facilities (Singh and Sonnenburg, 2012). Therefore, co-creation is a result that is driven from these inevitable interactions between customers and brand (Vargo and Lusch 2004). As consumers are having more power in the progress of the stories, keeping the control over brands and stories seems harder for marketers (Gensler et al., 2013). The story of Dave Carroll, whose guitar was destroyed by United Airlines, is a striking example of why consumer-generated stories can no longer be ignored. After he posted the video about his negative experience on Youtube, he has gone viral in a very short time and reached consumers around the world (Tran, 2018). Now, It is really easy to reach a big audience in a very short time for any individual. Hence, brands have to face the challenge of integrating consumer-generated brand stories and social media into their communications to create compelling brand stories. In fact, some brands have already shown that using consumer participation across the channels can affect brand performances positively (Gensler et al., 2013). All in all, you could call storymaking as the next evolution in storytelling which brand facilitates the stories that consumer are creating and sharing with each other.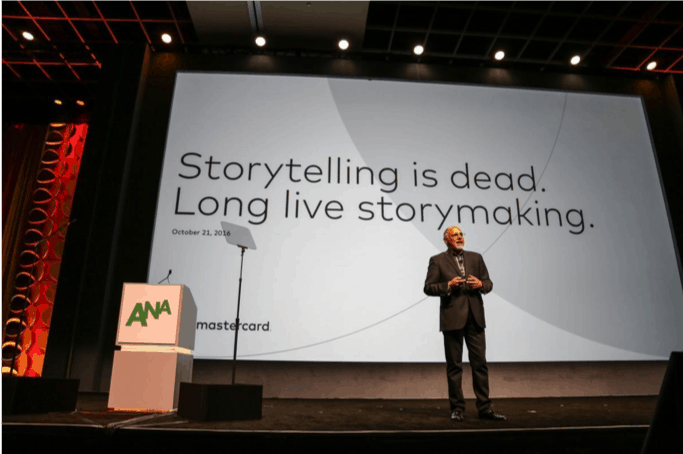 As a follow-up to our text, here are 3 main component you must consider to get storymaking initiatives off the ground
3 main components of effective storymaking
1) Be adaptable
Singh and Sonnenburg (2012) depicts brand performances in the social media arena like Improv Theater. This insightful metaphor is being used by the authors to emphasize the uncontrolled and unpredictable nature of improvisational performance. When we look at the characteristic of social media, we see similar characteristics in terms of uncontrollability and unpredictability. In that performance, the best thing you can do is to navigate this process in a very adaptable way for each audience (target group). As a director of performance, initiating conversation, seeding provocation and releasing tension are all brand's responsibilities. And being successful about managing these responsibilities are highly related to being adaptable in every unexpected situation.
2) Be authentic, be friend, tell the truth
United Airlines learned its lesson after 'United Breaks Guitar's' music videos dramatically generated over 10 million YouTube views and their stock price dropped by %10 within three weeks of the release of the video. (Sentium.com, 2018). Beyond the financial crisis, they missed the real opportunity: Storymaking. Because they didn't act like a friend and they didn't reflect the truth. One of the basic rules of being friends and making stories together is to tell the truth. Storymaking is based on being authentic. Obviously, it is more than how much money the company earns or more than revealing product components. It is about transparency. An authentic brand is aligned with its transparency. Moreover, they are ready for any confrontation which is highly required to face with misinformation in this digital age due to increasing of asymmetric information. All behaviors, messages, and assertions of authentic brands are supportive of its genuineness. You see what you get with an authentic brand. (Fournier and Avery, 2011). So, be good friends with the consumer and tell the truth.
3) Invite them to your story: Connect emotionally
When your brand's story becomes a part of a consumers story, they share their experiences which makes your story more powerful. And It is a very effective way to connect with consumers emotionally. Also remember that consumers share content that induces high-arousal positive (happiness, joy) or negative (anger, anxiety) more frequently and they are more likely to see those arousals as part of their emotions (Gensler et al., 2013).  So, having consumer contribution, you get the opportunity sharing common value which is highly correlated with generating strong loyalty. Because we know that 89% of consumers are loyal to brands that share their values (Abramovich, 2017).







---
References
Abramovich, G. (2017). Study: Majority Of People More Loyal To Brands That Care About Them. [online] Cmo.com. Available at: https://www.cmo.com/features/articles/2017/1/23/wunderman-tlp-wantedness-study.html#gs.WUfSpzE [Accessed 28 Nov. 2018].
Escalas, Jennifer Edson (2004). "Narrative Processing: Building Consumer Connections to Brands," Journal of Consumer Psychology, 14, 1–2, 168–80.
Fournier, S. and Avery, J. (2011). The uninvited brand. Business Horizons, 54(3), pp.193-207.
Gaudiosi, J. (2018). Over 200 Million VR Headsets to be Sold by 2020. [online] Fortune. Available at: http://fortune.com/2016/01/21/200-million-vr-headsets-2020/ [Accessed 27 Nov. 2018].
Gensler, S., Völckner, F., Liu-Thompkins, Y. and Wiertz, C. (2013). Managing Brands in the Social Media Environment. Journal of Interactive Marketing, 27(4), pp.242-256.
Ghafoor, S. and Williams, S. (2018). How Heineken and Publicis built brand success on big issues. [online] Campaignlive.co.uk. Available at: https://www.campaignlive.co.uk/article/heineken-publicis-built-brand-success-big-issues/1485709 [Accessed 28 Nov. 2018].
Little, J. (2015). Who Do You Trust? 92% of Consumers Trust Peer Recommendations Over Advertising. [online] www.linkedin.com. Available at: https://www.linkedin.com/pulse/who-do-you-trust-92-consumers-peer-recommendations-over-joey-little [Accessed 27 Nov. 2018].
 Saric, M. (2017). How Brands Can Still Win Over Customers as Attention Spans Decrease on Social. [online] Adweek.com. Available at: https://www.adweek.com/brand-marketing/how-brands-can-still-win-over-customers-as-attention-spans-decrease-on-social/ [Accessed 27 Nov. 2018].
Singh, S. and Sonnenburg, S. (2012). Brand Performances in Social Media. Journal of Interactive Marketing, 26(4), pp.189-197.
Sentium.com. (2018). A Public Relations Disaster – How saving $1,200 cost United Airlines 10,772,839 negative views on YouTube | Sentium. [online] Available at: http://sentium.com/a-public-relations-disaster-how-saving-1200-cost-united-airlines-10772839-negative-views-on-youtube/ [Accessed 28 Nov. 2018].
Tran, M. (2018). Singer gets his revenge on United Airlines and soars to fame. [online] the Guardian. Available at: https://www.theguardian.com/news/blog/2009/jul/23/youtube-united-breaks-guitars-video [Accessed 27 Nov. 2018].
Vargo, S. and Lusch, R. (2004). Evolving to a New Dominant Logic for Marketing. Journal of Marketing, 68(1), pp.1-17.
Like this post? You'll find more marketing insights in my new book: International Brand Strategy: A guide to achieving global brand growth, now available from booksellers globally. Order your copy here.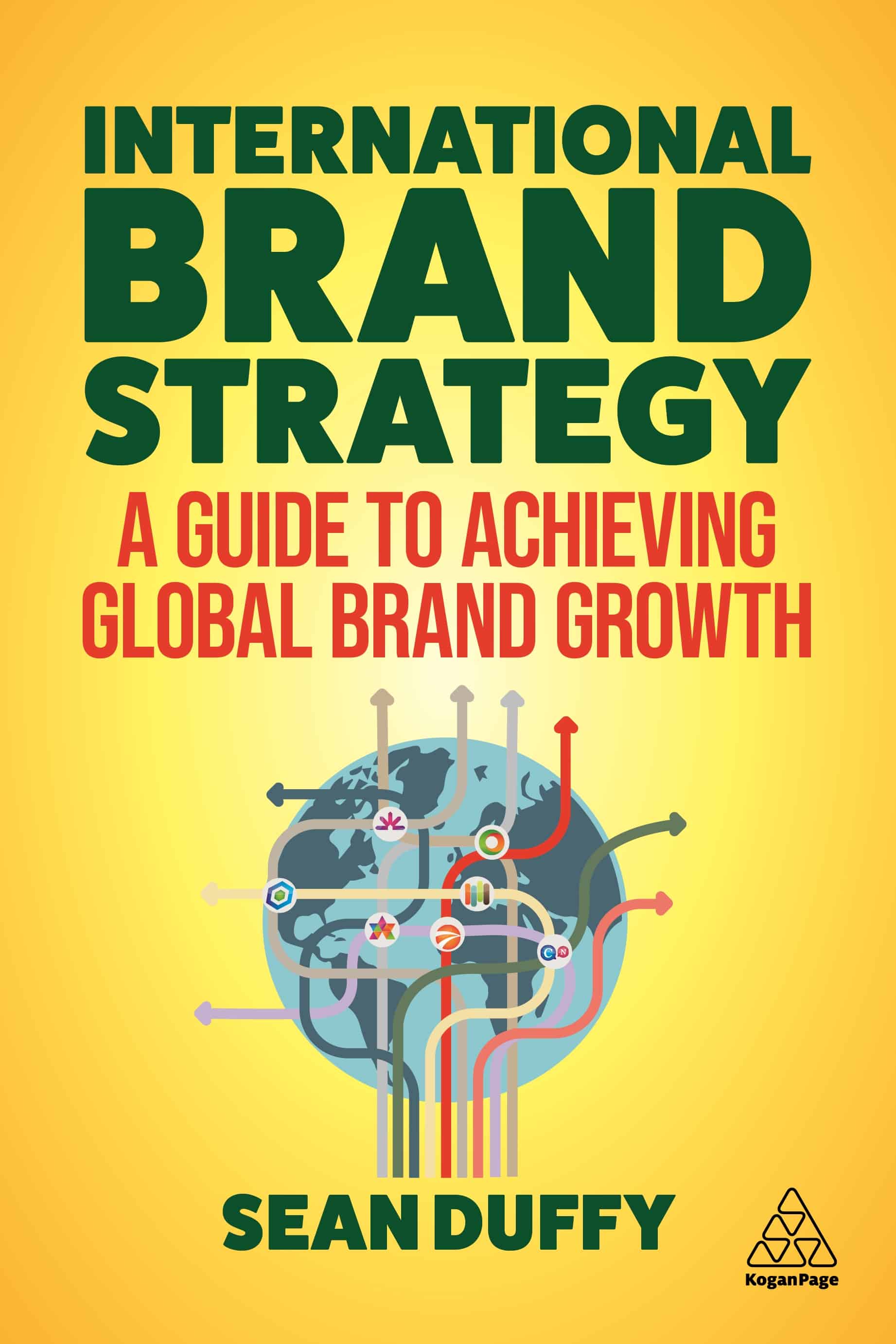 Order Your Copy
Students from the International Marketing and Brand Management program at Lund University are the contributing authors for the BrandBase blog.