News consumption on social media: What's real and what's fake?
Social media is now the preferred source of getting news. However, we're left questioning: what's real vs fake? ...
7 Feb 2018
2415 Views
Written by Victoria Tengblad-Kreft
The time of getting news primarily from TV, radio, and printed newspaper is no more.[1] Social media has officially surpassed traditional media as a preferred news source for people worldwide. Power and influence has shifted; mainstream media has lost control over content and publication of information and ordinary people have become opinion leaders with accessibility to international platforms to vocalize and share opinions. [2] Where people formerly used to actively seek out or tune in for a nightly televised news broadcast, has now shifted to a culture of online sharing, liking, and commenting. As convenient as it has become to get news updates with a simple scroll through our Facebook newsfeed, a sinister side of social media has been revealed and we're left questioning: what's real and what's fake?
Social media channels for news consumption
According to a 2017 Pew Research Center study, 67% of Americans consume news from social media – an increase of 5% since 2016 and 18% since 2015.[3]  These statistics are also not exclusive to the millennial, tech savvy generation. In fact, 55% of Americans aged 50 or older get news from social media – an increase of 10% since 2016. Furthermore, people are not limiting themselves to one social media platform, with 26% of Americans getting news from two or more different social media sites.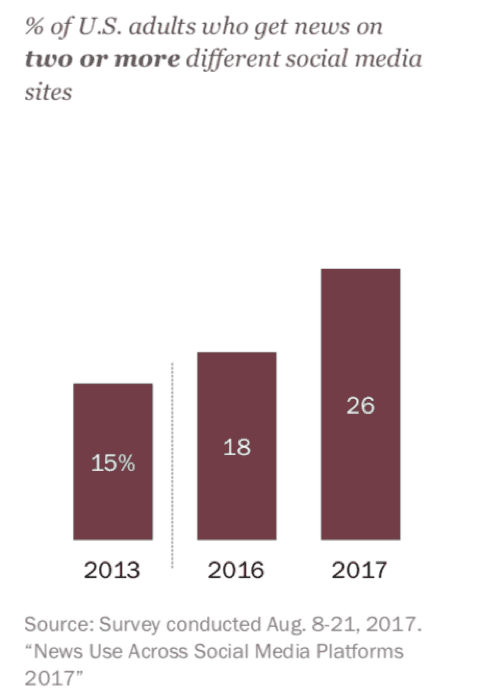 Image 1. Pew Research Center.3
While these statistics may seem small at face value, they are in fact overwhelming when placed in greater context. As of August 2017, an astounding 40% of the global population, 3.028 billion people to be exact, are active social media users.[4] To name a few most frequented:
Facebook – 2.04 billion users
YouTube – 1.5 billion users
Instagram – 700 million users
Twitter – 328 million users
Case in point: Facebook. Not only does Facebook have the most registered users in comparison to all other social media platforms,4 it also surpasses all others as a preferred news source.3 66% of the total United States population uses Facebook, of which 45% get news from the site. With a U.S. population of approximately 326.3 million people,[5] 215 million are Facebook users, of which 97 million actively get their news from Facebook. That's big news.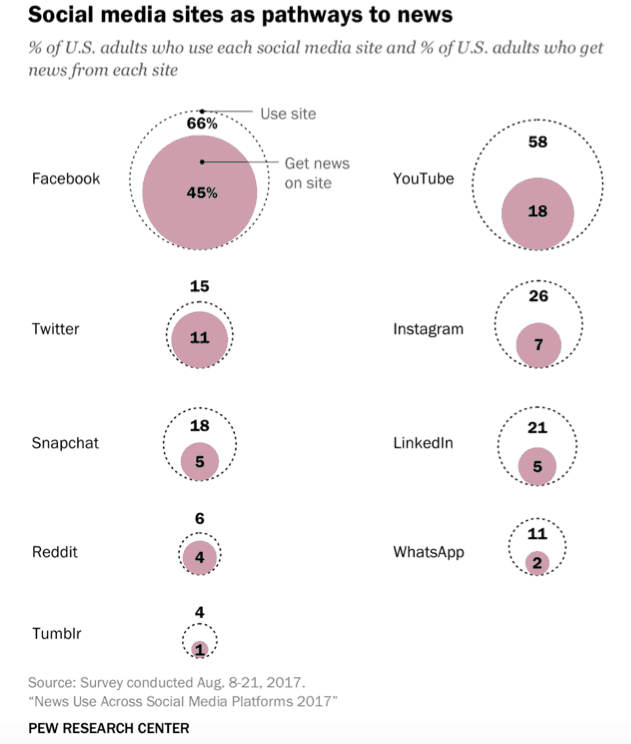 Image 2. Social media for news consumption.3
With such a large audience, now more than ever, it's critical information being communicated is truthful, factual, unbiased, and validated by reputable sources. Unfortunately, this is far from the truth. With the rising trend of people consuming news through social media, comes the alarming rise of misinformation diluting and tainting online sources. In short, 'fake news' has very much become real news.
Real facts about fake news
Fake news in itself is not new news. Whether through speech or written word, rumors and false stories have circulated for as long as mankind has existed.[6] Nevertheless, the intent behind fake news has remained the same. It's what I refer to as the 3 M's. Fake news is written to intentionally:[7]
Misinform readers to believe false information.
Mislead readers to accept biased or false beliefs.
Manipulate or confuse readers to create distrust and an inability to differentiate between what is real and what is fake.
While the exact motivation behind fake news is subjective to the article author and content, there appears to be two classifications: monetary and ideological motivation.[8] Monetary motivation occurs when viral news articles financially profit from advertising revenue by having online users 'click' on the original website. For example, Jestin Coler, owner of a few fake news sites from California, reportedly made between $10,000 and $30,000 a month from advertisements.[9] He's responsible for the infamous "FBI agent suspected in Hillary [Clinton] email leaks found dead in apartment murder-suicide" article which garnered 1.6 million views in the first 10 days published online. Whereas ideological motivation occurs when fake news is published to advance a political agenda, such as publishing fake positive content in favor of a candidate or fake negative content against an opponent.8 Menczer, of Indiana University Bloomington, argues that generating online buzz about a candidate or political agenda provides legitimacy to the message, regardless whether it's real or fake.[10] Posts or tweets (especially by 'verified,' influential people) may post in search engine results, further suggesting the content is part of a widespread discussion.
An online epidemic: Fake news on social media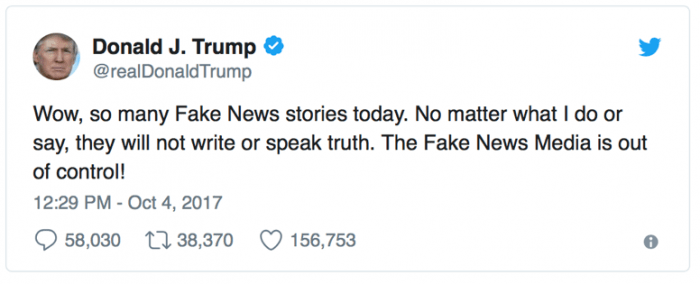 Image 3. President Trump tweet.[11]
In comparison to traditional media streams, social media is low cost, time efficient, easily accessible by an international audience and rapidly distributes information.7 However, these seemingly advantageous benefits are also the downfall of real news because these same online platforms have catalyzed the speed and reach of misinformation. According to Dartmouth College political scientist Brendan Nyhan, "'social media are a very effective and efficient way to spread false beliefs'" and unfortunately it's been shown that corrections to misinformation fail as they don't travel as fast as the original fake claim.10
Furthermore, studies show people who consider Facebook as a major news media source are more likely to view fake news headlines as truthful compared to those who gather news intelligence on more traditional news platforms.[12] More astoundingly, more than 75% of American adults are misled by fake news headlines and fake news headlines are more widely spread on Facebook in comparison to truthful news headlines. The top five fake news headlines of 2016 were:[13]
"Pope Francis shocks world, endorses Donald Trump for president" received 960,000 Facebook engagements
"Donald Trump sent his own plane to transport 200 stranded marines" received 893,000 Facebook engagements
"Ireland is now officially accepting Trump refuges from America" received 810,000 Facebook engagements
"WikiLeaks confirms Hillary [Clinton] sold weapons to ISIS… Then drops another bombshell" received 789,000 Facebook engagements
"FBI agent suspected in Hillary [Clinton] email leaks found dead in apartment murder-suicide" received 567,000 Facebook engagements
These headlines reveal a much more sinister side of social media's influence over news reporting. Social media has strongly contributed to the breakdown of the authenticity equilibrium of what is real and what is fake.7 Even former U.S. President Barack Obama said in an interview with The New Yorker that "the new media ecosystem,
'means everything is true and nothing is true. An explanation of climate change from a Nobel Prize-winning physicist looks exactly the same on your Facebook page as the denial of climate change by somebody on the Koch brothers' payroll. And the capacity to disseminate misinformation, wild conspiracy theories, to paint the opposition in wildly negative light without any rebuttal – that has accelerated in ways that much more sharply polarize the electorate and make it very difficult to have a common conversation.'"[14]
Until social media platforms implement a flawless system of checks and balances to filter what is real versus fake news, the responsibility falls on our shoulders. As online citizens, it's become our responsibility to critique what we read, read beyond the headline, seek out the truth, and validate sources. Because in the end, fake news is just that. Fake.
References:
[1] Werliin, R. (2017). 'Traditional media platforms no longer main sources of news', AudienceProject, October 2017. Available at: https://www.audienceproject.com/blog/key-insights/traditional_media_no_longer_main_sources_of_news/?utm_source=AudienceProject&utm_campaign=c29c13ff25-EMAIL_CAMPAIGN_2017_10_23_news_consumption_study&utm_medium=email&utm_term=0_adaaaea582-c29c13ff25-415692845 [Accessed 22 Nov. 2017].
[2] Wadbring and Ödmark. (2016). 'Going Viral: News Sharing and Shared News in Social Media', OBS – Observatorio, 4, p. 132, SwePub, EBSCOhost, viewed 21 November 2017.
[3] Shearer, E and Gottfried, J. (2017). 'News Use Across Social Media Platforms 2017', Pew Research Center, September 2017.
[4] Williams, B. (2017). There are now over 3 billion social media users in the world — about 40 percent of the global population. [online] Mashable. Available at: http://mashable.com/2017/08/07/3-billion-global-social-media-users/#MPzkbyipaaq3  [Accessed 19 Nov. 2017].
[5] Census. (2017). Population Clock. [online] Available at: https://www.census.gov/popclock/  [Accessed 21 Nov. 2017].
[6] Burkhardt, J. (2017). 'Combating Fake News in the Digital Age', Library Technology Reports, 53, 8, pp. 5-33, Library, Information Science & Technology Abstracts with Full Text, EBSCOhost, viewed 21 November 2017.
[7] Shu, K, Wang, S, Sliva, A, Tang, J, & Liu, H 2017, 'Fake News Detection on Social Media: A Data Mining Perspective', arXiv, EBSCOhost, viewed 20 November 2017.
[8] Allcott, H, & Gentzkow, M 2017, 'Social Media and Fake News in the 2016 Election', Journal Of Economic Perspectives, 31, 2, pp. 211-236, Business Source Complete, EBSCOhost, viewed 20 November 2017.
[9] NPR. Available at: https://www.npr.org/sections/alltechconsidered/2016/11/23/503146770/npr-finds-the-head-of-a-covert-fake-news-operation-in-the-suburbs  [Accessed 22 Nov. 2017].
[10] Ehrenberg, R (2012). 'Social media sway: Worries over political misinformation on Twitter attract scientists' attention', Science News, 8, p. 22, JSTOR Journals, EBSCOhost, viewed 20 November 2017.
[11] Trump, D. (2017). Donald J. Trump on Twitter. [online] Twitter. Available at: https://twitter.com/realdonaldtrump/status/915539424406114304?lang=en  [Accessed 21 Nov. 2017].
[12] Silverman, C and Singer-Vine, J. (2016). 'Most Americans Who See Fake News Believe It, New Survey Says', Buzzfeed News, December 6th, 2016.
[13] Ritchie, H. (2016). Read all about it: The fakest news stories of 2016. [online] CNBC. Available at: https://www.cnbc.com/2016/12/30/read-all-about-it-the-biggest-fake-news-stories-of-2016.html  [Accessed 18 Nov. 2017].
[14] Remnick, D. (2016). Obama Reckons with a Trump Presidency. [online] The New Yorker. Available at: https://www.newyorker.com/magazine/2016/11/28/obama-reckons-with-a-trump-presidency  [Accessed 21 Nov. 2017].
Like this post? You'll find more marketing insights in my new book: International Brand Strategy: A guide to achieving global brand growth, now available from booksellers globally. Order your copy here.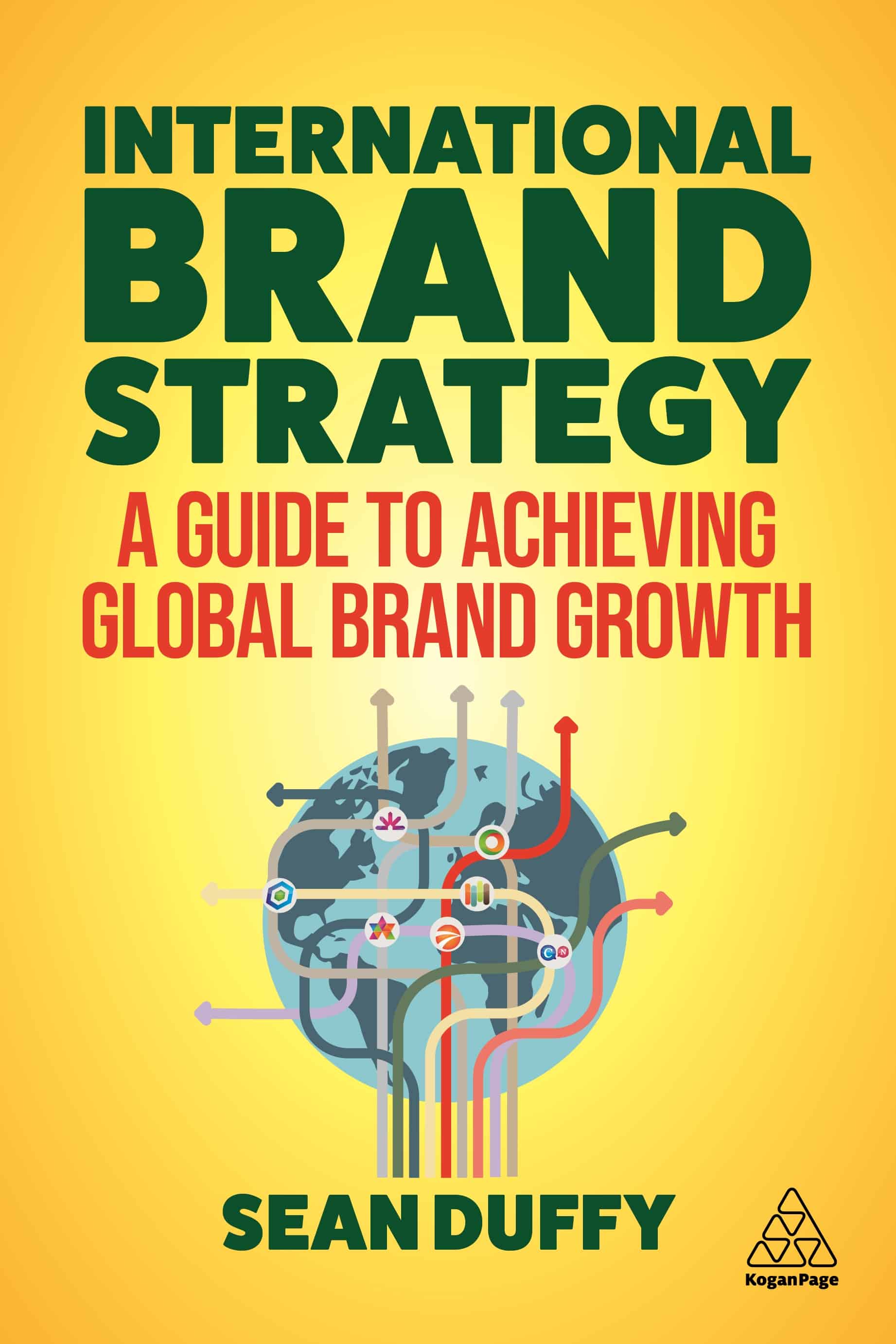 Order Your Copy
Students from the International Marketing and Brand Management program at Lund University are the contributing authors for the BrandBase blog.