Stoning of the modern age: How to manage a social media crisis
Companies often face social media crisis that might lead to serious damage to the brand. Here is a guideline for effective crisis management...
24 Jul 2018
1940 Views
Written by Anna Zonina
It has been a while since social networks have been introduced to the world and have disrupted our everyday lives. However, apart from changing the way we interact with each other, social media has also drastically influenced the market landscape and marketing practices. Consumers who have always been a defenceless target of companies and their messages have now gained their voice and the power to turn the tables. Complaining, for example, is now done publically, exposing companies' failures to a broader audience and forcing them to defend themselves. Probably the most accurate observation of how the targeting game has changed was done by Deighton and Kornfeld who stated that:
"Today marketing is less a matter of domination and control, and more a matter of fitting in".
Indeed, doing business nowadays feels like a walk on a minefield – one step too far and your social media pages can explode in an outrage of negative comments. Just recently Dove has (once again) experienced what it feels like when you make the wrong move. In October this year, the company has posted a short video which showed how a black woman turned into a white woman after removing her shirt. The white woman then revealed a Middle Eastern woman by taking off hers.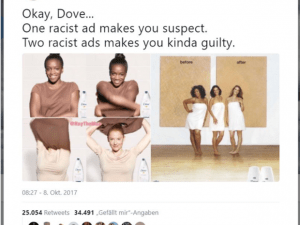 Even though the campaign was initially planned to celebrate the diversity and beauty of women of all colours and types, it backfired immensely. Dove was accused of racism by showing how a "dirty" black person cleansed into whiteness after using Dove shower gel – a symbolic representation that has been used repeatedly in the history of soap advertisements.
A flood of negative tweets and comments hit Dove and reached a massive public attention. Many of these tweets were thereby retweeted over 25.000 times. In addition to that, Dove's Facebook page was targeted with more than 5.000 negative comments and finally, the issue was covered in various newspapers such as The New York Times, The Washington Post or The Guardian.
Dove has quickly reacted to the backlash that their campaign has caused by removing the ad from their pages and tweeting: "An image we recently posted on Facebook missed the mark in representing women of colour thoughtfully. We deeply regret the offence it caused." However, the apology was not widely accepted by the publics, hence many people have called for a boycott of Dove's products. Needless to say, Dove has suffered a colossal damage to their brand.
So, what can we learn from this Dove fiasco? Firstly, that a social media crisis can happen to any company, even to big players such as Dove. Surely, it is rather obvious that companies should carefully think through every piece of media they are about to publish in order to be accepted by the broader publics. However, if a mistake happens and they "miss the mark", like Dove did, the key to survive is a good preparation for the worse-case-scenario. In the following, you will find various tips on what measures companies can take to prepare themselves from such a potential social media crisis.
How to deal with social media crisis?
First of all, when running a business you should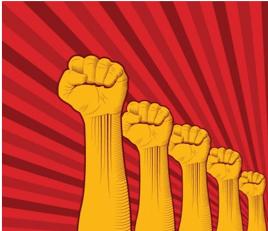 / be aware of the power that consumers of today have.
Social media made it incredibly easy for consumers to express their anger and dissatisfaction publically. However, the real danger is the speed with which a range of comments and tweets can develop – within the shortest time negative word of mouth can evolve like an avalanche and diffuse through various social media channels. Subsequently, it is necessary to
/ keep an eye on ongoing discussions on social media channels.
The first and the very important step in a successful defence plan is developing a good webcare. A solid system for monitoring the web and spotting negative comments before those echo throughout all social media channels is key for preventing a social media crisis.
A negative post on the company's Facebook page or a tweet in that the company, its brand or products are mentioned is easy to spot. However, a business can also end up in a centre of a negative conversation apart from its own social media pages, for example on someone's blog or a YouTube video. Thus, it is crucial to use various monitoring tools like Google Alerts, Tweet Deck, Social Mention or Mention in order to constantly screen the social media. Additional instant notification alerts via Email are inevitable in this matter.
Moreover, it is essential to set up a team of people, who are properly trained and instructed, and devoted to continually control the ongoing on the social media and respond to any complaints in the shortest time. This leads me to the next point, namely that, in case of negative communication you need to
/ act quickly and be prepared to face a crisis.
For a business it is crucial to react as soon as the smallest hint of a crisis development can be spotted. As mentioned before, a social media crisis can develop within a very short time period, thus a reaction that comes too late would be fatal. Therefore, a company should develop a special action and communication plan in advance that can roughly guide the responsible managers through the crisis and provide them with necessary templates of responses for various situations. Of course, it is necessary to adjust the answers to particular cases and approach every case individually. Nevertheless, having a plan on hand helps to focus and react quicker. It is important to mention that social media crises often happen during weekends which requires a development of an additional emergency response plan.
/ stay authentic and honest.
You have located a crisis, you have a plan of action and your corporate position is clear. But how to formulate your response in the best way? First, show that you take the situation seriously and express your understanding for the critiques. Express empathy for the matter, however, do so authentically to your company's communication style. Take responsibility for any matter where your company has failed to satisfy its customers. What is more, openly and honestly show which solutions you have developed for this specific case and how you are willing to implement those. In case of individual complaints, publically contact the affected persons and, as mentioned above, develop a tailored dialogue for them. Lastly, a final, but very important rule for managing social media crises:
/ absolutely never ignore a crisis and don't delete any posts.
It is a well-known truth that ignoring a problem won't make it go away. Deleting negative comments or even going offline during a crisis would only make the situation worse and make your opponents even angrier. Don't be afraid to face the crisis and state your position. When an issue is handled properly, it can even entail an opportunity for company to gain more sympathy by the publics.
All in all, it became apparent that the marketing landscape has changed due to the rise of social media. Thus, the companies have to accept the new rules and act differently, more carefully, than they used to before. The importance of social media is still growing, and apart from bringing along the danger of a social media crisis, it still serves as a great tool for the companies to interact with its publics.
Read also more about social media driving sales.
SOURCES
Christodoulides, G. (2009). Branding in the Post-Internet Era, Marketing Theory, vol. 9, no. 1, pp.141–144.
Deighton, J. & Kornfeld, L. (2009). Interactivity's Unanticipated Consequences for Marketers and Marketing, Journal of Interactive Marketing, vol. 23, no. 1, pp.4–10.
Fournier, S. & Avery, J. (2011). The Uninvited Brand, Business Horizons, vol. 54, no. 3, pp.193–207.
Gensler, S., Völckner, F., Liu-Thompkins, Y. & Wiertz, C. (2013). Managing Brands in the Social Media Environment, Journal of Interactive Marketing, vol. 27, no. 4, pp.242–256.
Grégoire, Y., Salle, A. & Tripp, T. M. (2015). Managing Social Media Crises with Your Customers: The Good, the Bad, and the Ugly, Business Horizons, vol. 58, no. 2, pp.173–182.
Gruber, D. A., Smerek, R. E., Thomas-Hunt, M. C. & James, E. H. (2015). The Real-Time Power of Twitter: Crisis Management and Leadership in an Age of Social Media, Business Horizons, vol. 58, no. 2, pp.163–172.
Hennig-Thurau, T., Hofacker, C. F. & Bloching, B. (2013). Marketing the Pinball Way: Understanding How Social Media Change the Generation of Value for Consumers and Companies, Journal of Interactive Marketing, vol. 27, no. 4, pp.237–241.
Hollenbeck, C. R. & Zinkhan, G. M. (2010). Anti‐brand Communities, Negotiation of Brand Meaning, and the Learning Process: The Case of Wal‐Mart, Consumption Markets & Culture, vol. 13, no. 3, pp.325–345.
Kietzmann, J. H., Hermkens, K., McCarthy, I. P. & Silvestre, B. S. (2011). Social Media? Get Serious! Understanding the Functional Building Blocks of Social Media, Business Horizons, vol. 54, no. 3, pp.241–251.
Labrecque, L. I., vor dem Esche, J., Mathwick, C., Novak, T. P. & Hofacker, C. F. (2013). Consumer Power: Evolution in the Digital Age, Journal of Interactive Marketing, vol. 27, no. 4, pp.257–269.
Pfeffer, J., Zorbach, T. & Carley, K. M. (2014). Understanding Online Firestorms: Negative Word-of-Mouth Dynamics in Social Media Networks, Journal of Marketing Communications, vol. 20, no. 1–2, pp.117–128.
van Noort, G. & Willemsen, L. M. (2012). Online Damage Control: The Effects of Proactive Versus Reactive Webcare Interventions in Consumer-Generated and Brand-Generated Platforms, Journal of Interactive Marketing, vol. 26, no. 3, pp.131–140.
Ward, J. A. and Amy L. O. (2006), Complaining to the Masses: The Role of Protest Framing in Customer-created Complaint Web Sites, The Journal of Consumer Research, 33, 2, 220–30
Like this post? You'll find more marketing insights in my new book: International Brand Strategy: A guide to achieving global brand growth, now available from booksellers globally. Order your copy here.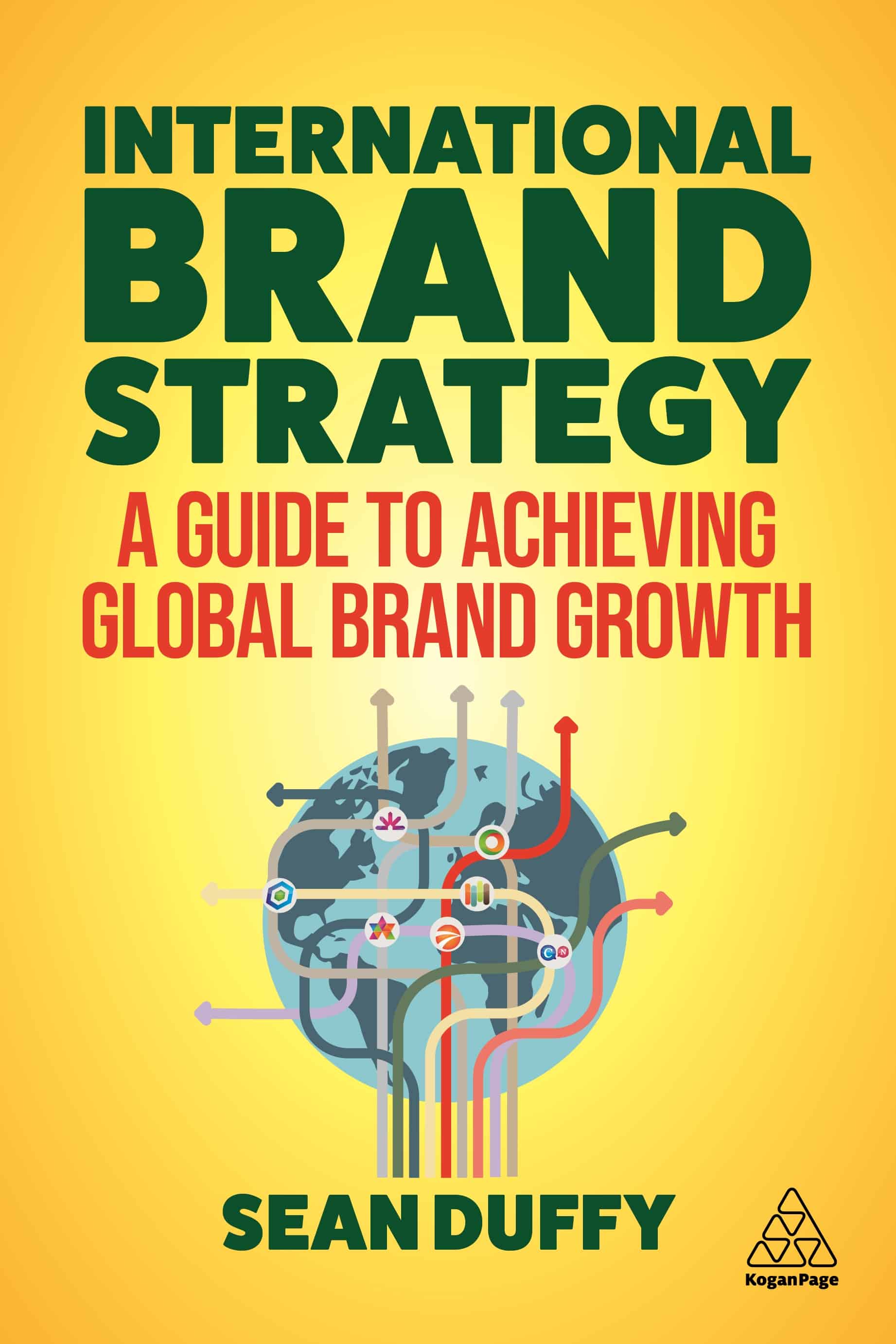 Order Your Copy
Students from the International Marketing and Brand Management program at Lund University are the contributing authors for the BrandBase blog.