Influencer Authenticity: Can you trust just anyone with your brand?
Find out why influencer authenticity is so important for your brand and what you should be aware of...
7 Aug 2019
6574 Views
Written by Jella Lynn Hauptmann
Scrolling through our Instagram feeds, influencers and sponsored ads are dominating the landscape. Nowadays, we can read all about success stories and endless numbers of guidelines on how influencer marketing can help your brand to gain awareness and increase authenticity online. Influencers promise brands an authentic way to reach their target groups on a more personal basis. Therefore, they help to increase their own authenticity. Sounds like a safe strategy. Unfortunately, it's not just that easy. This post highlights the growing importance of influencer authenticity and how unauthentic posts can hurt your brand.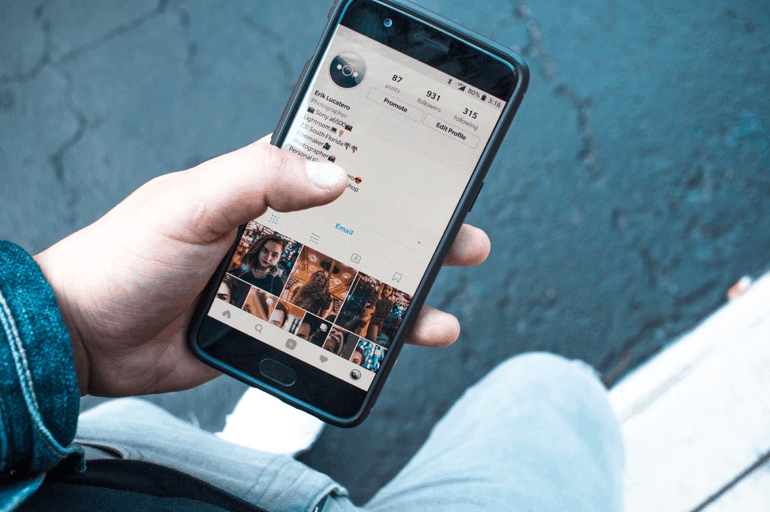 Marketers are facing new challenges
Information Overload
We seem to have reached a point where we don't realize the information overload anymore. We just skip over posts and scroll over pictures without even realizing their content, as van Dijk refers to this as the law of the limits to attention (2012). Since everyone in a network is able to create new content there is an increasing amount of information presented to us. At the same time our attention span is not increasing. So, our time to read, view and listen to all this content is running out. This results in a limited attention span. (van Dijk, 2012) Since there is no end in sight for this trend to slow down, the lack of attention is one of the biggest challenges for marketers today. How can you gain attention of your target group when they are bombarded with thousands of ads? This development makes it even more important for companies to create authentic brands and connect with their target group on a personal basis (Rowley, 2004; Barwise & Meehan, 2010).
Growing skepticism towards traditional advertisement
Another problem is the growing skepticism of consumers towards company's traditional advertisement methods. Consumers now demand a more active role. The traditional one-sided communication where brand managers control brand images and consumers are just passive recipients of information is not working anymore in the Web 2.0. Consumers don't want to be spammed with information but are rather looking for active interaction. They are seeking for a change from monologues into dialogues. It's brand managers task now to create stronger relationships and provide possibilities for interactions. (Christodoulides, 2009; Hanna & Rohm & Crittenden, 2011)
Influencers as a solution
Influencers present the opportunity for brands to solve these problems. They are engaging with a niched community on a personal, trustful level and hold the opportunity to endorse products and brands in a more authentic way. (Barwise & Meehan, 2010; Mathew, 2018; Situm & Sorrentino & Hinteregger, 2018) We can read about how influencer marketing is the one way to go to create a successful social media strategy with greater authenticity. But many companies seem not aware of the risk for their brands to lose credibility and authenticity if there is a lack of influencer authenticity.
Now, what is Influencer marketing?
Influencers are the opinion leaders of the 21st century. They use their social media accounts to share their knowledge or lifestyle and attract a niched group of people who are inspired by their content and perceived authority and expertise. Especially female followers are coping fashion styles or choices of products. (Influencer Marketing Hub, n.a.; Djafarova & Rushworth 2016). Influencers interact with their followers on a day-to-day, personal basis and create a trustworthy relationship based on authenticity. This empowers them to influence their audience. (Ilicic & Webster, 2011)
Influencer marketing is about companies making use of exact this influencer authenticity and power to influence behavior. There are different ways, how companies work with influencers on social media. One of the most popular ones is sponsored social media content. Your company provides the influencer with guidelines, what kind of content you want him or her to create. You then pay the influencer to post this content on his social media account with the goal to trigger followers to buy your products. (Bhat, 2018)
In this way, companies can expand reach of their campaign and achieve a higher attention towards their content without being skipped or clicked away since it was posted by a trusted and appreciated member of their network. In this way your company can benefit from influencer authenticity and your chances to reach attention are increasing. (Ilicic & Webster, 2011) Although to make this format of promotion successful, it is important that the influencer fits the product and brand he or she is promoting. Trust from the audience towards the influencer's independency is the base for influencer authenticity and a successful promotion. (Mathew, 2018, Ilicic & Webster, 2011) The problem is, that many companies just blindly follow this trend without considering the importance of this fit. Therefore, they risk that their strategy is failing because posts lack influencer authenticity.
So, why is influencer authenticity so important?
As mentioned earlier, consumers are becoming more skeptical towards brands and their advertisement. Now, the same is happening with influencer marketing. It is no secret anymore that influencers make quite a good business with promoting brands online. Thus, consumers start to question these promotions. They ask for more influencer authenticity and real-life presentation instead of "fake", promoted posts (Kandel, 2018). Unauthentic behavior shatters the trust between influencers and their followers and breaks the reputation of influencers. (Roberts, n.a.) There are different actions which make followers question influencer authenticity:
1. Influencers who are continuously posting sponsored ads are likely to lose their credibility and authenticity. Followers get the perception that the influencer only wants to make money, and this is no different than the traditional marketing campaigns. The reason to follow influencers in the first place is their content, personality and authenticity – not online promotions. (West, n.a.)
2. Attractiveness, quality and composition of pictures are highly important for followers (Djafarova & Rushworth 2016). Pictures which are clearly not taken in a real-life context as well as promotions of products which are just not fitting into the rest of the influencer's content are quickly perceived as fake. This will result in a bad reputation as in the post of German model Fiona Erdmann promoting a washing detergent in an unrealistic way which highly contrasts with her other posts. This resulted in negative feedback by her followers questioning her influencer authenticity.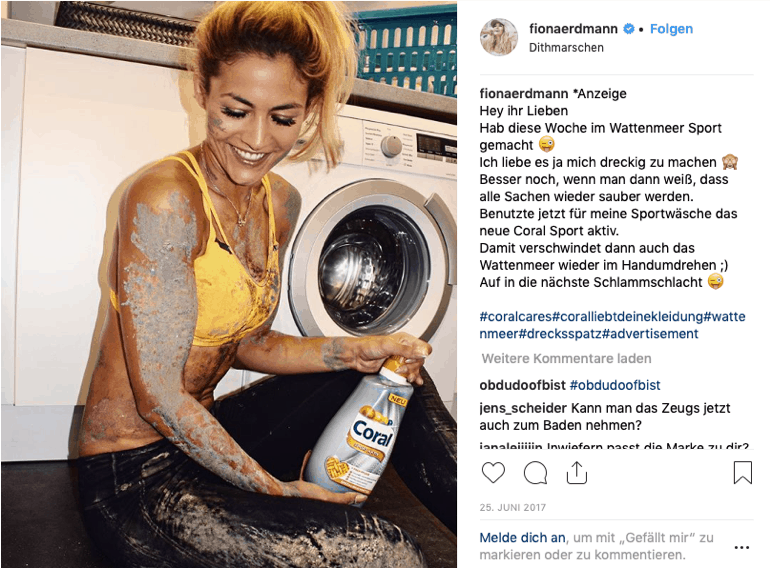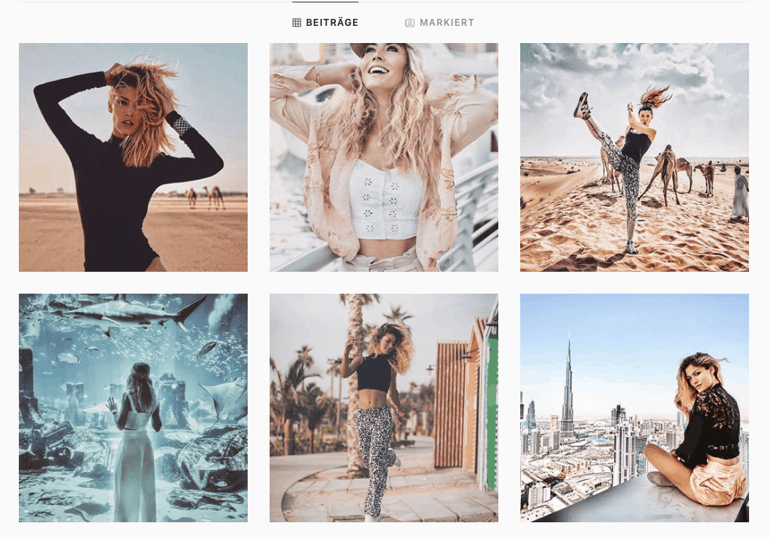 3. Another popular mistake is that influencers just copy paste the instructions given by the brand which shows their low involvement with their post and the brand in general and vanishes the picture of influencer authenticity (Roberts, n.a.). As we can learn from reality TV start Scott Disick in 2016 with this post: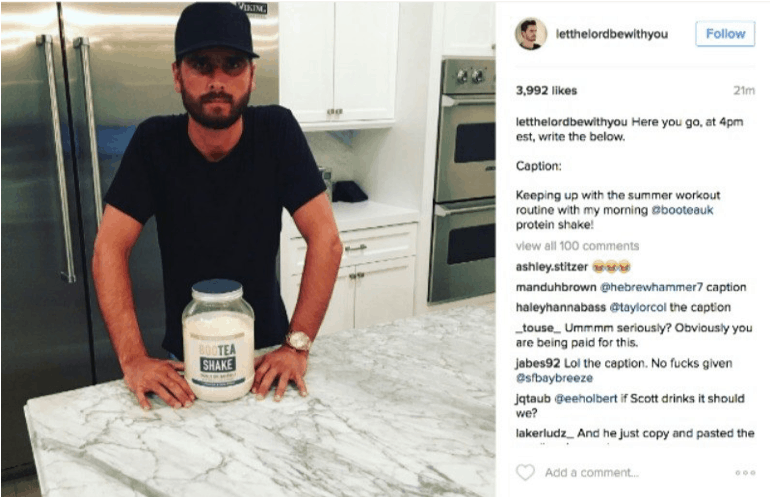 This does not only mean, that you probably spent your money for nothing, but you also risk that the bad reputation and lacking influencer authenticity is projected on your brand itself. Examples like this vanish the uniqueness and character of your brand as being just one of many with no special meaning to the influencer and therefore of no particular interest for the community.
Rules to Follow
These rules can help you to avoid such pitfalls:
Take a close look
Understand the influencer's personality and evaluate if it really fits your brand's core values. Only then you can guarantee authenticity in posts. (Djafarova & Rushworth 2016) The best way is to find people who are actually passionate about your product and have some expertise in your field. This way there is a clear fit which increases influencer authenticity as well as brand authenticity and expertise.
Understand why people are following this account. Only if your product is matching their interests they will perceive this post as authentic.
Make sure your influencer is not only in for the money but also posts own content and still connects with his or her crowd on a personal basis. Otherwise influencer accounts will lack trust and authenticity and consumers might project that skepticism towards your brand as well.

Give freedom
Trust your influencers and value their personality and creativity. Influencers know their audience the best. They know exactly what they will cherish and what they will perceive as authentic. Use their insight knowledge and your brand can benefit from a positive buzz.

So, if you are thinking about working with influencers in the future, make sure that you are not just blindly following the trend. Question whether or not this influencer really fits your brand and is not just in for the money but can offer you influencer authenticity. Otherwise your investment will be for nothing and might even influence your image negatively. After all, we not only chose brands like our friends but influencers as well. Influencer authenticity is the base for a trustful relationship and successful marketing. So, you better take a really close look!


---
References
Barwise, P. & Meehan, S. (2010). The One Thing You Must Get Right When Building a Brand. Harvard Business Review. December 2010. Accessed Online: https://hbr.org/2010/12/the-one-thing-you-must-get-right-when-building-a-brand. [Accessed 23 November 2018].
Bhat, U. (2018). Top 8 Types of Influencer Marketing Campaigns. Available Online: https://www.cloohawk.com/blog/top-8-types-influencer-marketing-campaigns. [Accessed 24 November 2018].
CelebsNow. (2016). Scott Disick mocked by fans after he makes CRUCIAL mistake on Instagram. Available Online: https://www.celebsnow.co.uk/celebrity-news/scott-disick-instagram-fail-350452. [Accessed 28 November 2018].
Christodoulides, G. (2009). Branding in the post-internet era. Marketing Theory. 9 (2), pp. 141-144.
Djafarova, E. & Rushworth, C. (2016). Exploring the credibility of celebrities' Instagram profiles in influencing the purchase decisions of young female users. Computers in Human Behavior. 68 (2017), pp. 1-7.
Hanna, R. & Rohm, A. & Crittenden, V.L. (2011). We're all connected: The power of the social media ecosystem. Business Horizon. 2011 (54) pp. 265-273.
Ilicic, J. & Webster, C.M. (2011). Effects of multiple endorsements and consumer-celebrity attachment on attitude and purchase intention. Australasian Marketing Journal. 19 (2011), pp. 230-237.
Influencer Marketing Hub (n.a.). What is an Influencer? Accessed Online: https://influencermarketinghub.com/what-is-an-influencer/. [Accessed 23 November 2018].
Instagram (2017). Fionaerdmann. Available from: https://www.instagram.com/p/BVxMiUOFtB6/. [Accessed 28 November 2018].
Instagram (2018). Fionaerdmann. Available from: https://www.instagram.com/fionaerdmann/?hl=de. [Accessed 28 November 2018].
Kandel, M. (2018). The Case for Brand Authenticity. Accessed Online: https://www.forbes.com/sites/forbescommunicationscouncil/2018/05/02/the-case-for-brand-authenticity/#5bd6057c6530[Accessed 24 November 2018].
Lucatero, E. (n.a.). Person holding Android smartphone. Available from: https://unsplash.com/photos/UrhMJ6kfKlo. [Accessed 28 November 2018].
Mathew, J. (2028). Understanding Influencer Marketing And Why It Is So Effective. Accessed Online: https://www.forbes.com/sites/theyec/2018/07/30/understanding-influencer-marketing-and-why-it-is-so-effective/#46d5fd6571a9. [Accessed 25 November 2018].
Roberts, P. (n.a.) Authenticity and influencer marketing: Why it matters. Accessed Online: https://oursocialtimes.com/authenticity-and-influencer-marketing-why-it-matters/. [Accessed 25 November 2018].
Rowley, J. (2004). Online Branding. Online Information Review. 28 (2), pp. 131-138.
Situm, M & Sorrentino, G. & Hinteregger, A. (2018). Influencer Marketing aus der Praktikerperspektive: Wie kann man eine gezielte Nutzung für Unternehmen erreichen?
Marketing Review St. Gallen. 2018 (5) p. 66-75.
West, T. (n.a.) Credibility, Trust and Authenticity in Influencer Marketing. Accessed Online: https://blog.scrunch.com/credibility-trust-authenticity. [Accessed 25 November 2018].
Van Dijk, J. (2012). The Network Society. 3rd ed. London: SAGE Publications Ltd.
Like this post? You'll find more marketing insights in my new book: International Brand Strategy: A guide to achieving global brand growth, now available from booksellers globally. Order your copy here.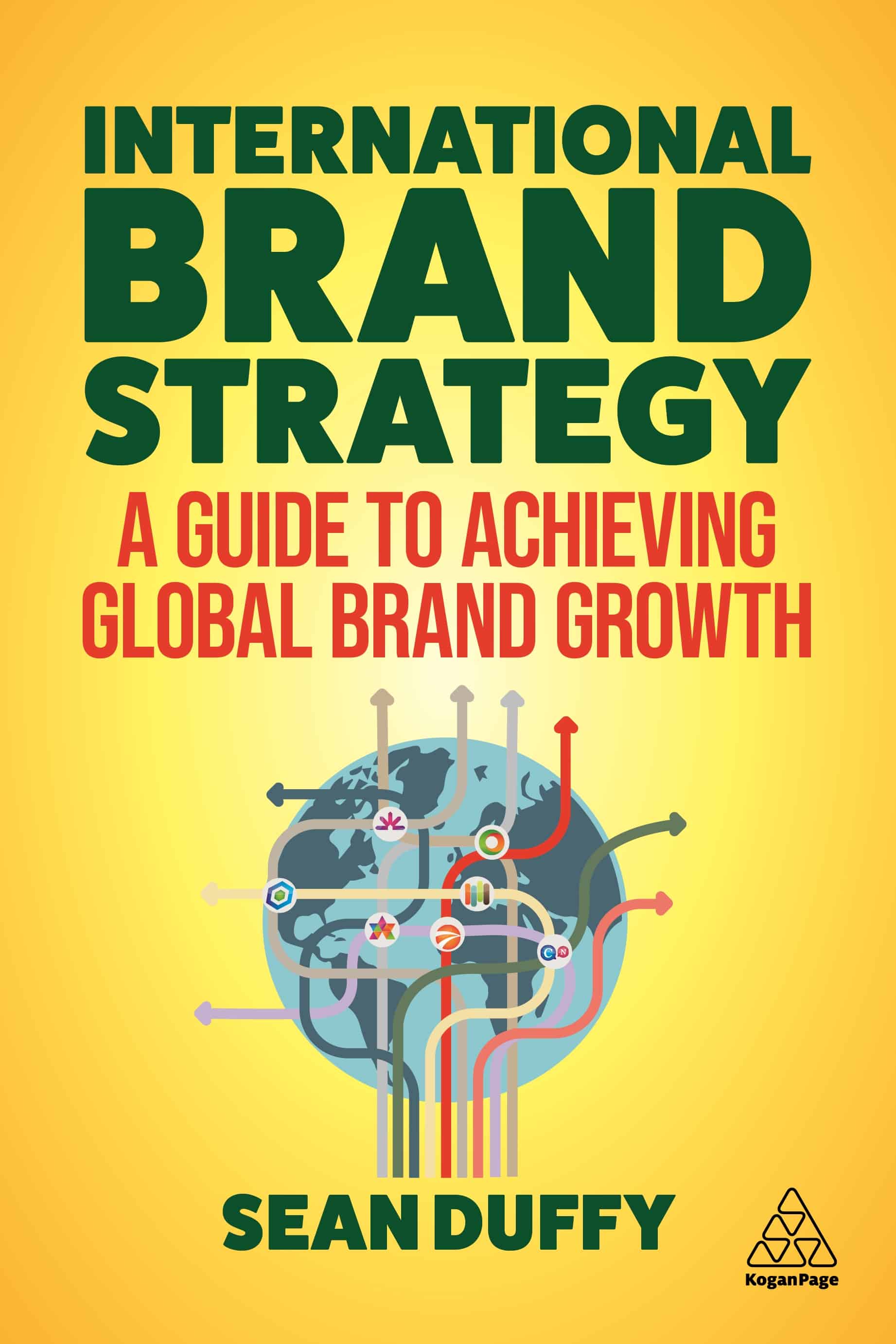 Order Your Copy
Students from the International Marketing and Brand Management program at Lund University are the contributing authors for the BrandBase blog.