YOU + Sharing Economy = Match?! Self-Test: Uber or DriveNow type?
Sharing economy? – a part of your life?! Ever wondered, if that could be something for you?...
10 Jul 2019
2290 Views
Written by Bettina van der Stelt 
Sharing is caring – more than ever.
Shared economy, collaborative economy, access-based economy, collaborative consumption – there are  many fancy synonyms buzzing around to describe one of the latest and probably hottest economic phenomenon which can be summed up underneath the umbrella-term: sharing economy. But what is all the fuss actually about? What does it really mean? And can we, regular normal people –  grown up in an individualistic society, trained to fight for ourselves to survive in this crazy world  – even fit in this "new" sharing culture?
At least the answer to the last question is relatively simple. The principle of sharing is described as fundamental consumer behavior and as the most universal form of economic behavior. This said, sharing always has been and always will naturally be part of our system (Belk, 2010). So at least in principle, we all should be capable of living and even actively participating in a sharing economy.
But the question remains: what is sharing economy and how did it develop?
Let's begin with exploring the development of sharing economy. We first need to recognize and understand that our environment is constantly changing. The network society, in which we are currently living, undergoes a continuous reshaping process. Here, communication technology shapes the society, but also the society shapes the communication technology (van Dijk, 2012). Hence, sharing economy is not only an economical but also a technological phenomenon. Kaplan et. al (2010) argue that the development of the web 2.0 and by further extend the development of online platforms builds the basis for sharing economy. However, those platforms were first used to share different information and contents with family, friends, or communities. And if we think about it – how would our lives nowadays look like without content-shared websites such as Wikipedia, Instagram or YouTube – hard to imagine, isn't it?
These content-shared websites are the basis upon which sharing economy builds and further develops by offering material-shared websites. This leads us directly to the definition of sharing economy, as an "[…] activity of obtaining, giving, or sharing the access to goods and services, coordinated through community-based online services" (Hamari et. al, 2016). An activity, which is often motivated by an environmental conscious mindset, but also by the prospect of economic gains or the pleasure during the action itself (Hamari et. al, 2016). That is only one of many definitions, others are using more visual comparisons to describe the trend. For instance, the definition of liquid and solid consumption. Here, liquid consumption represents a lifestyle marked by flexibility, the detachment of material things but also by speed and lightness. Goods are liquid in a metaphorical way, they can easily flow between different users whereas solid consumption illustrates the exact opposite. Logically, liquid consumption is clearly another synonym for sharing economy (Bardhi et. al, 2017).
Many definitions around the topic of sharing economy exist. Those are normally rather broad. To tailor it down just a little, the illustration beneath suggests three sub-categories of sharing economy: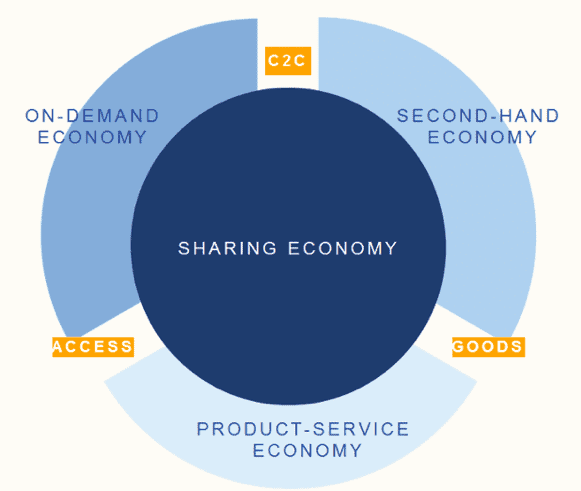 The three different categories of sharing economy are on-demand economy, second-hand economy and product-service economy (Franken et. al, 2015). To understand the different kinds better, let's have a look at a concrete example.
Imagine, you are in need of a car. There are several possibilities within the environment of sharing economy which you could choose from to fulfill your need. On one side, you could consider second-hand economy by buying a used car from car dealers such as Autotrader. On the other side, you could also decide to long-termly lease a car directly from a car manufacturer or from any other car rental company such as Sixt. Taking that option, you would be within a product-service economy. Lastly, there is also the opportunity to decide for the on-demand economy. Here, you would use Apps such as Uber or DriveNow to get immediate but timely limited access to your mobility solution. A solution, which is also called mobility on-demand.
Mobility on-demand as part of sharing economy
In this blogpost, a focus is set on on-demand sharing economy within the mobility sector, with a fun quiz in the end to reveal your true self (… or at least to discover which mobility on-demand type you are). But why focus on the mobility sector? – Because, who actually likes to wait in the traffic jam every day? Or who enjoys to drive around in desperate search for a suitable parking spot? No one does. And yet that is still what we do, at least if you live in a relatively big city. But it doesn't have to be like that!
In average, a car is only used 5% of the times, which consequently leads to a parking time of around 95% and even if a car is used, there are normally empty seats left (Morris, 2016). Consequently, this driving behavior leads to a shortage of parking spaces and longer traffic jams through an inefficient car usage. As a result, debates are heated, whether cities are simple outgrowing cars. Here, sharing is considered the new and only way for future urban mobility (Moss, 2015). In addition to such a rather practically purpose, car sharing is also environmentally friendly. In fact, car sharing reduces the CO2 per person emission enormously to up to 265 kg fewer CO2 production per year (Nijland et. al, 2015).
On this basis, I hope you all agree with me that on-demand mobility is a very important topic for several reasons. At least, the current three core regions for shared mobility, namely Europe, China and the US, do agree. Their combined market value is estimated at around $54 billion and is predicted to grow significantly further in the future (Grosse-Ophoff et al., 2017). Hence, the demand for on-demand mobility goes without question.
When talking about the shared or on-demand mobility market, further distinctions have to be made. Elaborating on the above stated explanation of on-demand sharing economy, there are two different business models to consider: Peer-to-Peer (P2P) Ridesharing and Business-to-Consumer (B2C) Carsharing. This said, P2P Ridesharing is build up on social networks offering real-time rideshares communicated through mobile apps, such as Uber, Lyft or DiDi. B2C Carsharing occurs when a company, mostly a car manufacturer, supplies vehicles at key points through bigger cities. Examples are: DriveNow by BMW, Car2Go by Mercedes Benz or RelayRides by General Motors (Cohen et. al, 2014).
Spotlight on: Uber vs. DriveNow
To get a better feeling for the different concepts, an example of P2P Ridesharing and B2B Carsharing is shortly introduced in the following. Those examples will also be used as synonyms for the underlying business model in the following self-test.
UBER (P2P Ridesharing)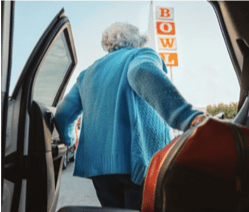 Uber is the first, who launched a P2P Ridesharing app offering an on-demand transportation solution, which disrupted the whole taxi-industry. The Uber App enables its costumer to connect with the closest, available driver who drives you from point A to your desired point B. Included in the app is the direct display of estimated price and arrival time, as well as an included mobile payment option and a driver ranking system (Uber, 2018).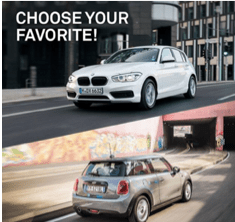 DriveNow (B2B Carsharing)
DriveNow belongs to BMW. Consequently, the offered cars are the latest  BMW and MINI models. Once registered, costumer can easily geolocate the nearest available car through the DriveNow-App. Fees for driving the car are calculated on timely basis, using minutes as measurement. This includes car usage, fuel, parking, road taxes as well as insurance (DriveNow, 2018).



How do you fit in?
Do you think sharing economy and more preciously on-demand mobility could be something for you?
If you do, then get ready for the test of your life answering the question: are you a Uber or DriveNow type of girl/guy? While reading and answering the questions, please add up your points. They will guide you to your final destination.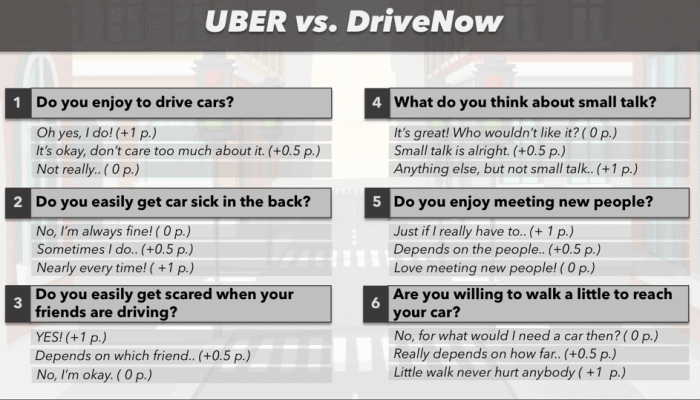 Completed the test? Then see your results down here:

Have you reached your test destination?
Then start your engine, join the sharing economy world and sign up for your on-demand mobility solution!






References
Arcidiacono, D., Gandini, A. and Pais, I. (2018) Sharing what? The "sharing economy" in the sociological debate. Sociological Review, 66(2), pp. 275–288. doi: 10.1177/0038026118758529
Bardhi, F. and Eckhardt, G.M. (2017). Liquid Consumption. Journal of consumer Research, Volume 44, Issue 3, pp. 582-597 https://doi.org/10.1093/jcr/ucx050
Belk, R. (2010). Sharing. The Journal of consumer Research, Vol. 36, No. 5, pp. 715-734
Cohen, B. and Kietzmann, J. (2014) Ride On! Mobility Business Models for the Sharing Economy. Organization & Environment, 27(3), pp. 279–296. doi: 10.1177/1086026614546199
DriveNow (2018). DriveNow global Official [Instagram]. Available at: https://www.instagram.com/drivenow/ [Accessed 24. Nov. 2018]
Frenken, K., Meelen, T. Arets, M. and van de Glind, P. (2015). Smarter regulation for the sharing economy. [online] The Guardian. Available at: https://www.theguardian.com/science/political-science/2015/may/20/smarter-regulation-for-the-sharing-economy [Accessed 19 Nov. 2018]
Grayling Team (2016). The Sharing Economy and Trust, an Issue That can Only be Tackled Through Regulation.[online] Grayling Insights. Available at: https://www.grayling.com/bg/en/insight/the_sharing_economy_and_trust_an_issue_that_can_only_be_tackled_through_regulation [Accessed 26 Nov. 2018]
Grosse-Ophoff, A., Hausler, S., Heineke, K. and Möller, T. (2017). How shared mobility will change the automotive industry. [online] McKinsey & Company. Available at: https://www.mckinsey.com/industries/automotive-and-assembly/our-insights/how-shared-mobility-will-change-the-automotive-industry [Accessed 26 Nov. 2018]
Hamari, J., Sjöklint, M. and Ukkonen, A. (2016) The sharing economy: Why people participate in collaborative consumption. Journal of the Association for Information Science & Technology, 67(9), pp. 2047–2059. doi: 10.1002/asi.23552
Morris, D. (2016). Today's Cars Are Parked 95% of the Time. [online] Fortune. Available at: http://fortune.com/2016/03/13/cars-parked-95-percent-of-time/ [Accessed 26 Nov. 2018]
Moss, S. (2015). End of the car age: how cities are outgrowing the automobile. [online] the Guardian. Available at: https://www.theguardian.com/cities/2015/apr/28/end-of-the-car-age-how-cities-outgrew-the-automobile [Accessed 26 Nov. 2018]
Nijland, H. van Meerkerk, J. and Hoen, A. (2015) "'MPACT OF CAR SHARING ON MOBILITY AND CO2 EMISSIONS'. [online] PBL Netherlands Enviornmental Assessment Agency. Available at: https://www.pbl.nl/sites/default/files/cms/publicaties/PBL_2015_Note%20Impact%20of%20car%20sharing_1842.pdf [Accessed on 22 Nov. 2018]
Uber (2018). Uber Official [Instagram]. Available from: https://www.instagram.com/uber/ [Accessed 24 Nov. 2018]
Van Dijk, J. (2012). The Network Society. SAGE Publication Ltd, 3rd Edition
Like this post? You'll find more marketing insights in my new book: International Brand Strategy: A guide to achieving global brand growth, now available from booksellers globally. Order your copy here.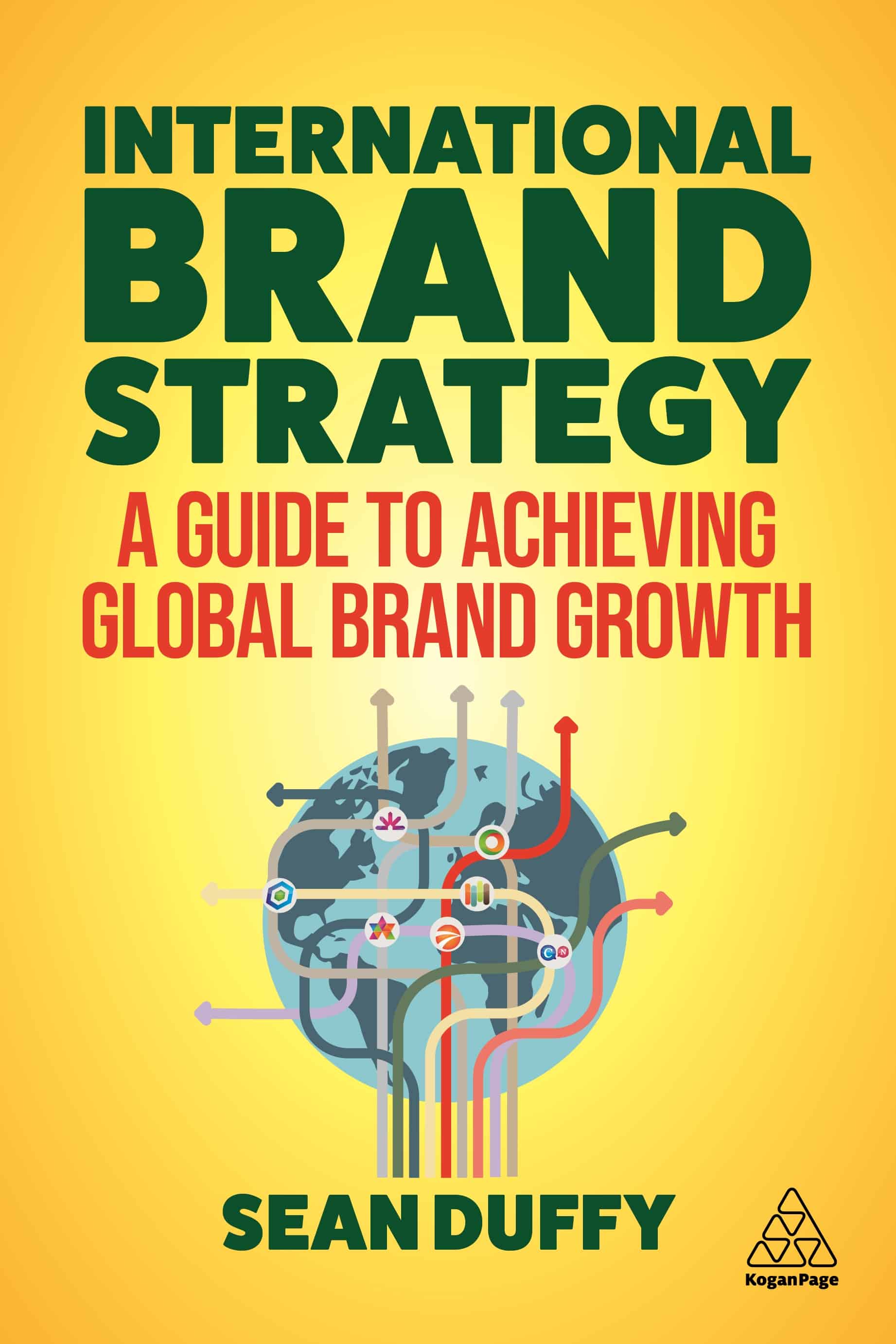 Order Your Copy
Students from the International Marketing and Brand Management program at Lund University are the contributing authors for the BrandBase blog.