Voice Search: the Trend of the Future?
5 tips for voice search optimization that will boost your rankings ...
22 May 2019
2374 Views
Written by Jannika Ickstadt
In 2013 Google rolled out the "Hummingbird" update and therewith laid the foundation for voice search, five years later 20% of all mobile searches are conducted via voice (Brenton, 2018). During the last years, speech recognition technologies have developed significantly and recent advancements in artificial intelligence and machine learning improved the performance immensely (Baker, 2018). Problems such as understanding certain words or specific accents have been solved. The devices deliver more specific results and become better every day. In 2017, the AI-powered Google assistant was improved for understanding English with a word error of less than 5% (Li, 2017). In the following, we will have a look at how voice search challenges traditional search engine optimization and you will get 5 tips to optimize your content.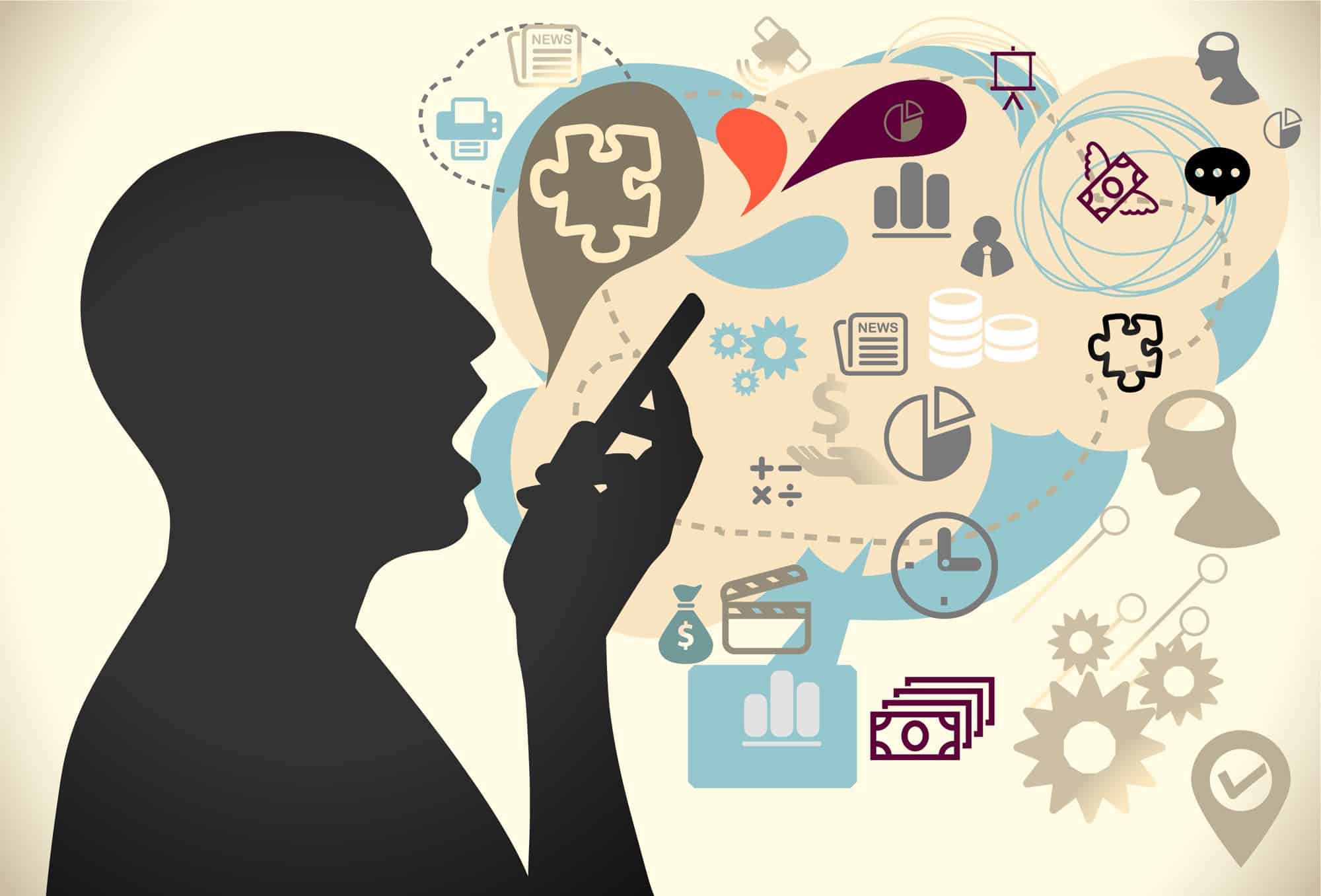 What is SEO and why is it so important?
SEO can be defined as a mechanism that delivers the best results to an online search (Sen, 2005). The most desired aim of SEO is a high ranking in the organic search engines results, so-called SERPs. SEO is not something you optimize ones and then your website stays on top of the results forever, it has to constantly be improved and updated. But why are high rankings so important? They are important, because the higher your page ranks, the more traffic, and visitors it will get. Studies have shown, that 80% of new website visitors come from search engines (Cen & Guixing, 2011). The most popular search engine is Google, with more than 3,5 billion searches every day, followed by Bing and Yahoo (Lamber, 2018). Search engines like Google scan all websites and list the results according to a ranking algorithm starting with the one that delivers the searched information in the best way (Khorsheed et al., 2015).
Did you know that the first website that appears in the SERPs has an average click rate of 42%, the second of 12% and the third one of just 8,5%? This is important to know, because the lower the ranking, the less traffic you will get on your website (Baker, 2018).
How do you improve your rankings?
The difficulty with SEO is, it consists of two parts and not only depends on your work, but also on other factors outside your business. On-page optimization is mainly about using the right keywords. Furthermore, on-page SEO includes producing relevant and interesting content, improving your internal links and your website's loading speed (Cen & Guixing, 2011). While you are in control of your on-page optimization, you can hardly influence the off-site performance. Off-site SEO is mainly about improving your search engine results and website's perception through confidential sources sharing your content, mentioning your name and linking to your website (Cen & Guixing, 2011).
How does voice search influence traditional SEO?
During the last years, voice-activated smart devices became very popular. Every day, one of six Americans talks to Siri, Alexa or Google, and fewer people are typing in their search requests (Lamber, 2018). Instead, they are talking to their devices the way you would ask a friend for advice. Voice search changes the way we create content because it creates a dialogue between the user and the device. Content, which directly answers questions will rank highest (FAC, 2018). You should aim at giving the best possible answer to your users' search requests, rather than adjusting the content around a set of keywords.
However, this does not mean SEO is less important. You should continue optimizing your SEO strategies. But in addition to desktop and mobile optimization, you also have to improve your content for voice search. Compared to traditional SEO it is even harder and requires more time and effort to get your website noticed because when conducting a search via voice, only one search result will come up and therefore get all the traffic.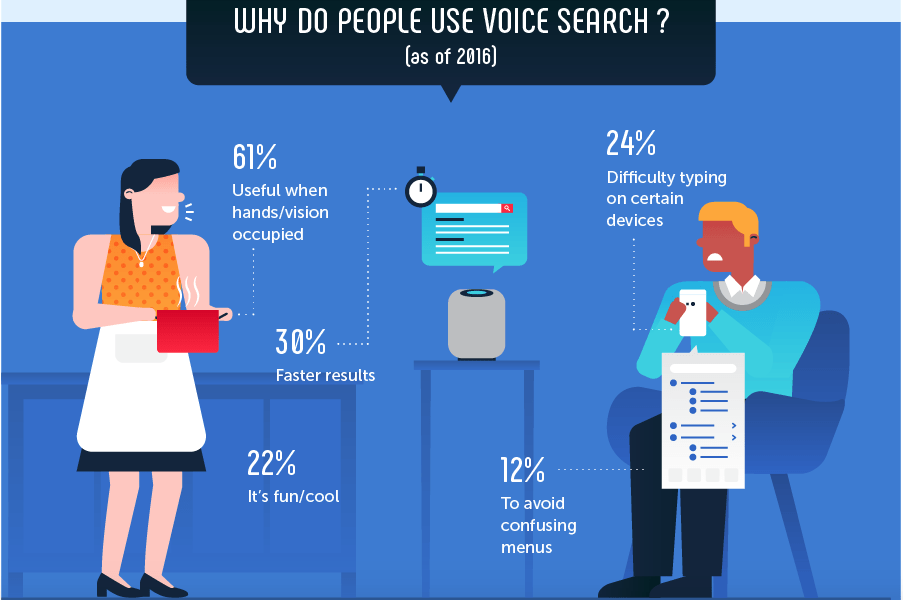 Why do people use voice search?
To better understand your customers, it is important to know why people use voice search over traditional search. Voice search makes your customers' life easier and it is more fun. The main advantage is that people can use their mobile phone while doing something else. It is also a faster and more accurate way of searching; a person can type approximately 40 words per minute, but speak more 150 words (SEO Tribunal, 2018).
How do you optimize your content for voice search?
Voice search optimized content requires a different way of thinking and letting go of traditional SEO techniques. Therefore, it is important to take 5 steps into consideration to get the best possible result.
1. Think like your customers
To optimize your website in the best possible way for voice search you have to put yourself in the position of your customer. The first thing you need to consider is language – customers do not formulate marketing messages, but ask for answers and directly say what they need. Therefore, your content has to sound natural, simple and clear (Brenton, 2018).
2. Create a dialogue
Your customers are looking for answers to their questions, so keep the conversation going. In voice-search, accurate syntax, as well as long-tail keyword combinations are used. Instead of "Italian restaurant Stockholm" someone would ask, "What is the best Italian restaurant in Stockholm?"
3. Focus on mobile
Mobile is the primary source for voice search. Studies discovered a difference in keywords used on desktop and mobile devices, therefore it is important to use the right ones. Include questions that start with words such as what, where who or how. Searches on desktop usually include between one and three words, using voice search the requests become longer and more specific. For this reason, it is important to include long-tail and contextual keywords (Meunier, 2017).
4. Aim for the answer box
When you ask a specific question to Google, it will come up with an answer box and link you to a website on the top of all search results – this is what you aim for. To appear in this answer box you have to know your customers and what they are looking for. Keep an eye on what they also searched for and include keywords like cost, price or definition (Brenton, 2018).
5. Voice search is local search
Almost 40% of voice search users are looking for local business information, such as opening times, directions or contact details. Make sure you provide the user with the right information and your business profile is up to date. Another important factor are online reviews, the better your business is reviewed the more likely you will get new customers. (Guest, 2018)
Future trends of voice search
The thing about the future is that no one exactly knows what it will look like. Studies say "by 2020, 50% of all searches will be conducted via voice" (Sentance, 2018). Voice search helps Google and companies to better serve their customers' needs and help them to easier find what they are looking for.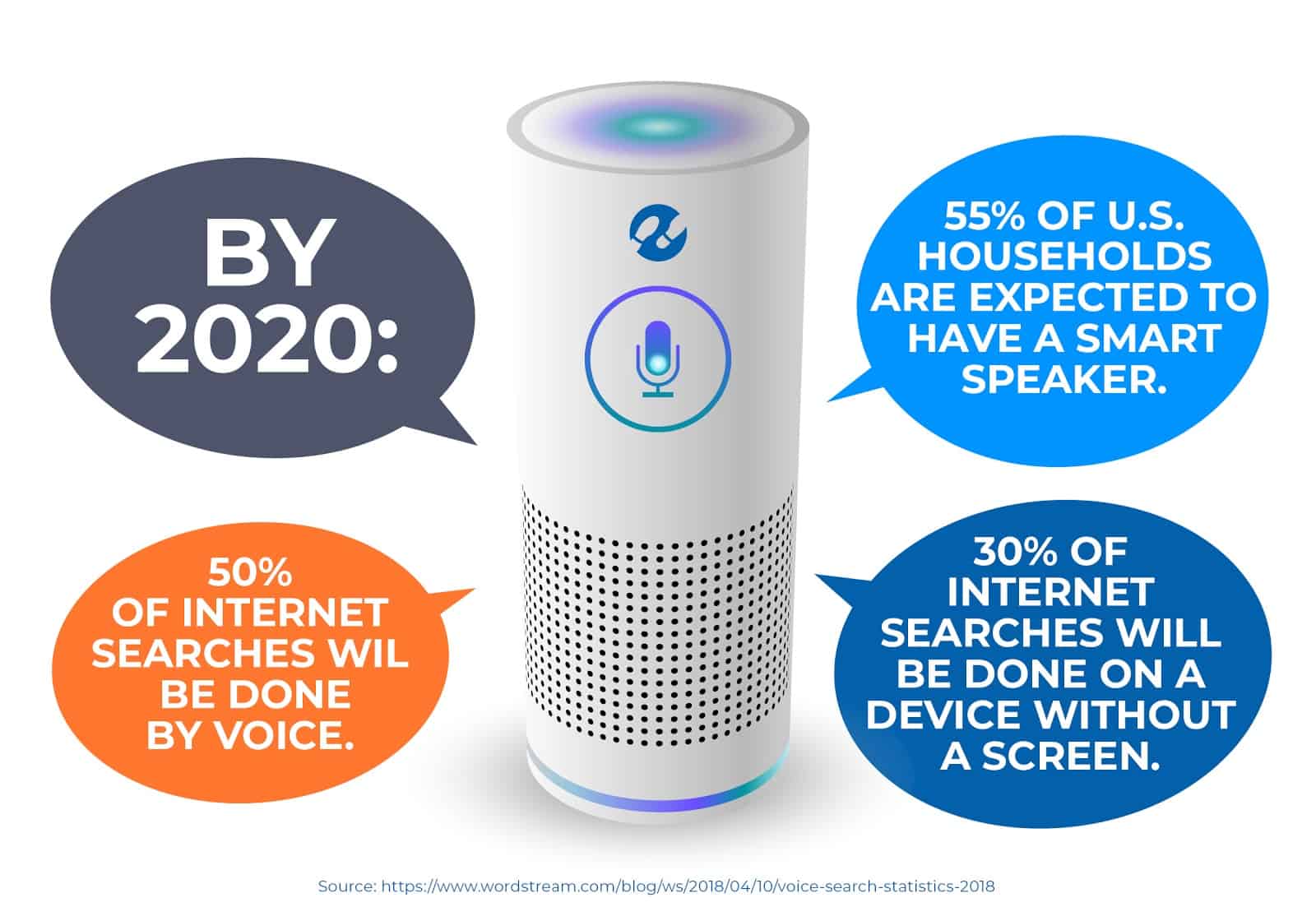 Indeed, voice search optimized content better understands your customers and has more visibility on featured snippets. It increases the speed; you can speak so much faster than you can type your request. Within a few seconds, you get an answer – that saves a lot of time (Lamber, 2018). Additionally, voice search also widens your audience. For instance, disabled people unable to use their hands or blind people can now use their voice to search for something online.
Summing up we come to the conclusion that voice search is definitely a future trend, it has several advantages and will have a significant impact on traditional SEO, but it will not replace it in any way. It can be seen as an additional aspect to take care of when optimizing your website. Your content has to differ from others and provide pure value for your customers. They have to easily find what they are looking for, and you have to provide all the answers (FCC, 2018). Make your customers' life easy!



References
Sentance, Rebecca (2018): The future of voice search: 2020 and beyond, [online] https://econsultancy.com/the-future-of-voice-search-2020-and-beyond/ [22.11.2018]
Baker, Lauren (2018): 5 Voice engine optimization strategies to get ahead, [online] https://www.searchenginejournal.com/voice-search-optimization-strategies/261115/ [21.11.2018]
Forbes Agency Council (2018): 12 SEO trends heating up 2018, [online] https://www.forbes.com/sites/forbesagencycouncil/2018/03/13/12-seo-trends-heating-up-2018/#fdb27e62f412 [22.11.2018]
Goulart, Matthew (2018): Mid-year review: the five SEO trends taking shape in 2018 [online]https://www.forbes.com/sites/forbesagencycouncil/2018/07/23/mid-year-review-the-five-seo-trends-taking-shape-in-2018/#a3682ec10809 [22.11.2018]
Meunier, Bryson (2017): SEO in 2018: Optimizing for voice search [online] https://searchengineland.com/seo-2018-optimizing-voice-search-288078 [23.11.2018]
Li, Abner (2017): Google's speech recognition is now almost as accurate as humans [online]https://9to5google.com/2017/06/01/google-speech-recognition-humans/ [22.11.2018]
Kittisak Chotikitpat, Rachyanun Nilsook, and Sunantha Sodsee (2015): Techniques for Improving Website Rankings with Search Engine Optimization (SEO), in: Advanced Science Letters, Vol. 21, pp. 3219–3224
Z. Cen and W. U. Guixing (2011): Research and analysis of search engine optimization factors based on reverse engineering, in: Third International Conference on Multimedia Information Networking and Security, pp. 225–228
Ravneet Singh Bhandar, Ajay Bansal Jindal (2018): Impact of Search Engine Optimization as a Marketing Tool, in: Journal of Business Research 7(1) 24–36
Sen, R. (2005): Optimal search engine marketing strategy, in: International Journal of Electronic Commerce, 10(1), 9–25
Capala, Matthew (2018): 8 Voice search statistics that are too crazy to ignore [online] https://alphametic.com/8-voice-search-statistics-that-are-too-crazy-to-ignore [23.11.2018]
Forbes Communications Council (2018): 15 Top Tips To Optimize Your Content For The Voice Search Revolution [online]https://www.forbes.com/sites/forbescommunicationscouncil/2018/05/16/15-top-tips-to-optimize-your-content-for-the-voice-search-revolution/#16a88d9642fa [22.11.2018]
Brenton, Luisa (2018): 5 Steps to optimize your content for voice search [online] https://www.singlegrain.com/seo/5-steps-to-optimize-your-content-for-voice-search/ [22.11.2018]
Lamber, Vincent (2018): How Voice search will impacz SEO in the future online [online] https://torquemag.io/2018/08/how-voice-search-will-impact-seo-in-the-future/ [21.11.2018]
Khattab O. Khorsheed, Magda M. Madbouly, Shawkat K, Guirgis (2015): Search engine optimization using data mining approach, in: International Journal of Computer Engineering and Applications, Volume IX, Issue VI, Part I
Morris, Paul (2018): Optimising Your Website For Better Voice Search Visibility [online] https://superb.digital/search-engine-optimisation/optimising-website-better-voice-search-visibility/ [27.11.2018]
Guest, Author (2018): 4 SEO Survival tips for the voice search revolution [online]https://www.wordstream.com/blog/ws/2018/02/15/voice-search-seo [21.11.2018]
Google. (n.d.). Voice search – Google Search [online] https://www.google.com/search?q=interesting+facts+about+voice+search&client=firefox-b&tbm=isch&tbs=rimg:CRpWEELljs0FIjhb79-XnlFLjuKsNJuepu7Q8ozLdOkUmq_1W_1nbkgyHnMrzxYRfQUc9MvKo3kiQJmWV-lQiJp_1UV9CoSCVvv35eeUUuOEel9sSrzVGKRKhIJ4qw0m56m7tAR9-51ro_1EXt4qEgnyjMt06RSarxHS6TOtci96-SoSCdb-duSDIecyEW7s3OH8IQfeKhIJvPFhF9BRz0wRmSnThun-6jYqEgm8qjeSJAmZZRHdK9gG8yIZ9SoSCX6VCImn9RX0EVLRveamI_1Mm&tbo=u&sa=X&ved=2ahUKEwjosYW6-vfeAhXJhKYKHb9rAKIQ9C96BAgBEBs&biw=1280&bih=704&dpr=1#imgrc=fpUIiaf1FfTFHM: [28.11.2018]
SEO Tribunal (2018): [online] https://seotribunal.com/blog/voice-search-facts-stats/ [28.11.2018]
Shelton, Kelly (2018): [online] https://www.singlegrain.com/voice-search/hey-siri-how-do-i-optimize-for-voice-search/ [28.11.2018]
Like this post? You'll find more marketing insights in my new book: International Brand Strategy: A guide to achieving global brand growth, now available from booksellers globally. Order your copy here.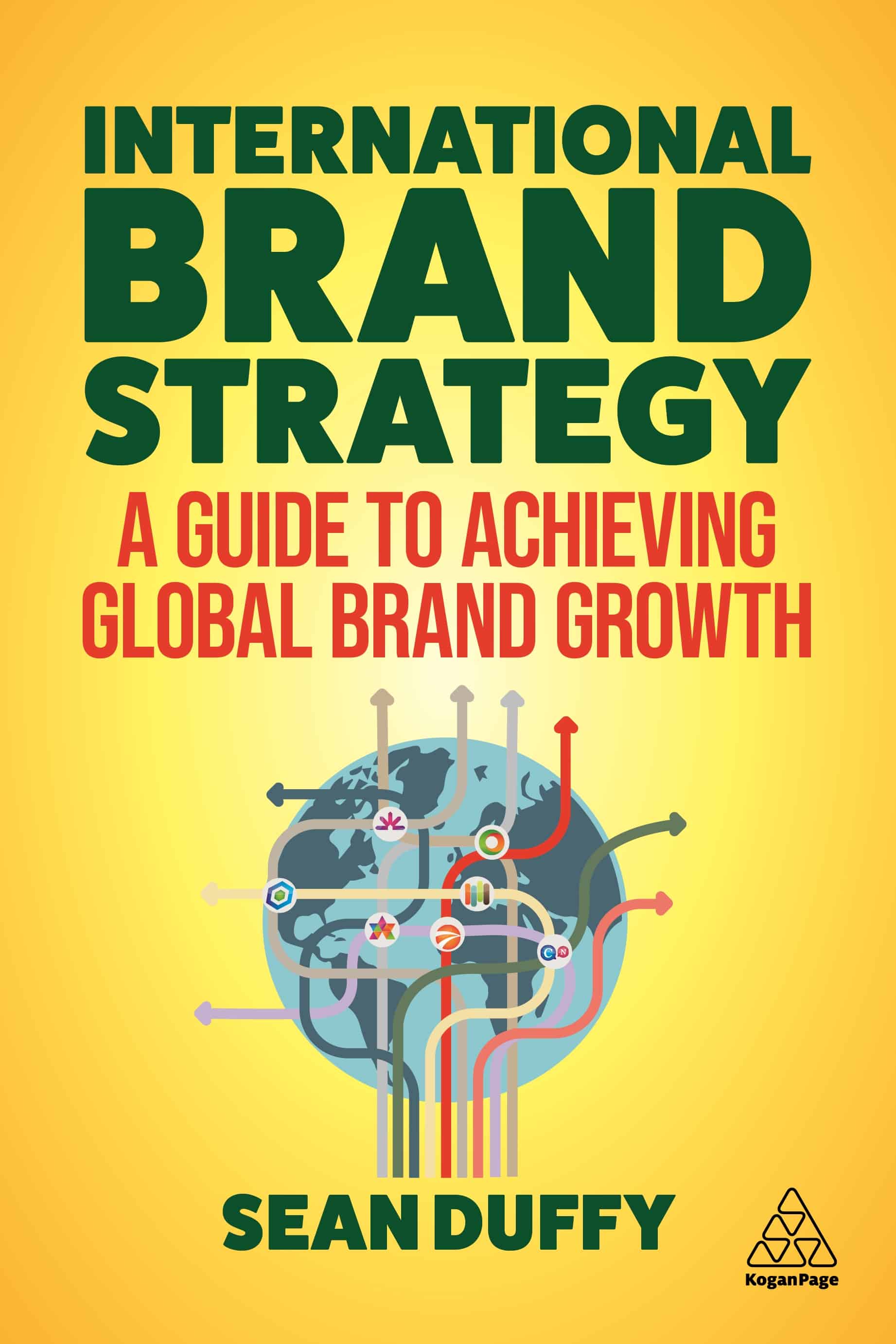 Order Your Copy
Students from the International Marketing and Brand Management program at Lund University are the contributing authors for the BrandBase blog.