Using User Generated Content to Catch Generation Z: From Online to Offline
Tired of wondering how to catch the Gen Z'ers? The next big thing in user generated content will help you. This is how and why you need it...
28 Mar 2019
3317 Views
Written by Cecilia Finell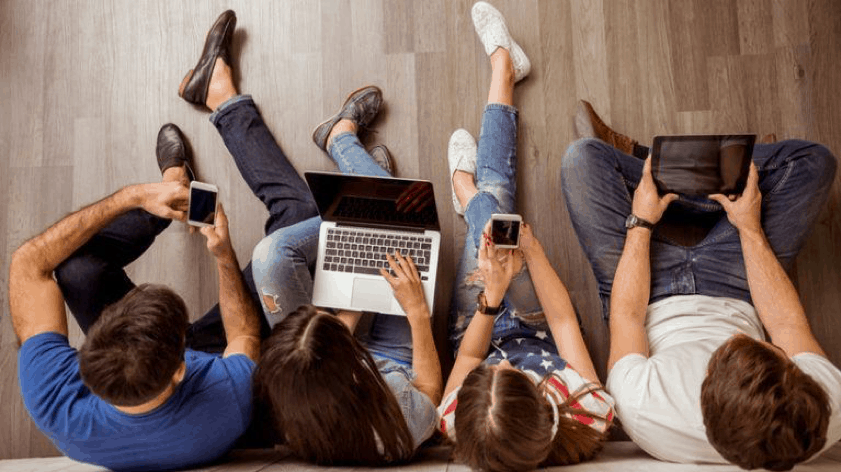 One of the newest topics among marketers is the fascinating Generation Z (a.k.a. post-millennials) that is being raised in a world where technology is a given, where there are more brands than ever and advertisements are being thrown at you from every possible corner. So how do you target the most tech savvy generation whose attention is hard to grab and demands more from you as a marketer than previous generations ever did? One of the solutions you might be looking for is called user generated content (UGC) and it's here to stay – in a new and creative shape. However, before I explain what you need to do, you need to understand what UGC entails. After that, I will clarify why it will help you reach Generation Z and why you need their attention.
What is User Generated Content and why is it useful?
The rise of social media has forced marketers to rethink their strategy and to realize the consumers' power to take active part in branding by no longer being a passive listener, but rather an active contributor to storytelling; hence, user generated content has become an important online marketing tool for several brands (Singh and Sonnenburg, 2012). Today, a so called 'explorer' approach consisting of a two-way communication with interaction and collaboration between users and brands is more common on social media among many brands. These companies have simply realized that the regular one-way communication and informative approach are old news (Felix, Rauschnabel and Hinsch, 2017).
User generated content stands for content voluntarily created by users (customers and non-customers) about a product or a brand. This makes UGC an influential marketing tool to develop social interaction since consumers perceive UGC as trustworthy and credible information (Tang, Fang and Wang, 2014; Roy, Datta and Basu, 2017). This is especially true among Generation Z (Patel, 2017). On top of that, the number of social media users worldwide is increasing and is estimated to be around 2,77 billion in 2019 (Statista, 2018), while UGC is also a cost-effective and efficient way for brands to reach out to their community (Ehlers, 2018). Put these factors together and you will understand why UGC should be a part of your online marketing strategy.
In fact, Instagram is one of the largest platforms for brands and marketers to engage consumers through user generated content (DeMers, 2017). Below you see a brand that has succeeded in establishing an Instagram community with its UGC strategy. Let me explain why this brand is so successful.
VisitScotland encourages travelers who visit Scotland to share their content by using several of their hashtags, such as #VisitScotland, #ScotlandIsNow and #ScotSpirit. By doing this, travelers have a chance to get featured on their official Instagram page with more than 600.000 followers as of today. Not only does their page offer a beautiful feed captured by the travelers themselves, it also praises the beauty of Scotland while creating awareness about the Scottish destinations – but most of all, VisitScotland receives free content.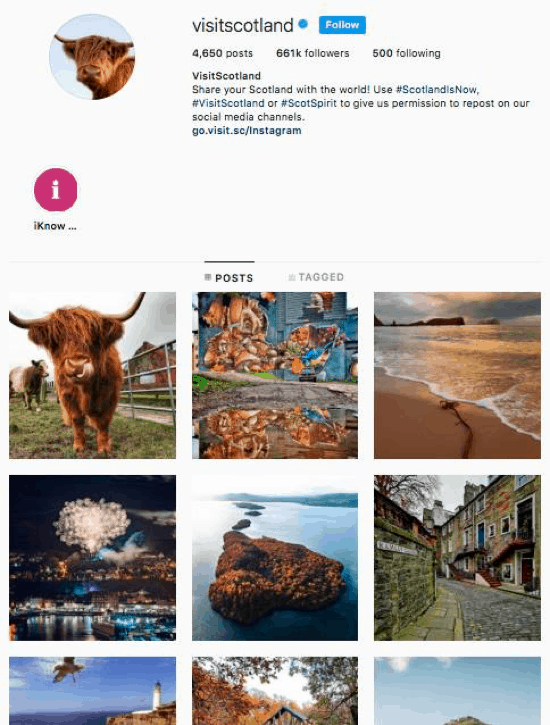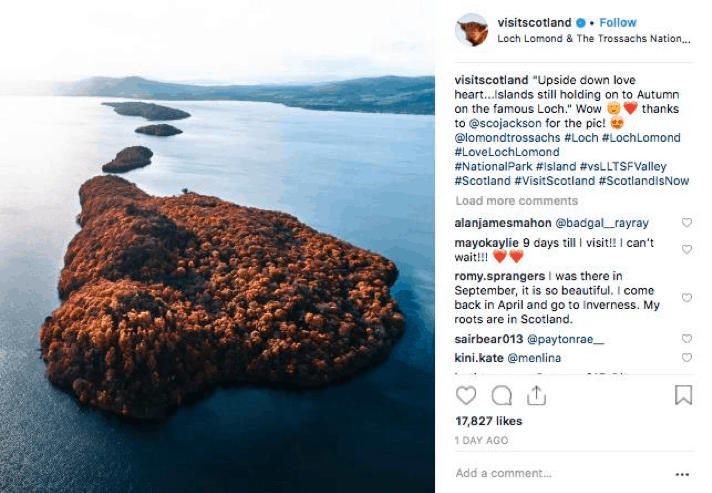 Now that you are more familiar with VisitScotland and their Instagram strategy, I hereby present what they did to take their user generated content to the next level.
Using (Online) User Generated Content Offline

In 2017, VisitScotland did something no company had done before. By opening up a temporary and physical Instagram Travel Agency in London, they took full advantage of their user generated content strategy by displaying a wall with its Instagram posts. Not only was this a creative idea, it also showed the world a new way on enticing travelers to plan a trip. This allowed the potential travelers to visit a traditional store, to get inspired and plan their trip by selecting among different destinations visited by other travelers presented on the wall of UGC (VisitScotland, 2017).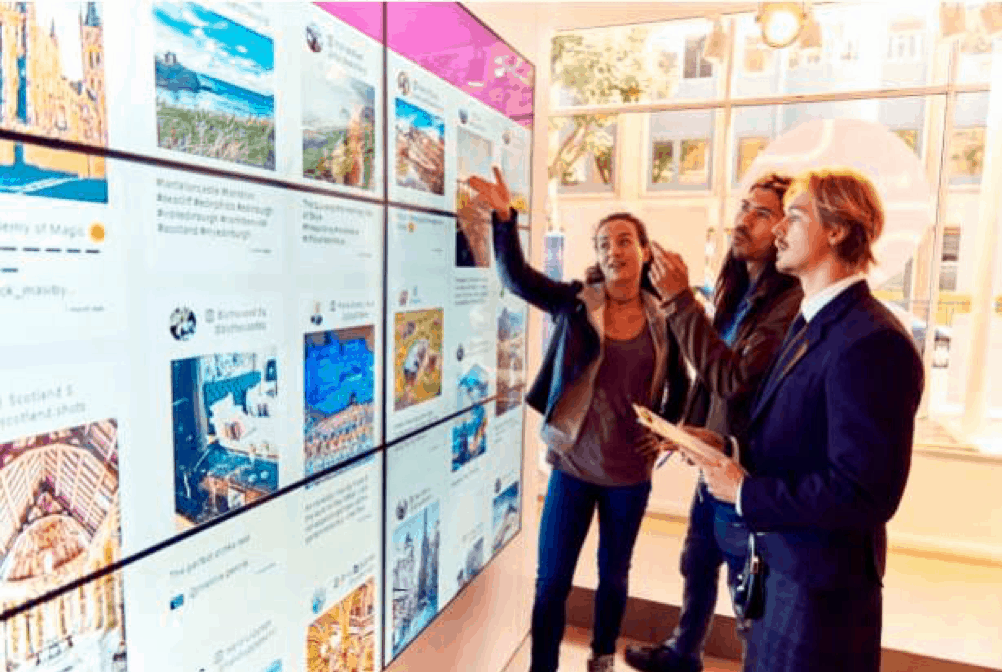 This is what I would like to call "using your online UGC offline", because that is exactly what they did. The tourism agency is still using user generated content to create their Instagram feed and to inspire people to visit Scotland. However, they simply saw the opportunity to take an existing and fully working concept, and turn it into something physical by tweaking it and adding something extra to it. Not only was this a brilliant idea to capture young travelers, the pop-up agency was a big success that resulted in a growing number of Instagram followers (Gallion, 2018). This shows how appreciated the traditional brick and mortar concept is.
Now, let me tell you why this user generated content strategy might be the key to attract the young Generation Z and why these youngsters are the future of your business.
Generation Z – the Most Challenging Generation for Marketers

Gen Z'ers aren't as young anymore as you might think. Although peopl­e have not managed to come to an agreement about an exact time frame for this generation, most researchers agree that this generation includes people born between the mid 1990's and somewhere around 2010 (Priporas, Stylos and Fotiadis, 2017; Puiu, 2016; Turner, 2015). In fact, they will account for the world's largest purchasing power by the year 2020 already (Fromm, 2018), which is basically just around the corner.
Generally speaking, these youngsters are known for being extremely tech savvy; they live in a world where technology (especially smartphones) is at their center of attention and seeking and sharing information online is their everyday habit (Turner, 2015; Puiu, 2017; Priporas, Stylos and Fotiadis, 2017), which also happens to be the concept of user generated content. Post millennials use social medias such as Instagram, YouTube and Snapchat like never before (Pruett, 2018), appreciate innovation and favor online interaction, whereas they value personalization, authenticity and experience, but are said to be less brand loyal than earlier generations (Puiu, 2016 and Priporas, Stylos and Fotiadis, 2017).
Why offline User Generated Content will win over Gen Z
While the technological development indicates that Generation Z knows nothing but a digital world and online shopping, recent studies indicate that brick and mortar stores are not a dying concept among the Gen Z'ers after all. Even though Generation Z never lived without mobile phones and is attached to them like no other generation, these youngsters rather use them for researching products and finding good deals, than for purchasing. In fact, physical stores are making a comeback with Generation Z and most of them prefer in-store shopping over online shopping. Nevertheless, tech savvy as Gen Z is, this generation also appreciates technology in the physical store (IBM, 2017; National Retail Federation, 2018). Therefore, combining Instagram and its user generated content with a real store sounds ideal for this generation, doesn't it? I think so and let me summarize why.
Gen Z'ers are experts with technology, they actively use social media, they value innovation and they praise engagement and truth, which makes user generated content an optimal strategy, but most of all – they still prefer to visit traditional brick and mortar stores. Therefore, whether it is a traveling agency, a clothing store or any other type of store, taking your UGC from your online channel to a physical place, might just be the key to attract these youngsters. In other words, I totally agree with the CEO of the National Retail Federation, who said that while technology is developing and Generation Z prefers hands-on experiences in-store, retailers need to find ways to combine the best of both worlds (IBM, 2017).
Imagine being 20 years old again, while walking into your favorite store with the intention to buy a completely new outfit. You're standing there, thinking of which trousers to buy and which blouse that matches the best. You're young, somewhat insecure about your look and you know that you're friends opinion matter. However, in the store you see a wall full of user generated content in the shape of pictures of ordinary people – just like you – wearing several pieces of clothing that you could also wear. Isn't that just a wonderful feeling and great help to find inspiration for your purchase?
To conclude, don't be fooled and stare yourself blind on the online world, sometimes an offline strategy might be the last piece of the puzzle you have been looking for. User generated content in both forms is here to stay – something worth keeping in mind if you are planning on catching Generation Z.
References
DeMers, J. (2017). Why Instagram Is The Top Social Platform For Engagement (And How To Use It). [ONLINE] Available at:https://www.forbes.com/sites/jaysondemers/2017/03/28/why-instagram-is-the-top-social-platform-for-engagement-and-how-to-use-it/#1ebce88736bd [Accessed 27 November 2018].
Ehlers, K. (2018). What Your Brand Needs To Know About The Next Wave Of Consumers. [ONLINE] Available at: https://www.forbes.com/sites/yec/2018/02/15/what-your-brand-needs-to-know-about-the-next-wave-of-consumers/#644e846c4856 [Accessed 27 November 2018].
Felix, R., Rauschnabel, A. and Hinsch, C. (2017). Elements of strategic social media marketing: A holistic framework. Journal of Business Research 70, pp. 118-126.
Fromm, J. (2018). How Much Financial Influence Does Gen Z Have?. [ONLINE] Available at: https://www.forbes.com/sites/jefffromm/2018/01/10/what-you-need-to-know-about-the-financial-impact-of-gen-z-influence/#4702ec4c56fc [Accessed 27 November 2018].
Gallion, A. (2018). VisitScotland Introduces First UGC-Powered Instagram Travel Agency to Attract Millenials. [ONLINE] Available at: https://www.simpleviewinc.com/blog/post/2018/25/VisitScotland-Introduces-First-UGC-Powered-Instagram-Travel-Agency-to-Attract-Millenials/1013/ [Accessed 28 November 2018].
IBM. (2017). Despite Living a Digital Life, 98 Percent of Generation Z Still Shop In-Store. [ONLINE] Available at:  https://www-03.ibm.com/press/us/en/pressrelease/51397.wss [Accessed 28 November 2018].
National Retail Federation. (2018). What do Gen Z shoppers really want?. [ONLINE] Available at: https://nrf.com/research/what-do-gen-z-shoppers-really-want [Accessed 27 November 2018].
Patel, D. (2017). 9 Proven Ways CMOs Can Reach Gen Z. [ONLINE] Available at: https://www.forbes.com/sites/deeppatel/2017/09/20/9-proven-ways-cmos-can-reach-gen-z/#602180fe4734 [Accessed 27 November 2018].
Priporas, C.V., Stylos, N. and Fotiadis, A.K. (2017). Generation Z consumers' expectations of interactions in smart retailing: A future agenda. Computers in Human Behavior 77, pp. 374-381.
Pruett, M. (2018). Gen Z's Favorite Social Networks: YouTube, Instagram, Snapchat. [ONLINE] Available at:  https://www.criteo.com/insights/gen-z-social-media/ [Accessed 27 November 2018].
Puiu, S. (2016). Generation Z – A New Type of Generation. Young Economists Journal 13(27),pp. 67-78.
Puiu, S. (2017). Generation Z – An Educational and Managerial Perspective. Young Economists Journal 14(29), pp. 62-72.
Singh, S. and Sonnenburg, S. (2012). Brand Performances in Social Media. Journal of Interactive Marketing 26(4), pp. 189-197.
Statista. (2018). Number of social media users worldwide from 2010 to 2021 (in billions). [ONLINE] Available at: https://www.statista.com/statistics/278414/number-of-worldwide-social-network-users/ [Accessed 27 November 2018].
Roy, G., Datta, B. and Basu, R. (2017). Trends and Future Directions in Online Marketing. Journal of Internet Commerce 16(1), pp. 1-31.
Tang, T., Fang, E. and Wang, F. (2014). Is Neutral Really Neutral? The Effects of Neutral User-Generated Content on Product Sales. Journal of Marketing 78, pp. 41-58.
Turner, A. (2015). Generation Z: Technology and Social Interest. Journal of Individual Psychology 71(2), pp. 103-113.
VisitScotland. (2018). VisitScotland, Instagram. [ONLINE] Available at: https://www.instagram.com/visitscotland/ [Accessed 27 November 2018].
VisitScotland. (2017). VisitScotland opens world's first Instagram travel agency. [ONLINE] Available at: http://mediacentre.visitscotland.org/pressreleases/visitscotland-opens-worlds-first-instagram-travel-agency-2222199 [Accessed 27 November 2018].
Wondergem, K. (2017). Here Comes Z: Strategies To Engage A New Generation Of College Students. [ONLINE] Available at: https://elearningindustry.com/engage-a-new-generation-of-college-students-strategies [Accessed 28 November 2018].
Like this post? You'll find more marketing insights in my new book: International Brand Strategy: A guide to achieving global brand growth, now available from booksellers globally. Order your copy here.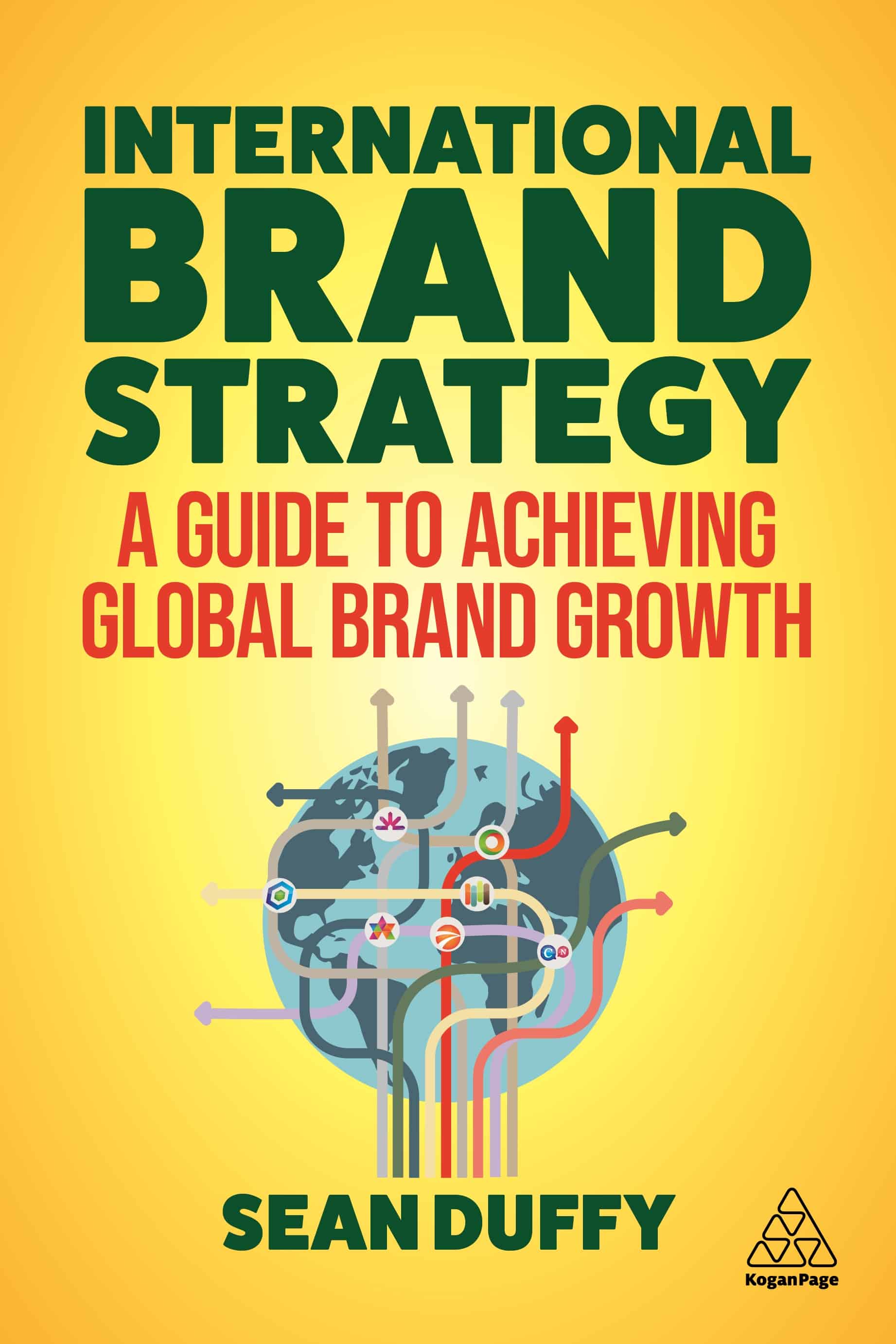 Order Your Copy
Students from the International Marketing and Brand Management program at Lund University are the contributing authors for the BrandBase blog.