The Arise of Instagram's Society.
With over 400 million stories per day, Instagram is considered as a magnificent tool. Firms should adopt stories in their strategy...
31 Jul 2019
1815 Views
Written by Paraskevi Devreli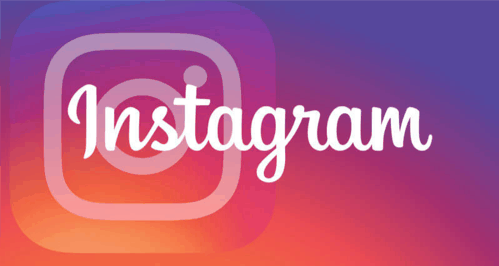 The arise of Instagram's society.
Today, we are experiencing the dramatic change in communication and the emergence of social media, especially the Instagram network is considered as the most recognizable in the new generation. Actually, the active members of this platform are accounted to be more than 500 million[x]. For that reason, companies need to learn how to be associated with social media and traditional ways of marketing as part of an ecosystem that will help them to achieve their main objectives [viii]. It is important for firms to adopt social media in their strategies however, they should not forget other traditional activities [i].
As a mobile application for sharing photos, Instagram transforms itself as an amazing communication and marketing tool, available for use by all businesses, including small companies and startups [xv]. Furthermore, Instagram, as one of social media, enables firms to achieve the best performance by creating and influencing brand or product awareness [viii]. Moreover, customers have the power to relate with other people, brands or products and to be creative by taking advantage the use of the internet [vi].
Nowadays, the new trend that companies are trying to manage is the Instagram stories which made their appearance in 2016 [v]. More and more young people are sharing their daily lives in those stories like maniacs, only because the want to figure what is the extent of their response among their network friends. With other words they want to notice how recognizable they are in their network society.
In fact, Instagram is turned into a unique network that targets ordinary people and companies [xii]. Indeed, if you are coming from the business world, you can use Instagram's stories either for an inspirational product or brand promotion, or to increase your sales or just to interact and have fun with your customers [xii].
Bellow I share 5 ways that Instagram's stories can be beneficial to your company. So maybe next time you will consider it to add Instagram's stories in your marketing strategy as an inspirational movement.
1. The rule of 3 to 60 sec record
More and more companies are using Instagram's stories as a simple way to advertise their brands or products. The company can record all or a part of the commercial activity from 3 to 60 seconds in each story. This is enough, according to neuroscience, for people to respond and identify the product [ii] and this can lead to the increasement of their awareness and commitment for brands or products.
It's obvious that if the customer wants to continue watching or move forward to the next step, such as a purchase, it is easier for him/her to swipe up or tap on the story and automatically consumer will be transferred on the company's webpage. Indeed, Instagram stories offer a few information about the company or the product. Hence the link between social network and webpage it is always a great help [i].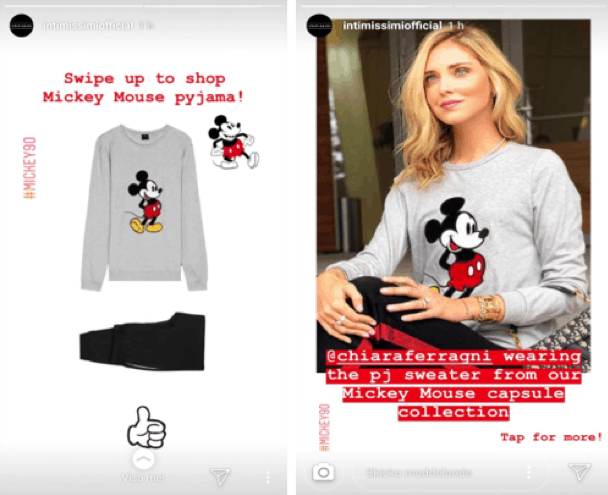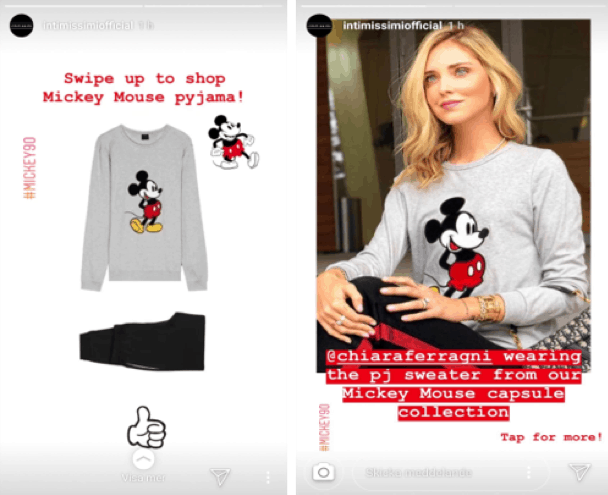 2. The storytelling of something new
Many firms find interesting to communicate with their followers on social network by revealing something new that is going to happen with just posting comments and now by using stories. Thus, a story is giving to the companies the opportunity to introduce a new campaign that is soon going to start or a new event that is going to happen.
The events and the campaigns are usually a necessity as they allow companies to build their own image and to establish strong and deeper relationships with their customers. By using social media that considered as the new generation of word-of-mouth communication [iv], businesses are widening the speed of transmission of messages between followers and them.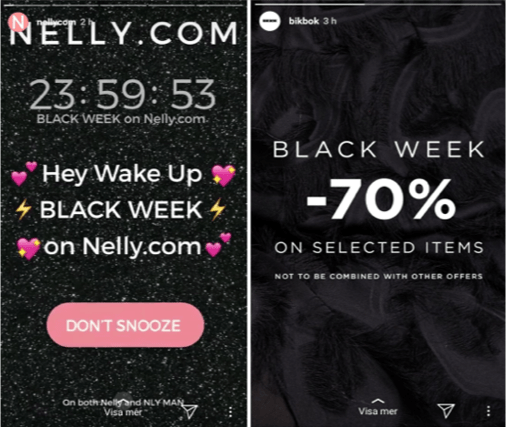 3. You ask, we answer!
This year, Instagram introduced the opportunity for you to have a question sticker in your story [ix]. Indeed, this has automatically defined the communication to a higher level for the companies. With other words, firms have the ability to provide exclusivity by personalized their targets. In addition, companies interact with their customers and develop personal relationship with them as the Instagram's questions allow a directly discussion [xiii]
Due to the two-way communication inside the network, customers feel unique and special as the company respond to their questions and share them inside the Instagram society. According the way they are feeling, consumers are able to transfer their experience to others through the same network by making an already extension on word of mouth communication [iv][xiii]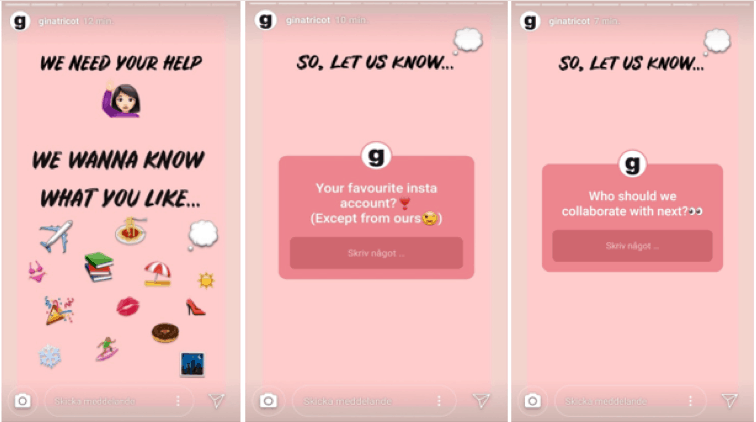 4. Your opinion is all that is matter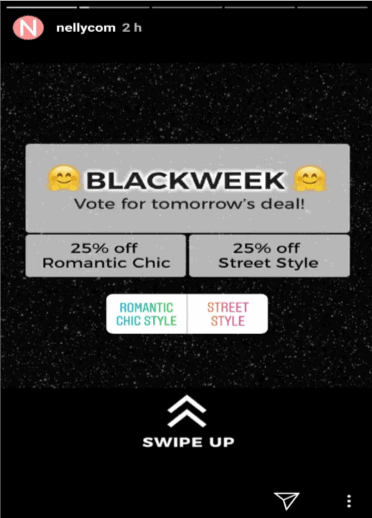 Instagram stories poll sticker is another new trend that it was also introduced last year [xi]. Polls are always one strategy that companies prefer to use on social media for receiving feedback and to measure the brand or product awareness as well as the audience engagement. [xiv].
Instagram, by revealing the story poll sticker, has done easier the directly communication between firm and customer. In addition, with the help of opinion polls, businesses learn their customer preferences and build a deeper connection with them while enriching the customer loyalty toward the brand or the product [iii].
5. And the winner is…
Last but not least, there is an increasingly tendency for companies to use Instagram stories for the conduction of competitions. By publishing the contest in a story, businesses increase the possibility of spreading the event to all those who are interested in participating. It is only needed the competition to be published on a story and the followers would spread the information in their Instagram society exactly as the word-of -mouth communication works [iv].
In addition, companies are also collaborating with social media influencers which is another trend that has emerged in recent years. Influencers are identified as independent ambassador of trust as that are considered from the followers as a reliable source to base their purchase [vii]. That's way brands are seeking for a good collaboration with them.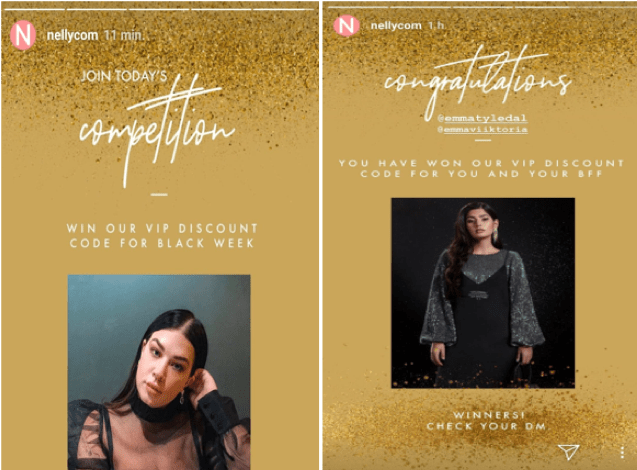 Instagram's stories as a help hand for firms
Today, we observe that tools and strategies that brand companies choose to communicate with their customers are influenced from the new age of social media. Furthermore, the innovative opportunities which is offered by the new Instagram platform bring the communication at a higher but also in a more personal level between businesses and potential consumers. This leads many businesses to adopt Instagram in their marketing activities.
Especially, when a firm is unknown, a smaller sized company or a startup, Instagram is one of the marketing tools that it will help firms' employees to interact with potentials costumers, create and heighten the awareness for the company [iv][xvi]. Therefore, if you are a manager of a small or a startup company, it will be better to consider involving in your strategy the Instagram's stories. By doing that, you will most likely notice your brand awareness to continue expanding among the followers of this network society.



---
References:
[i] Barwise, P. and Meehan, S. (2010). The One Thing You Must Get Right When Building a Brand. [online] Harvard Business Review. Available at: https://hbr.org/2010/12/the-one-thing-you-must-get-right-when-building-a-brand [Accessed 27 Nov. 2018].
[ii] Burrus, B. (2014). The Argument for More Effective Short-Form Ads. [online] Nielsen.com. Available at: https://www.nielsen.com/us/en/insights/news/2014/the-argument-for-more-effective-short-form-ads.html [Accessed 24 Nov. 2018].
[iii] Carbone, L. (2018). 6 Creative Ways to Use Instagram Stories Polls. [online] Later Blog. Available at: https://later.com/blog/instagram-stories-polls/ [Accessed 24 Nov. 2018].
[iv] Castronovo, C. and Huang, L. (2012). Social media in an alternative marketing communication model. Journal of Marketing Development and Competitiveness, 6(1). https://www.researchgate.net/publication/290451247_Social_media_in_an_alternative_marketing_communication_model
[v] Chacon, B. (2018). The Ultimate Guide to Instagram Stories for Business – Later Blog. [online] Later Blog. Available at: https://later.com/blog/instagram-stories-for-business/ [Accessed 25 Nov. 2018].
[vi] Christodoulides, G. (2009). Branding in the post-internet era. Marketing Theory, 9(1), pp.141-144. https://www.researchgate.net/publication/247757274_Branding_in_the_post-internet_era
[vii] Freberg, K., Graham, K., McGaughey, K. and Freberg, L. (2011). Who are the social media influencers? A study of public perceptions of personality. Public Relations Review, 37(1), pp.90-92. https://www.sciencedirect.com/science/article/abs/pii/S0363811110001207
[viii] Hanna, R., Rohm, A. and Crittenden, V. (2011). We're all connected: The power of the social media ecosystem. Business Horizons, 54(3), pp.265-273.   https://www.sciencedirect.com/science/article/pii/S0007681311000243
[ix] Instagram (2018). Introducing the Questions Sticker. [online] Instagram. Available at: https://instagram-press.com/blog/2018/07/10/introducing-the-questions-sticker/ [Accessed 24 Nov. 2018].
[x] Instagram (2018). Our Story. [online] Instagram. Available at: https://instagram-press.com/our-story/ [Accessed 24 Nov. 2018].
[xi] Instagram (2017). Introducing Polls in Instagram Stories. [online] Instagram. Available at: https://instagram-press.com/blog/2017/10/03/introducing-polls-in-instagram-stories/ [Accessed 24 Nov. 2018].
[xii] Instagram (2016). Introducing Instagram Stories. [online] Instagram. Available at: https://instagram-press.com/blog/2016/08/02/introducing-instagram-stories/ [Accessed 24 Nov. 2018].
[xiii] Mangold, W. and Faulds, D. (2009). Social media: The new hybrid element of the promotion mix. Business Horizons, 52(4), pp.357-365. https://www.sciencedirect.com/science/article/pii/S0007681309000329
[xiv] Overmyer, K. (2018). The Marketing Magic of Social Media Polls. [online] The Content Standard by Skyword. Available at: https://www.skyword.com/contentstandard/marketing/the-marketing-magic-of-social-media-polls/ [Accessed 25 Nov. 2018].
[xv] Ting, H., Wong Poh Ming, W., Cyril de Run, E. and Lau Yin Choo, S. (2015). Beliefs about the Use of Instagram: An Exploratory Study. International Journal of Business and Innovation, 2(2). https://www.researchgate.net/publication/272026006_Beliefs_about_the_Use_of_Instagram_An_Exploratory_Study
[xvi] Virtanen, H., Björk, P. and Sjöström, E. (2017). Follow for follow: marketing of a start-up company on Instagram. Journal of Small Business and Enterprise Development, 24(3), pp.468-484. https://www.emeraldinsight.com/doi/abs/10.1108/JSBED-12-2016-0202
Image sources:
Peterson, T. (2018). Instagram triples length of Story ads with carousel format – Marketing Land. [online] Marketing Land. Available at: https://marketingland.com/instagram-triples-length-story-ads-carousel-format-233523 [Accessed 28 Nov. 2018].
Like this post? You'll find more marketing insights in my new book: International Brand Strategy: A guide to achieving global brand growth, now available from booksellers globally. Order your copy here.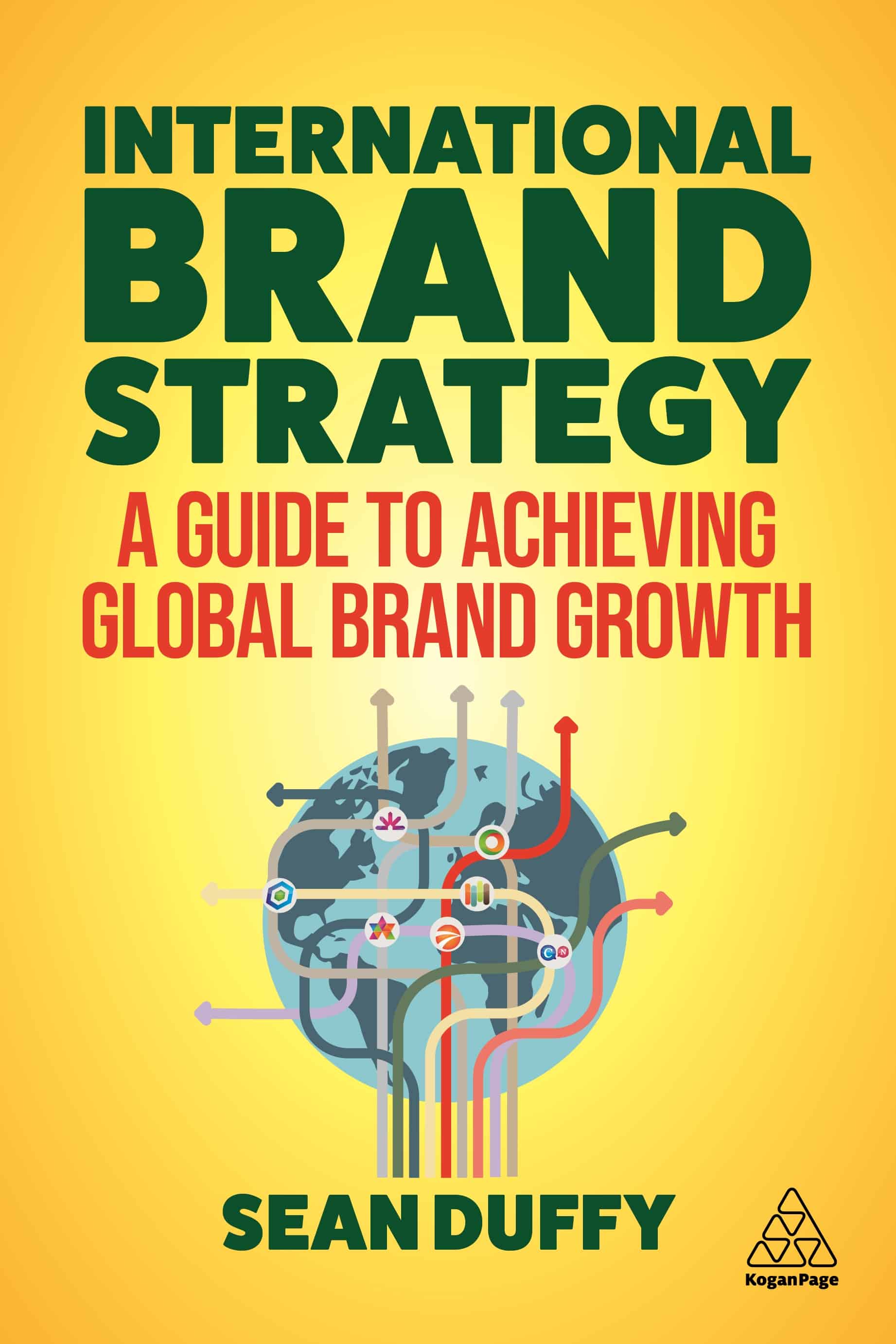 Order Your Copy
Students from the International Marketing and Brand Management program at Lund University are the contributing authors for the BrandBase blog.