Successful sales, key learnings
In this article I will present 3 key learnings in order to be successful in sales...
8 May 2019
2800 Views
Written by Mattias Palm
In this article I will present 3 key learnings in order to be successful in sales. The relationship between sales and marketing department will be discussed, the classical sales funnel metaphor will be challenged and the customers' role in the sales process will be elaborated.
Why you should care.
Most organizations need incomes in order to exist. In order to have incomes most organizations need sales. In order to have sales most companies need marketing. These are fundamental things that most companies agree upon, however most companies do not know how to perform these activities successfully. Below follow some statistical arguments presented by Hubspot Academy for why companies should be good at sales and marketing;
On the bad side…
94 percent of consumer have discontinued communications with a company because of irrelevant promotions or messages.
74 percent of consumers are likely to change brands if they believe the purchasing process is too complex.
51 percent of customers will never do business again with a company that they have had one bad experience with.

On the good side…
93 percent of consumers are more likely to be repeated customers at companies with remarkable service.
77 percent of consumers share positive experiences with their friends or on social media and review sites (Academy.hubspot.com, 2018).


1.Make the collaboration between marketing and sales department work.
To have a marketing department and a sales department that work together is important. This is important because their work is connected. In some organizations the collaboration between these two departments does not work that well, and it clearly affects the performance of the business in terms of sales (Le Meunier-FitzHugh and Piercy, 2007).
One reason for this is that the sales department and the marketing department generally are fighting over scarce resources. For example, the marketing manager might argue that the budget is best spent on promotion, while the sales manager argues that an increased sales force should be the priority (Harvard Business Review, 2018).
Another reason is that their different roles have not been clearly defined, which makes it hard to understand one and another. In order to avoid this cultural disconnection between marketing and sales, communication becomes important. The more integrated the two departments are, the better the performance (Harvard Business Review, 2018).
One could talk about four (4) different types of relationships;

Undefined;

Marketing and sales department operate by their own and they do not know much about each other.

Defined;

Marketing and sales department know who does what and start to set up rules for how to coexist.

Aligned;

Marketing and sales department become more flexible and start to collaborate in planning and training.

Integrated;

Marketing and sales department have a fully integrated relationship in which structures, systems and rewards are shared.

2. Start seeing the sales process as a flywheel and not a funnel.
The traditional way of describing the sales process is by portraying it as a funnel, in which one start with a wide number of potential customers that further on is filtered down to fewer actual customers. The filtering per see is not the problem, since it makes sense to process the market in order to identify the actual buyers.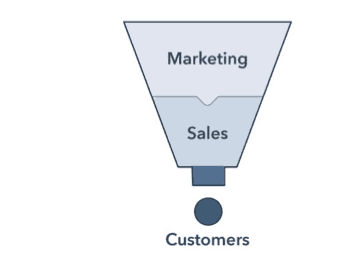 The problem is that the funnel metaphor misses out on the connection between the bottom and the top of the funnel. The customers acting at the bottom of the funnel have the power to affect other customers, and indirectly affect the input at the top of the funnel. Existing customers talk to other potential customers and depending on their experience with the company they can either promote or demote the company (Harvard Business Review, 2018).
The Flywheel metaphoron the other hand describe a connected cycle. It emphasizes the importance of putting force into your sales process and avoiding friction. In order to enforce the speed of the flywheel (sales) existing customers must stay satisfied and new customers have to be obtained. By having a united process from first contact with the customer to post-purchase treatment one could obtain a self-spinning flywheel (marketing/sales organization) (Harvard Business Review, 2018).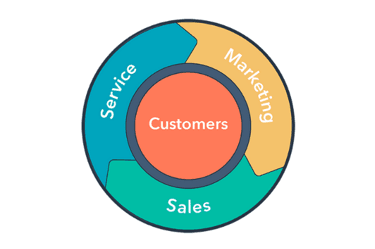 3. Understand that the customer is in charge.
Before internet and online business there existed an imbalance in information between seller and buyer. However, along with the advance of internet and social media the information gap has shrunk, and the power has moved to the customers. Now the customer has information about the products, the industries and the competition (Labrecque et al., 2013).
One could argue that there are four (4) different sources of customer power;

Demand-based power;

The aggregated effect of purchase behavior online.


Information-based power;

The reduction of information asymmetry online (E.g. product and service information). 

Network-based power;

The consumers power to add value to content online by using their network.

Crowd-based power;

The possibility to aggregate information to structured forums online (E.g. SoundCloud, Kickstarter and Pricerunner) (Labrecque et al., 2013).

Historically a lot of energy was given to the sales department. The focus back then was to convince the buyer about your product, which was easier due to the information asymmetry. Today the focus has shifted to the marketing department. Now it is about dragging the customers into your business by attracting them with interesting content. One indication of the increased importance to provide the customer with relevant information is the extended usage of personalized promotion online (Kannan and Li, 2017).

Summing it up.
This article has been about understanding that the collaboration between marketing and sales department is important for the business performance in terms of sales. Further, it has been about realizing that the sales process is an ongoing cycle that connects pre-purchase and post-purchase stages. Lastly, the aim has been to understand that the customer today is better informed and requires more relevant content in order to go through with a purchase.
If you found this article interesting, please feel free to share it. Also, if you have any questions to me regarding the text or the topics sales and marketing in general, feel free to connect with me on LinkedIn. Here is my LinkedIn profile.





Reference list
Harvard Business Review. (2018). Ending the War Between Sales and Marketing. [online] Available at: https://hbr.org/2006/07/ending-the-war-between-sales-and-marketing [Accessed 26 Nov. 2018].
Harvard Business Review. (2018). Replacing the Sales Funnel with the Sales Flywheel. [online] Available at: https://hbr.org/2018/11/replacing-the-sales-funnel-with-the-sales-flywheel [Accessed 26 Nov. 2018].

Academy.hubspot.com. (2018). Marketing & Sales Training, Courses, and Certifications | HubSpot Academy. [online] Available at: https://academy.hubspot.com/courses [Accessed 26 Nov. 2018].
Kannan, P. and Li, H. (2017). Digital marketing: A framework, review and research agenda. International Journal of Research in Marketing, 34(1), pp.22-45.
Labrecque, L., vor dem Esche, J., Mathwick, C., Novak, T. and Hofacker, C. (2013). Consumer Power: Evolution in the Digital Age. Journal of Interactive Marketing, 27(4), pp.257-269.
Le Meunier-FitzHugh, K. and Piercy, N. (2007). Does Collaboration Between Sales and Marketing Affect Business Performance?. Journal of Personal Selling & Sales Management, 27(3), pp.207-220.
Like this post? You'll find more marketing insights in my new book: International Brand Strategy: A guide to achieving global brand growth, now available from booksellers globally. Order your copy here.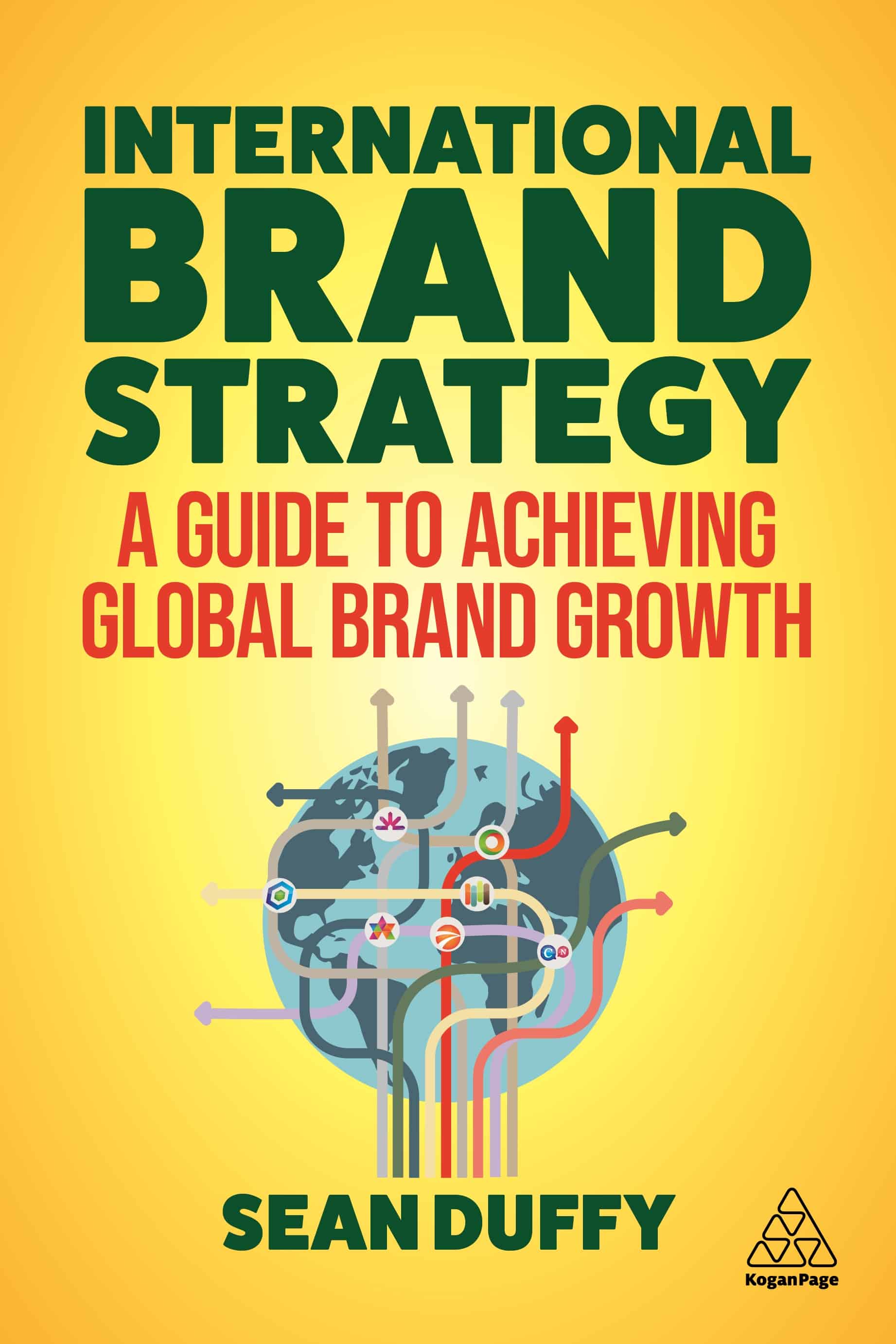 Order Your Copy
Students from the International Marketing and Brand Management program at Lund University are the contributing authors for the BrandBase blog.