Online reviews will make or break your restaurant
Learn how to get customers to write good reviews about you in order to get more bookings...
22 Jan 2020
2316 Views
Written by Andrea Huntzinger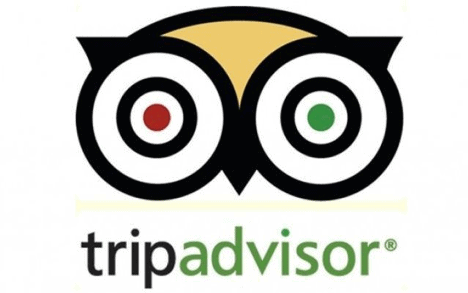 If these jaw-dropping statistics are not enough incentive for you to start paying attention to the online reviews written about your restaurant, what will?
90% of consumers read online reviews before visiting a business (BrightLocal, 2018)
93% say that online reviews impact their purchasing decisions (Podium, 2018)
84% of people trust online reviews as much as a personal recommendation (BrightLocal, 2018)
74% of consumers say that positive reviews make them trust a local business more (BrightLocal, 2018)

In the always-connected world of Internet, online reviews have become crucial for the success of a restaurant, as every restaurateur is aware of the fact that good reviews increase bookings while bad ones can close you down. Therefore, it is important for restaurant owners to understand the impact of review websites like TripAdvisor and the role they play on consumers dining decisions.
Web 2.0 & Electronic Word-of-Mouth
The Internet has shift from one-sided provider-generated content, to the recent development of the Web 2.0, where the Internet space has become an interactive and collaborative experience. Consumers no longer have the passive role, as they did in the first generation of the world wide web (Hanna, Rohm and Crittenden, 2011), instead, most of the content that transpires online is generated by the user (Ritzer & Jurgenson, 2010).
With the rise of Web 2.0, a new form of the phenomenon word-of-mouth (WOM) has emerged, namely, electronic word of mouth (eWOM). Electronic word-of mouth is defined as any statement, positive or negative, that is made by customers about a product or service, which extends the word-of-mouth network from one's immediate contacts to the entire world of Internet (Cheung et al., 2009). These statements can be communicated via the Internet through different means, one of which are review websites, such as, TripAdvisor (Cheung et al., 2009).
TripAdvisor is a user-generated website that provides users with 702 million reviews and opinions about accommodations, airlines, experiences and restaurants (TripAdvisor, 2018). Submitted restaurant reviews inform potential customers of the quality of the food, service and environment of the restaurant and directs the customer's dining decisions (Parikh et al., 2014). The site has become an influential and trusted information channel that consumers consider to me more reliable than information from the restaurant's website or social media pages (Dellarocas, 2003).
The impact online reviews can have on a business can be exemplified by the extreme example of the story of The Shed at Dulwich.
The Shed at Dulwich
Oobah Butler, a freelance writer with previous experience of writing fake TripAdvisor reviews for restaurants, was fascinated of the misinformation available on review websites and created a fake restaurant in the backyard shed where he lived called The Shed at Dulwich (Vice, 2017).
He bought a prepaid phone, set up an account on TripAdvisor, creatively named the dishes after moods – a concept "silly enough to infuriate your dad" – and illustrated it with faked photos made out of household products like shaving cream, bleach tablets, and painted sponges. Lastly, he listed the restaurant as "appointment-only" to create an air of exclusivity and got his friends and family to write convincing five-star reviews of the restaurant (Vice, 2017).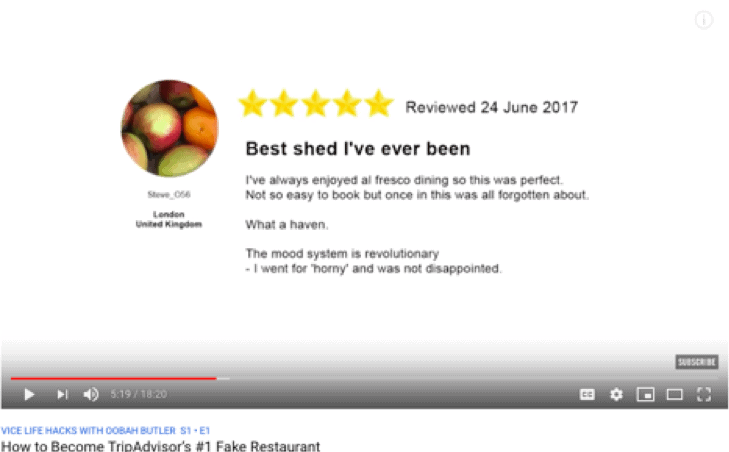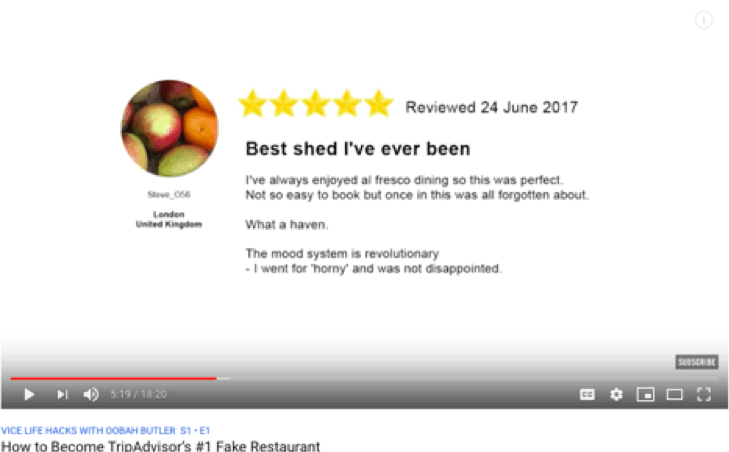 The Shed started off as London's lowest rated restaurant on TripAdvisor, ranked No. 18,149, but steadily climbed the charts. Without even selling one single meal, Butler received emails and calls requesting reservation spots, free samples and job applications. And as of a seven months later, The Shed had climbed to the top of TripAdvisor's ranking and was ranked the best restaurant in London – without even existing (Vice, 2017).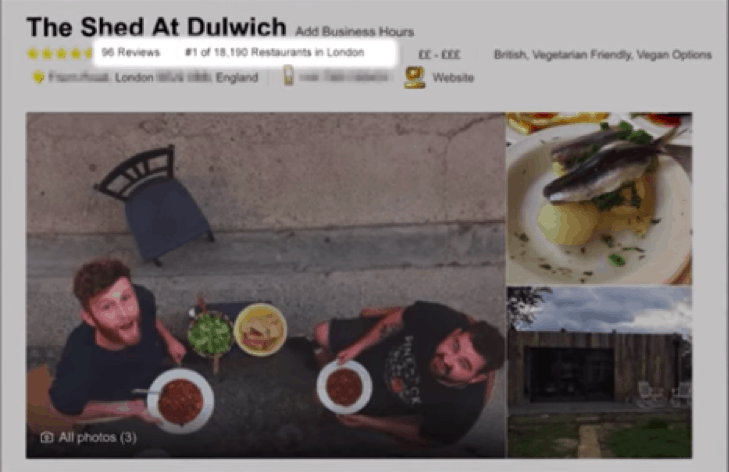 The Poor get Poorer, and the Rich get Richer
Butler's restaurant managed to become the top ranked restaurant in London by understanding the importance reviews have on consumers. He based his online reviews on TripAdvisor's rankings and rating algorithm; quality, recency, and quantity (TripAdvisor Insights, 2018).
Quality:
A restaurant with more 5-star ratings will rank higher than a restaurant with lower star ratings.
Recency:
More recent reviews are more valuable than older reviews, thus recent reviews will increase a restaurant's ranking.
Quantity:
Volume matter. More five-star reviews will put you ahead of competitors.
The reviews Butler's family and friends posted checked these three boxes and allowed The Shed to climb the ranking. By providing an extent of reviews, it gave consumers social proof and established credibility. The fake restaurant became subject to the theory of "the power law of networks" that explains that users tend to go to the first hits on the lists, thus making the most popular links even more popular, a phenomenon also known as "the poor get poorer, and the rich get richer effect" (Dijk, 2012). As the restaurant got more and more glowing reviews, it acquired even more links, thus increasing the chance of finding a large audience.
Butler's hoax was very successful and there are many things restaurants can learn from him.
I am not saying that restaurateurs should fake their own reviews (not a very good idea →  read https://www.theguardian.com/world/2018/sep/12/man-jailed-italy-selling-fake-tripadvisor-reviews-promo-salento) but by focusing on TripAdvisor's three factors determining the restaurants rating, restaurants can increase their financial results (Jeacle and Carter, 2011). Even though the example of The Shed did not show any financial results, it showed the power of online reviews and that online customer reviews affect restaurant demand. The restaurants with a high rating and many reviews will receive many bookings (Torres, Singh and Robertson-Ring, 2015) and an increase of a full star rating could potentially increase revenues by five to nine percent (Luca, 2011).
The best way to receive a high ranking on TripAdvisor is to get more reviews: Here are three steps restaurateurs can take to boost the quality and quantity of online reviews.
3 steps to 5 stars
1. Set up profiles on numerous online review websites (Akalp, 2014).
TripAdvisor is just one in many review sites, others include Yelp, Zomato, Google, Facebook and OpenTable. Customer use different platforms to gather information about businesses, so restaurateurs need to make sure they are active on all relevant sites since it will make their restaurant look more trustworthy.
2. Make it easy for customers to leave reviews (Akalp, 2014).
Customers tend to only leave reviews after a negative experience (BrightLocal, 2018) or an extreme experience (Luca, 2011). So how do restaurants get customers to leave a review about a good experience? They make it easy for them. By creating links to the review platforms on their website, in emails, and newsletters, customers will be directed instantly, thus, simplifying the process of leaving a review.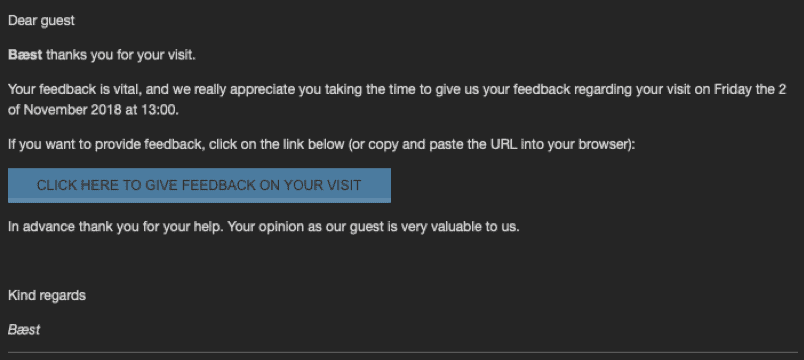 3. Reward customers (Akalp, 2014).
Offer incentives to gather reviews. People are­­ busy and sometimes they need some extra motivation for leaving a review. To be clear, restaurants cannot bribe customers, they need to make sure they are offering an incentive to write a review and not a good review. This can be done in form of discount codes, gift cards, loyalty program points, monthly giveaways etc.
These three steps can make a restaurant. We have seen how reviews have made a non-existent restaurant the hottest restaurant in London and how the success was based on nothing more than the power of online reviews. Electronic word-of mouth has amplified the power of word-of-mouth making the impact of reviews definite. Learning how to get customer to write reviews will make your restaurant more visible, improve your search ranking and influence purchase decisions.



---
References
Akalp, N. (2014). 6 Simple Ways To Get Customers To Review Your Business Online. [online] Forbes. Available at: https://www.forbes.com/sites/allbusiness/2014/08/28/6-simple-ways-to-get-customers-to-review-your-business-online/#5db38f2b14c5 [Accessed 25 Nov. 2018].
BrightLocal. (2018). Local Consumer Review Survey | Online Reviews Statistics & Trends. [online] Available at: https://www.brightlocal.com/learn/local-consumer-review-survey/ [Accessed 25 Nov. 2018].
Cheung, M., Luo, C., Sia, C. and Chen, H. (2009). Credibility of Electronic Word-of-Mouth: Informational and Normative Determinants of On-line Consumer Recommendations. International Journal of Electronic Commerce, 13(4), pp.9-38.
Dellarocas, C. (2003). The Digitization of Word-of-Mouth: Promise and Challenges of Online Feedback Mechanisms. SSRN Electronic Journal.
Giuffrida, A. and Wilson (2018). Man jailed in Italy for selling fake TripAdvisor reviews. [online] the Guardian. Available at: https://www.theguardian.com/world/2018/sep/12/man-jailed-italy-selling-fake-tripadvisor-reviews-promo-salento [Accessed 25 Nov. 2018].
Hanna, R., Rohm, A. and Crittenden, V. (2011). We're all connected: The power of the social media ecosystem. Business Horizons, 54(3), pp.265-273.
Jeacle, I. and Carter, C. (2011). In TripAdvisor we trust: Rankings, calculative regimes and abstract systems. Accounting, Organizations and Society, 36(4-5), pp.293-309.
Luca, M. (2011). Reviews, Reputation, and Revenue: The Case of Yelp.Com. SSRN Electronic Journal.
Parikh, A., Behnke, C., Vorvoreanu, M., Almanza, B. and Nelson, D. (2014). Motives for reading and articulating user-generated restaurant reviews on Yelp.com. Journal of Hospitality and Tourism Technology, 5(2), pp.160-176.
Podium. (2018). Online Review Stats: Podium State of Online Reviews | Podium. [online] Available at: https://www.podium.com/resources/podium-state-of-online-reviews/ [Accessed 25 Nov. 2018].
Ritzer, G. and Jurgenson, N. (2010). Production, Consumption, Prosumption. Journal of Consumer Culture, 10(1), p.19.
Torres, E., Singh, D. and Robertson-Ring, A. (2015). Consumer reviews and the creation of booking transaction value: Lessons from the hotel industry. International Journal of Hospitality Management, 50, pp.77-83.
TripAdvisor Insights. (2018). Everything You Need to Know About the TripAdvisor Popularity Ranking | TripAdvisor Insights. [online] Available at: https://www.tripadvisor.com/TripAdvisorInsights/w765 [Accessed 25 Nov. 2018].
TripAdvisor. (2018). Media Center. [online]Available at: https://tripadvisor.mediaroom.com/us-about-us [Accessed 25 Nov. 2018].
Van Dijk, J. (2012). Network Society. London: SAGE Publications.
Vice. (2017). I Made My Shed the Top Rated Restaurant On TripAdvisor. [online] Available at: https://www.vice.com/en_uk/article/434gqw/i-made-my-shed-the-top-rated-restaurant-on-tripadvisor [Accessed 25 Nov. 2018].
Like this post? You'll find more marketing insights in my new book: International Brand Strategy: A guide to achieving global brand growth, now available from booksellers globally. Order your copy here.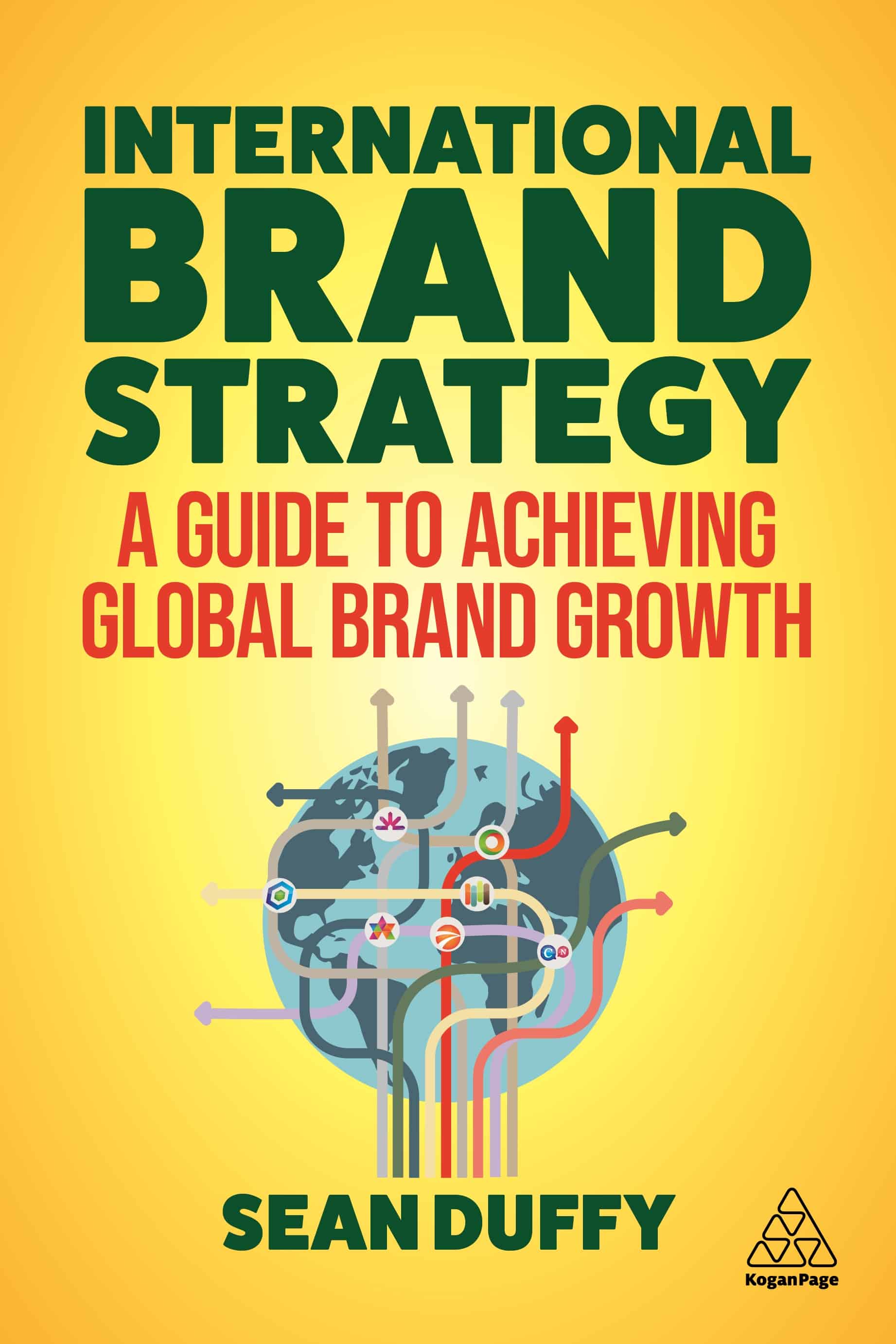 Order Your Copy
Students from the International Marketing and Brand Management program at Lund University are the contributing authors for the BrandBase blog.