Influencer Marketing: Micro or Macro? Maybe Both?
Daniel Wellington used both macro and micro-influencer marketing to build a watch empire...
23 Oct 2019
3309 Views
Written by Hinz Chan
The Buzz: Social Media Influencer Marketing
Recently, social media influencer marketing has generated a lot of buzz and for good reason. While the social media influencer (SMI) is a relatively new concept, the influencer has been around for a long time – just think about celebrity endorsements.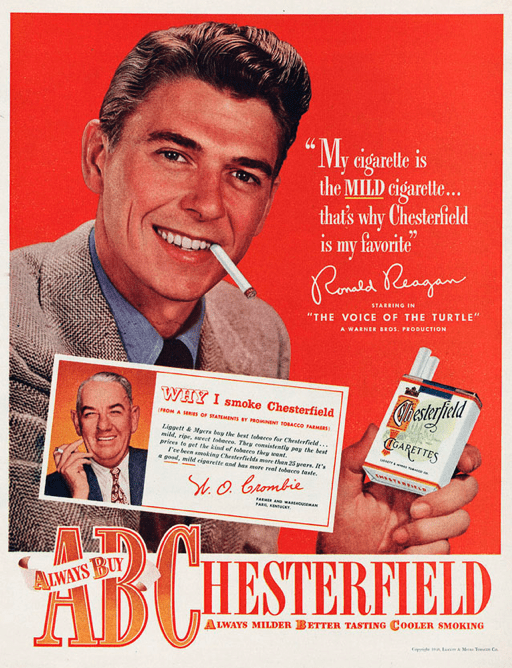 Brown and Hayes (2008) define influencer marketing as using prominent individuals to communicate and promote brand messages to potential consumers. With digitalization and our rapid adoption of social media, marketers adapted to the changing times; resulting in an evolution of influencer marketing into the realm of social media.
Enter the Social Media Influencer
In an age that has technological innovations such as ad-blockers, SMIs are becoming more important for marketers. SMIs are individuals who use social media to affect product attitudes and purchasing behavior (Freberg et al., 2011). Social media allows individuals or groups to discover, produce, communicate and customize user-generated content through mobile technology and the internet (Kietzmann et al., 2011). This content can take different forms such as: blogs, posts, pictures, videos, reviews, etc.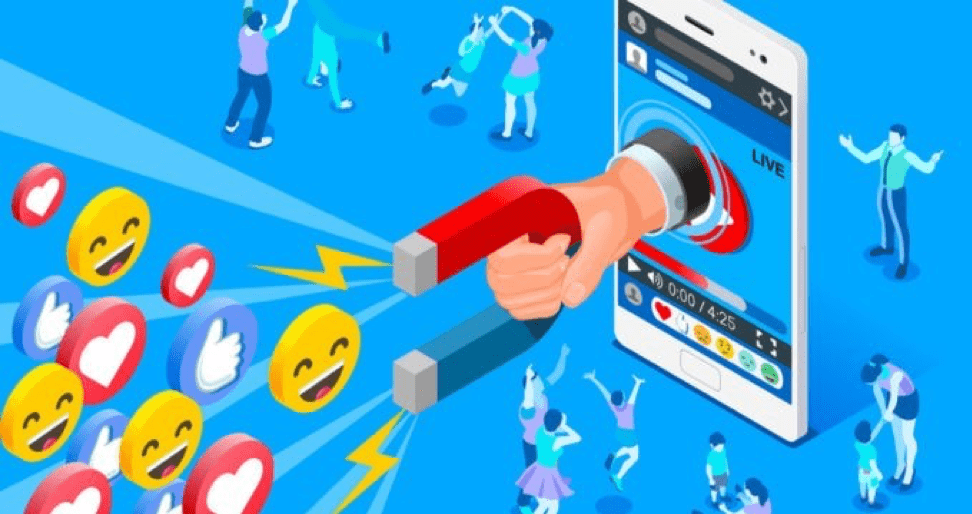 The SMI can attract followers simply because of their talent or physical appearance. Others may garner attention because their content is original and truthful, therefore, making their opinions appear genuine and credible.
Typically, SMIs are categorized into micro and macro-influencers. While the definition may vary across the internet, I define micro-influencers as having less than 100,000 followers on social media, and they differ from macro-influencers (>100,000 followers) in several ways.
Micro and macro influencers authenticity
Authenticity is acknowledged in market research as an important characteristic for SMIs (Audrezet et al., 2018). It increases message reception (Labrecque et al., 2011), improves brand image (Moulard et al., 2016) and positively influences buying behaviour (Napoli et al., 2014). Furthermore, authenticity helps SMIs appear more genuine; making their opinions, advice and image seem more credible.
Micro-influencers typically appear more authentic (Chue, 2018; Hatton, 2018) because they are less commercialized; therefore, they come off as genuine, engaging, and passionate about the products and messages they present. Moreover, these influencers are seen as relatable because they are viewed as 'everyday' or 'ordinary' people who enjoy sharing creative user-generated content.
Micro vs macro influencers- audience
Micro-influencers appeal to a smaller and more narrow audience than macro-influencers. However, this allows micro-influencers to attract niche groups that more popular influencers cannot.
Because of the lower reach of micro-influencers, oftentimes marketers will need to find multiple micro-influencers in order to communicate with more of their targeted audiences. This process can be time-consuming because finding and partnering with the right influencer can be difficult in the rich and diverse world of social media.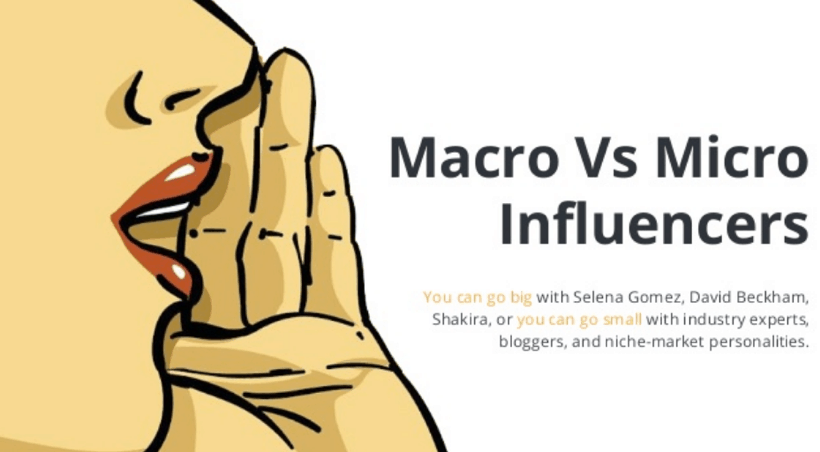 Engagement
Studies have suggested that relatedness, a sense of belonging or connection (Baumeister & Leary, 1995), is linked to engagement (Hsieh & Chang, 2016). Customer engagement can be improved by interaction at a personal level (Choudhury & Harrigan, 2014; Harrigan et al. 2015).
Due to macro-influencers expansive audience, interaction with followers is almost impossible. On the other hand, micro-influencers have less followers, thus, they are more likely to have higher personal interactions and engagement. More personable engagement supports their image as relatable and authentic.
Risk
Fake followers are one of the major problems in influencer marketing. Typically, the risk for this issue is lower for macro-influencers than for micro-influencers (Jain, 2017; Chue 2018). Regardless, businesses must be aware and do their due diligence because they spend billions of dollars in digital advertising (Gupta, 2018).
Cost
Since macro-influencers are reputable individuals with a wide range of audiences, they tend to cost much more. Micro-influencers are plentiful and have less reach; as a result, they usually cost less. Furthermore, some micro-influencers will even market a brand just in exchange for its product.
Value Co-Creation
Micro and macro influencer marketing involves a large degree of value co-creation by the brand and the influencer. This is especially the case for the micro-influencers because they are typically less commercialized and back brands because of what they stand for. Past research has suggested that individuals that support a brand image and its message will align themselves with it to help express their identity to others (Belk, 1988). This self-expression can make influencers more relatable and authentic; therefore, improving engagement, influence, and brand-consumer interactivity.
Hsieh and Chang (2016) state that consumers that connect to a brand are likely to be interested and more motivated to participate in its activities. Consumers that are engaged in brand interactivity are more committed to the brand and show positive behaviours in purchase intention, referrals, and word-of-mouth (Yen, Hsu, & Huang, 2011).
The Power of Electronic Word-of-Mouth Marketing
Macro and micro influencer marketing has its roots in word-of-mouth (WOM) marketing. WOM marketing is defined as the exchange of information between individuals that influences product perception and consumer behaviour (Katz & Lazarsfeld, 1966). Market research has determined WOM marketing as a significant information hub for products (Lee & Youn, 2009). Therefore, WOM marketing is a powerful tool that can significantly affect the success of a commodity in the market by changing consumer behavior and brand communication (Abalaesei, 2014).
With digitalization and emergence of social media, WOM marketing has evolved onto the internet as electronic word-of-mouth (eWOM) marketing, which leverages technology and enables communication with others almost instantaneously and ubiquitously. De Veirman et al. (2017) states that eWOM is an effective tool to influence buying decision, more so than traditional advertising.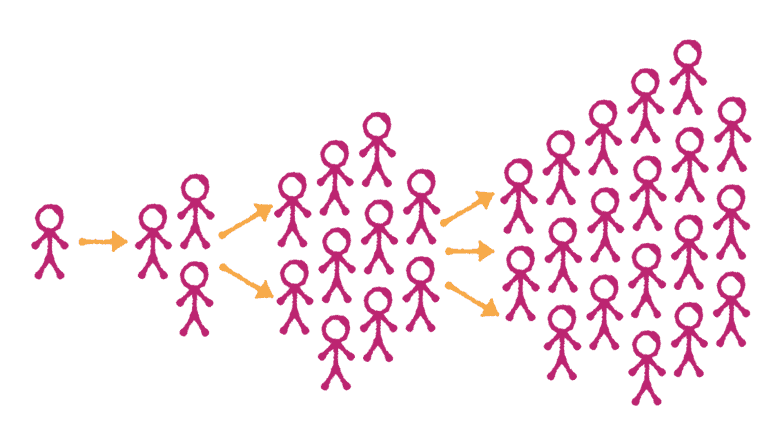 Implementing both Macro and Micro-Influencers Strategy: Daniel Wellington
Many marketers try to decide which SMI is most suitable for their strategy. However, some of the most successful influencer campaigns use a mix of macro and micro-influencers. One such successful SMI campaign was run by Daniel Wellington (DW), the Swedish watch company, which turned a small investment into a $230M global business (Pechter, 2017).
The watch business is a highly competitive industry and without a large advertising budget, Daniel Wellington's founder, Filip Tysander, turned to influencer marketing to build brand awareness. DW leaned on social media platforms such as Instagram and collaborated with thousands of micro-influencers in fashion, travel, photography and lifestyle by sending them one of their watches in exchange for a photo of it on their page and with the hashtag #danielwellington.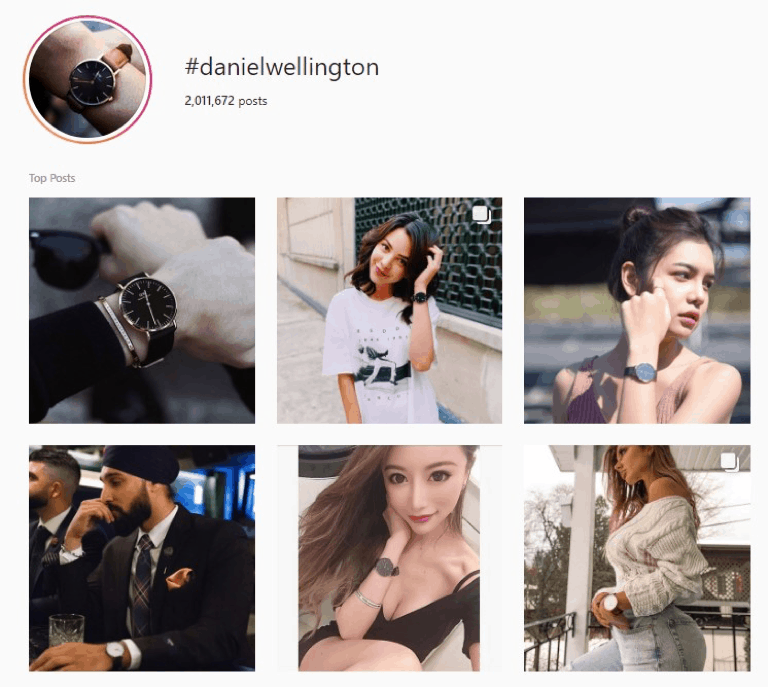 This collaboration with micro-influencers generated enormous buzz among young adults. The micro-influencers, inspired by the brand's clean and elegant aesthetic imagery, created their own original and creative photos to share with their followers using #danielwellington. In addition, they also shared a unique discount code – which not only benefitted their followers but also helped DW track the effectiveness of their influencers. Soon their followers emulated by purchasing their own DW watches and creating user-generated content to share with their network.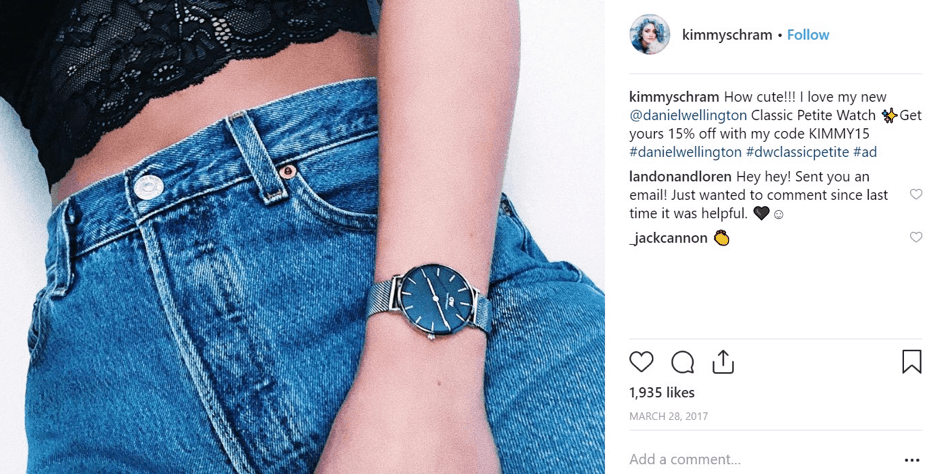 As a result, DW watches started appearing on Instagram feeds everywhere; building tremendous brand awareness all over the world. To further interact with their community, DW organized a daily photo competition under #DWPickoftheDay. Through this eWOM, people posted their own images with their DW watches and a winner was picked to receive a free watch and also be featured on the company's official Instagram page. Therefore, the DW influencer and value co-creation strategies generated a tremendous amount of customer engagement and recognition for the brand.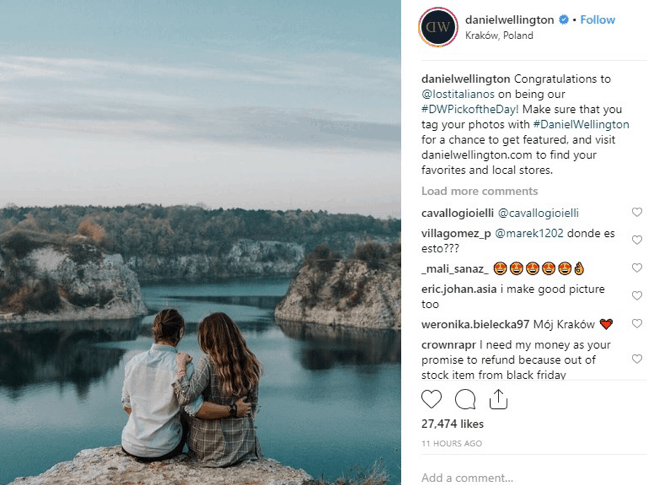 Today, DW has expanded its influencer program to also include macro-influencers. Collaborations with models like Lily Aldridge, Kendall and Kylie Jenner further expands the influence of DW to all corners of the world.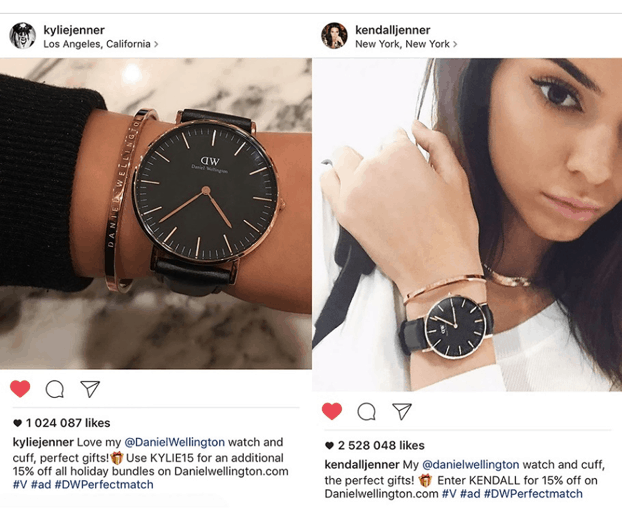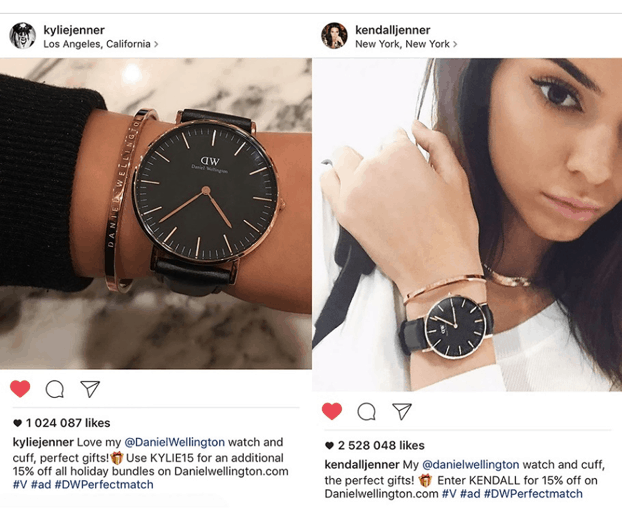 Daniel Wellington has shown the business world the power of influencer marketing by building a multi-million-dollar watch empire exclusively through SMIs. With over 2M posts under the #danielwellington and over 4M followers on Instagram, it has created a strong brand name worldwide. No wonder it is considered one of the fastest growing businesses in Europe (Inc., 2017).
What can be learned?
Daniel Wellington's influencer strategy is one of the greatest digital advertising success stories in marketing; and its combined use of macro and micro-influencers to build brand awareness through reach and engagement can be a powerful lesson to all marketers.
In today's attention economy where businesses are aggressively competing for individuals' attention, influencers play an increasingly significant role for reaching consumers. Social media continues to be more interconnected with daily life, therefore, marketers must be able to identify and partner with suitable SMIs in order to unlock the tremendous upside potential in influencer marketing for their brands.
There are many ways to approach influencer marketing; the strategy will typically determine the most effective type of influencers to use. However, to harness the benefits of both, do not hesitate to use of a combination of macro and micro-influencers for your brand.

Want more? Read about social media ROI.


---
Bibliography
Abalaesei, M. (2014). Electronic Word of Mouth: How much do we know? Network Intelligence Studies, vol.2(4), pp.135-142.
Audrezet, A., de Kerviler, G. & Guidry Moulard, J. (2018). Authenticity under threat: When social media influencers need to go beyond self-presentation, Journal of Business Research, pp.1-54
Baumeister, R. & Leary, M. (1995). The Need to Belong: Desire for Interpersonal Attachments as a Fundamental Human Motivation, Psychological Bulletin, vol.117(3), pp.497–529.
Belk, R. (1988). Possessions and the Extended Self, Journal of Consumer Research, vol. 15, 139–168.
Brown, D. & Hayes, N. (2008). Influencer Marketing: Who really influences your customers? New York: Taylor & Francis
Choudhury, M. & Harrigan, P. (2014). CRM to social CRM: The integration of new technologies into customer relationship management, Journal of Strategic Marketing, vol.22(2), pp.149–176.
Chue, M.M. (2018). Digimind, Micro vs Macro Influencers: Who's Right for Your Campaign? Blog post available at: https://blog.digimind.com/en/insight-driven-marketing/execute/micro-vs-macro-influencers-whos-right-for-your-campaign/ [Accessed 27 November 2018]
De Veirman, M., Cauberghe, V. & Hudders, L. (2017). Marketing through Instagram influencers: the impact of number of followers and product divergence on brand attitude, International Journal of Advertising, vol36, pp.798–828.
Freberg, K., Graham, K., McGaughey, K. & Freberg, L.A. (2011). Who are the social media influencers? A study of public perceptions of personality. Public Relations Review, vol.37, pp.90–92.
Gupta, A. (2018). Fake Followers Are the Latest Data Fraud Issue Hurting Brands, Adweek, Available Online: https://www.adweek.com/digital/fake-followers-are-the-latest-data-fraud-issue-hurting-brands/ [Accessed 22 November 2018]
Harrigan, P., Soutar, G., Choudhury, M.M. & Lowe, M. (2015). Modelling CRM in a social media age, Australasian Journal of Marketing, vol.23, pp.27–37.
Hatton, G. (2018). Social Media Today. Micro Influencers vs. Macro Influencers. Blog Post available at: https://www.socialmediatoday.com/news/micro-influencers-vs-macro-influencers/516896/ [Accessed 27 November 2018]
Holmes, B. (2013). The Man in the Gray Flannel Suit. Celebrity Smokes: A Gallery of Star-Powered Cigarette Ads. Blog Post available at: https://www.grayflannelsuit.net/blog/celebrity-smokes-a-gallery-of-star-powered-cigarette-ads [Accessed 27 November 2018]
Hsieh, S.H., Chang, A. (2016). The Psychological Mechanism of Brand Co-creation Engagement, Journal of Interactive Marketing, vol.33, pp.13–26.
Inc. (2017) Inc. 5000 Europe 2017, Available Online at: https://www.inc.com/inc5000eu/list/2017/ [Accessed 27 November 2018]
Instagram (2018) Available Online at: https://www.instagram.com/ [Accessed 27 November 2018]
Instagram (2018) #danielwellington, Available online at: https://www.instagram.com/explore/tags/danielwellington/?hl=en [Accessed 28 November 2018]
Instagram (2018) #dwpickoftheday, Available online at: https://www.instagram.com/explore/tags/dwpickoftheday/?hl=en [Accessed 28 November 2018]
Jain, R. (2017). Influencer. Are Macro-Influencers or Micro-Influencers More Effective? Blog post available Online at: https://www.influencer.in/blog/micro-influencers-vs-macro-influencers/ [Accessed 27 November 2018]
Katz, E., and P.F. Lazarsfeld. 1955. Personal influence: The part played by people in the flow of mass communications. New York¸ NY: The Free Press.
Kietzmann, J.H., Hermkens, K., McCarthy, I.P. & Silvestre, B.S. (2011). Social media? Get serious! Understanding the functional building blocks of social media, Business Horizons, vol.54, pp.241–251.
Labrecque, L.I., Markos, E., & Milne, G.R. (2011). Online personal branding: Processes, challenges, and implications, Journal of Interactive Marketing, vol.25(1), pp.37–50.
Lee, M. & Youn, S. (2009). Electronic word of mouth (eWOM) How eWOM platforms influence consumer product judgement, International Journal of Advertising, vol.28, pp.473–499
Meakin, B. (n.d.) Medium. How to generate word-of-mouth buzz for your mobile game. Blog post available online at: https://medium.com/the-megacool-blog/how-to-generate-word-of-mouth-buzz-for-your-mobile-game-50408e209df0 [Accessed 27 November 2018]
Mendoza, M.J. (2017) iprice. Kendall Jenner Endorses Daniel Wellington's New Ultra-Slim Watch, Available Online at: https://iprice.sg/trends/fashion-beauty/kendall-jenner-endorses-daniel-wellingtons-new-ultra-slim-watch/ [Accessed 28 November 2018]
Moulard, J. G., Raggio, R. D. & Folse, J. A. G. (2016). Brand authenticity: Testing the antecedents and outcomes of brand management's passion for its products, Psychology & Marketing, vol33(6), pp.421–436.
Napoli, J., Dickinson, S. J., Beverland, M. B. & Farrelly, F. (2014). Measuring consumer-based brand authenticity, Journal of Business Research, vol67(6), pp.1090–1098.
Pechter, O. (2017). Daniel Wellington just posted 1 billion in pure profit – and this guy gets all of it, Business Insider Nordic, Available Online at: https://nordic.businessinsider.com/daniel-wellington-just-hit-an-insane-milestone–1-billion-sek-in-pure-profit-2017-6/ [Accesed 27 November 2018]
PromoRepublic. (2018). How to Use Micro Influencers to Spark Ecommerce Sales. Available Online at: https://www.slideshare.net/PromoRepublic/how-to-use-micro-influencers-to-spark-ecommerce-sales [Accessed 27 November 2018]
Quoc, M. (2018). 4 Micro-influencer Outreach Trends for 2018, Small Business Bonfire, Blog Available Online: https://www.smallbusinessbonfire.com/4-micro-influencer-outreach-trends-for-2018/ [Accessed 27 November 2018]
Yen, H., Hsu, S. & Huang, C (2011), Good Soldiers on the Web: Understanding the Drivers of Participation in Online Communities of Consumption, International Journal of Electronic Commerce, vol15(4), pp.89–120.
Like this post? You'll find more marketing insights in my new book: International Brand Strategy: A guide to achieving global brand growth, now available from booksellers globally. Order your copy here.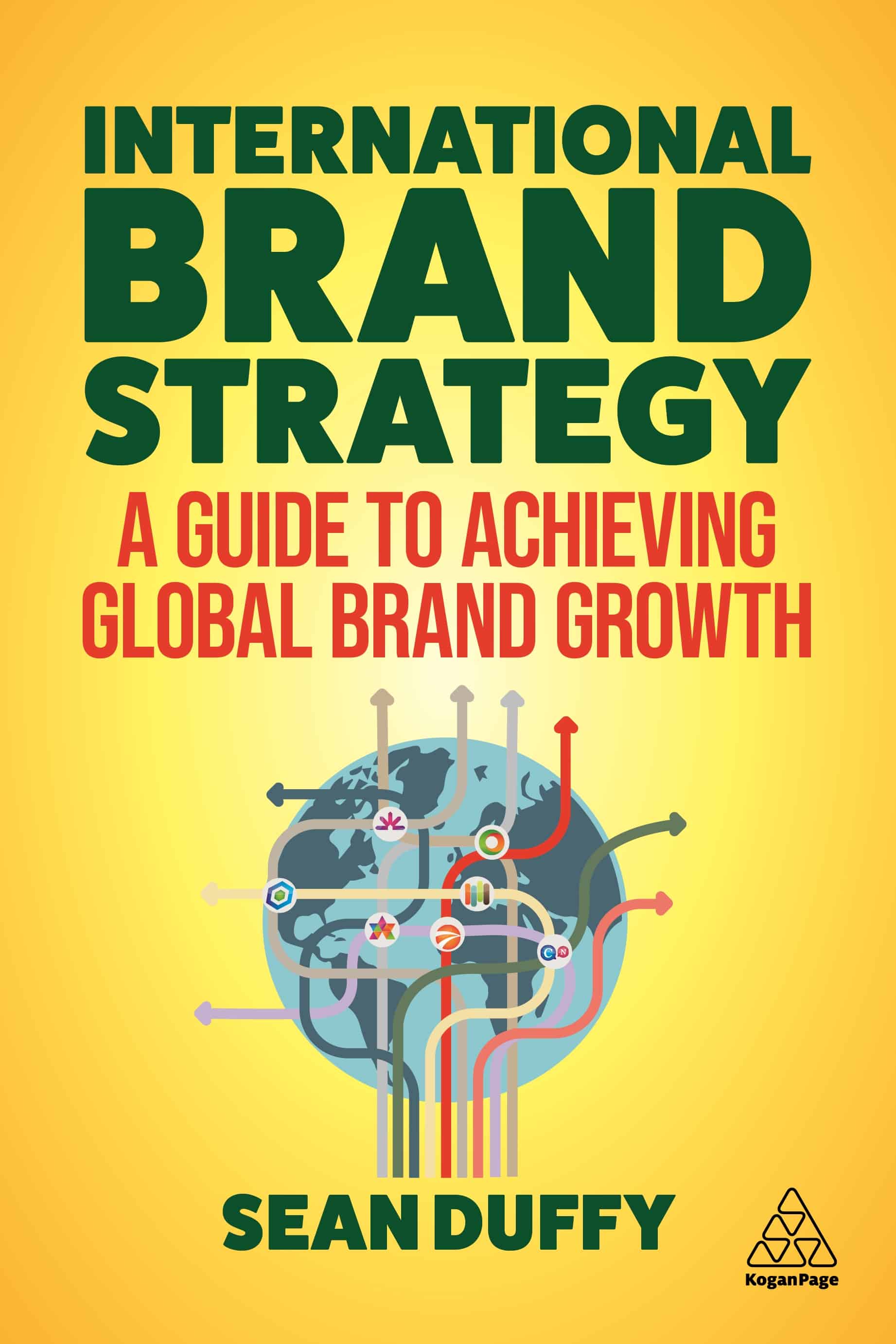 Order Your Copy
Students from the International Marketing and Brand Management program at Lund University are the contributing authors for the BrandBase blog.