5 Tips How Not to Choose Your Instagram Influencer!
Body Positivity as a Social Media Game-Changer...
25 Jun 2018
2300 Views
Written by Marie Merlevede
Let me tell you, how most companies choose their influencers on Instagram and why you shouldn't do it like them anymore.
It is like it always was. Everybody wants to be like the cool kids, am I right?
So, this is why most companies choose those influencers on Instagram who are admired. The ones with high reach, of course. The pretty young girls with the perfect bodies.
They should represent their brand as they can make it sexy. Their followers want to be like them and use the products they use. Recently these Instagram influencers have even become 'the new celebrities', untouchable and admirable stars.[i]
Their followers imagine to become better by buying the brands they promote.
Prettier, skinnier, more perfect.
Image 1: Profile of influencer Tatjana Catic, @tatjanamariposa [Source: Instagram]
But can they ever reach the perfection of these admired influencers? Will they really become like them, just by buying a specific brand? Probably not.
And will they question if the whole promise is actually real and get frustrated, or even stop buying the promoted brand? Probably yes.
And therefore, I now present you 5 tips how not to choose your Instagram influencer:
Don't focus on …
Celebrity Status
Trendiness
A Perfect Body
A Pretty Face
Perfectly Edited Photos
But what to focus on instead? The solution to that might lie within this social media movement: Body positivity.
To understand the possible influence of that movement, let's start with some background on influencer marketing and how it works.
INFLUENCER MARKETING AND THE WEB 2.0
It is no secret that influencer marketing, and within that, the concept of stealth marketing plays a very important role in nowadays' social media landscape. Influencers have always been there, if they were called bloggers, PR assistants, or whatever you may name it.[ii]
But the Web 2.0 started to change branding and brand management. The time where only the brand itself influenced the consumer's perspectives is clearly over so that companies now need to allow for co-branding and co-writing.[iii] And the stories that consumers co-write about a brand need to be consistent with the company's own story.[iv]
Here, influencers offer a possibility to facilitate this company-consumer communication and the much-needed fit. This fit becomes even more important as we live in an age of transparency and criticism, where consumers openly and immediately share their (negative) opinions about brands.[v]
So, that means that your brand will be what your consumers make it and how they take it. Hence, it might make sense to align your brand with something that consumers like to talk or 'co-write' about positively. How about an emerging social movement for example?
It also becomes evident that every company needs to develop a strategy to identify their right influencers.[vi] But according to which factors do you do that, except from the most obvious like reach and interactivity with followers? How do you leverage social media in the most personal way?
The answer has usually been stealth marketing, which is used a lot on Instagram. This approach aims at reaching consumers in their most vulnerable spot and works in a very subtle way. It is a type of marketing that feels personal and is hard to detect.[vii]
And here, most companies' strategies use the fact that consumers want to be someone else, the skinny and beautiful influencer girl on Instagram for example. This is why choosing influencers, who are exactly that, worked so well in the past. But does it still?
Companies also leverage the whole concept by paying these 'perfect' influencers a lot of money, however thus risking the loss of authenticity.[viii]
So, could instead choosing real, authentic people who are like you and me as influencers help with preventing this? – Body positivity will show you that it can.
THE RISE OF SOMETHING NEW: BODY POSITIVITY
Lately there has really been a change within society. Some companies started new advertisement strategies based on working with plus size models.
They choose real women with authentic body types and flaws. These influencers can speak up and behave as the people they are, they are heard. They are able to communicate with their followers on a much deeper and more personal level. They are credible, authentic and valued, and, most important, they are not untouchable.[ix]
Also within the fashion industry, studies prove that there is no need for skinny models, as consumers react with the same positivity to average-size models. They do not undermine an advertising purpose in any kind, but rather do they have the capacity to improve the body image among consumers![x]
HERE'S WHAT AN EMILY BADOR CAN DO FOR YOU
And then there are these, who grow their audience on social media every day: The influencer girls who promote their flaws and embrace them. They are not perfect, they don't wear size zero or present perfection all the time. And they tell their followers: You are good the way you are as well!
This movement is increasing reach, and a lot of Instagram users participate and share real, unedited content using hashtags like #BodyPositive, #CelebrateMySize or #BodyAcceptance.[xi]
And their openness works. Look for example at influencer Emily Bador (@darth_bador), starring campaigns for brands like Adidas, Monki or Refinery 29.
"I'm just so sick and tired of the objectification of women's bodies and how it's seemingly ok to dictate a woman's worth based on what she looks like," she wrote. "If you give a shit that I or anyone else has stomach rolls, scars, eczema, armpit hair, etc. then I have less than no time for you."[xii]
Consumers love her because she is real and authentic. They follow her example and listen to her advice.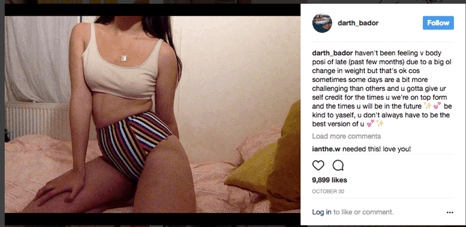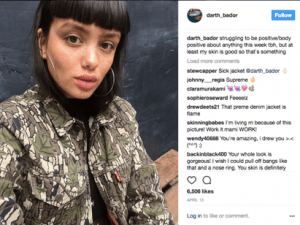 Image 2 and Image 3: Emily Bador, @darth_bador [Source: Instagram]
And isn't this everything a company could wish for when having an influencer promote their brand? Doesn't it enable influencer marketing in the most personal way and inspire the most positive co-writing for brands aligned with the body positivity movement? – Yes, it does!
THE ONES DOING IT RIGHT ALREADY – DOVE
When you type 'body positivity' into Google search, the company that appears on page number one is Dove. Dove started a whole campaign against insecurities and body issues.
A survey, carried out by Edelman Intelligence for the 2017 Dove Global Girls Beauty and Confidence Report found that body esteem remains a major issue for girls.
There exists a very high pressure on appearance. This might seem to you as caused by Instagram or other platforms used for self-expression purposes.
But social media does not only have a negative impact on this development. Girls stated that through social media they can narrate their own beauty and body image.[xiii]
Look at Emily Bador once again: She develops her own kind of beauty and she makes her followers tell their own story about how they are beautiful.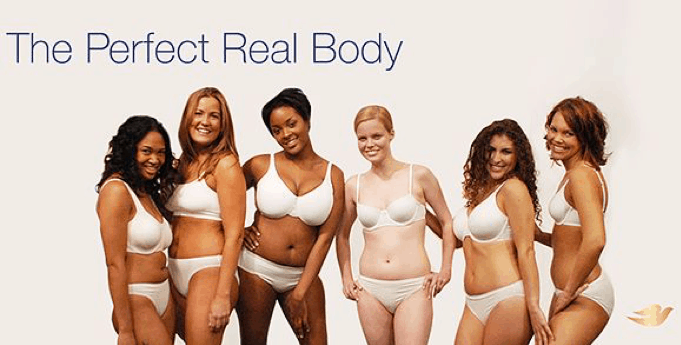 Image 4: The Perfect Real Body, Dove [Source: Twitter]
Dove is riding the wave of body positive advertisements and gives consumers the feeling of being good enough. They started the Dove self-esteem project, offering insights and a whole range of help resources against self-esteem issues. These might for instance result from young girls' wishes to be as perfect as their admired celebrities, which can totally be compared to the followers of 'perfect' Instagram influencers wishing to be like them.
Dove instead features the most body positive influencers on their Instagram profile.
The campaign works because it embraces the social media trend of body positivity.
Everybody can use Dove's products. It does not make anyone better, because nobody needs to be better or needs to try being someone else. Everybody is good, just the way they are, and that is what an Emily Bador can tell your consumers as well.
So, to conclude, instead you should look for this in your next influencers:
Focus on …
Closeness to Followers
Positive Mindset
Realness and Authenticity
A Personal Message
Imperfection
As you see with Dove, this will work not only for small companies, but also for the big game-changers.
So, my advice is: Embrace it! Jump on the Dove-wave and make body positivity and realness part of your next co-written brand story on Instagram!
SOURCES
[i] Kay, K., 'Millenial 'influencers' who are the new stars of web advertising, The Guardian, 28 May 2017, https://www.theguardian.com/fashion/2017/may/27/millenial-influencers-new-stars-web-advertising-marketing-luxury-brands, (accessed 12 November 2017).
[ii] Pophal, L., 'Influencer Marketing: Turning Taste Makers Into Your Best Salespeople', EContent, 5 September 2016, http://www.econtentmag.com/Articles/Editorial/Feature/Influencer-Marketing-Turning-Taste-Makers-Into-Your-Best-Salespeople-113151.htm, (accessed 12 November 2017).
[iii] Booth, N. and Matic, J. A., 'Mapping and Leveraging Influencers in Social Media To Shape Corporate Brand Perceptions', Proceedings of the Conference on Corporate Communication, vol. 16, no. 3, 2010, pp. 184-191.
[iv] Gensler, S. et al., 'Managing Brands in the Social Media Environment', Journal of Interactive Marketing, vol. 27, 2013, pp. 242–256.
[v] Fournier, S. and Avery, J., 'The Uninvited Brand', Business Horizons, vol. 54, 2011, pp. 193-207.
[vi] Booth, N. and Matic, J. A., 'Mapping and Leveraging Influencers in Social Media To Shape Corporate Brand Perceptions', Proceedings of the Conference on Corporate Communication, vol. 16, no. 3, 2010, pp. 184-191.
[vii] Kaikati, A. M. and Kaikati, J. G., 'Stealth Marketing: How to reach consumers surreptitiously', California Management Review, vol. 46, no. 4, 2004, pp.6-22.
[viii] Pophal, L., 'Influencer Marketing: Turning Taste Makers Into Your Best Salespeople', EContent, 5 September 2016, http://www.econtentmag.com/Articles/Editorial/Feature/Influencer-Marketing-Turning-Taste-Makers-Into-Your-Best-Salespeople-113151.htm, (accessed 12 November 2017).
[ix] Rutherford, G., 'Influencer Marketing Makes Movements: Body Positive and Confident', Huffpost, [web blog], 6 October 2017, https://www.huffingtonpost.com/advertising-week/influencer-marketing-make_b_12356242.html, (accessed 13 November 2017).
[x] Diedrichs, P. C. and Lee, C., 'Waif goodbye! Average-size female models promote positive body image and appeal to consumers', Psychology and Health, vol. 26, no. 10, 2011, pp. 1273-1291.
[xi] Coughlin, S., 'This Is The Most Body-Positive State In The U.S.', Refinery 29, 24 June 2016, http://www.refinery29.com/2016/06/114945/body-positive-hashtags-instagram, (accessed 13 November 2017).
[xii] Commons, J., '15 incredible body positive people to follow on Instagram', Evening Standard, 11 May 2017, https://www.standard.co.uk/lifestyle/london-life/15-incredible-body-positive-people-to-follow-on-instagram-a3536116.html, (accessed 10 November 2017).
[xiii] Siddique, H., 'Poor body image makes girls less assertive and risks health, study finds', The Guardian, 5 October 2017, https://www.theguardian.com/uk-news/2017/oct/05/poor-body-image-makes-girls-less-assertive-and-risks-health-study-finds, (accessed 10 November 2017).
Like this post? You'll find more marketing insights in my new book: International Brand Strategy: A guide to achieving global brand growth, now available from booksellers globally. Order your copy here.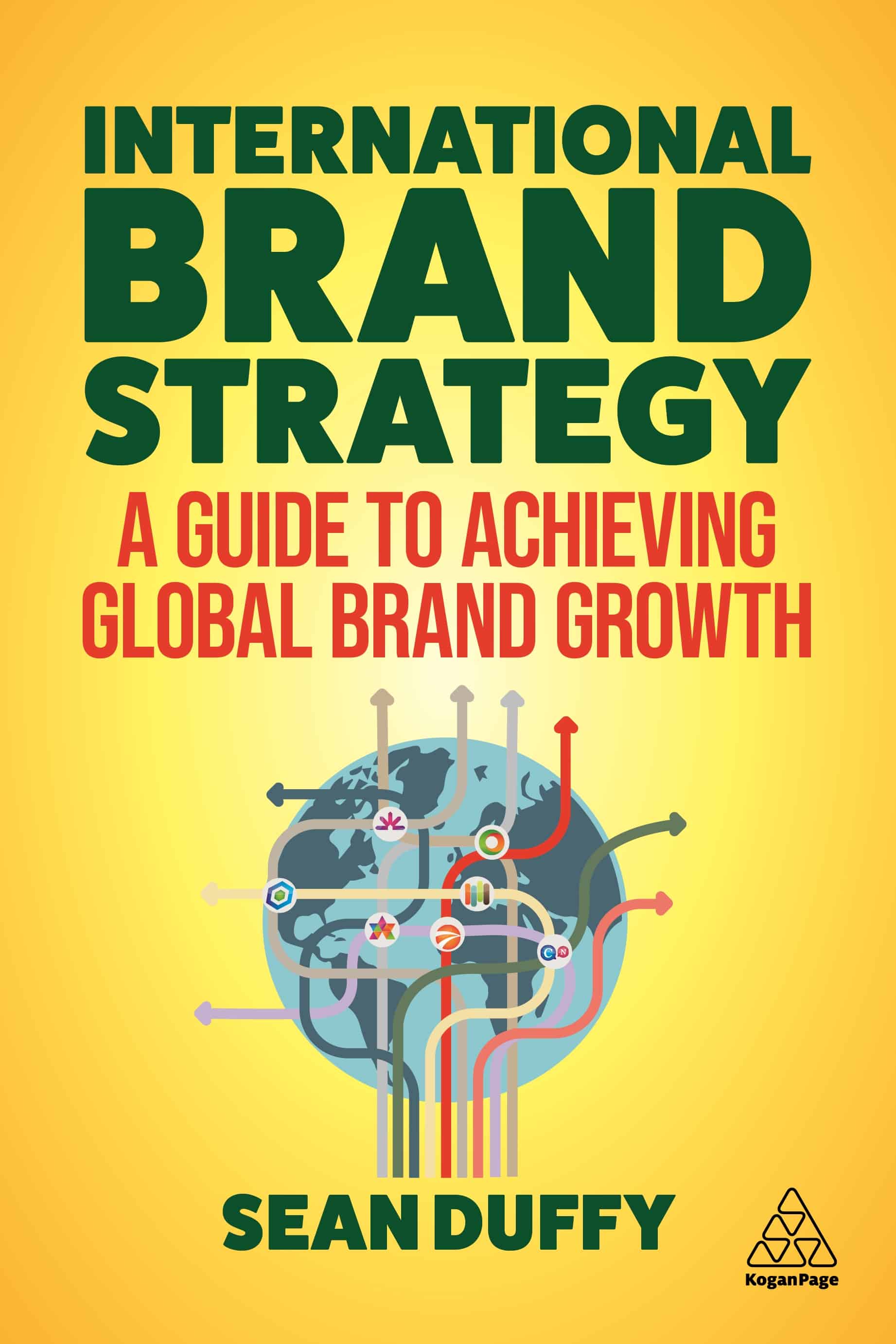 Order Your Copy
Students from the International Marketing and Brand Management program at Lund University are the contributing authors for the BrandBase blog.