ESports versus traditional sports – Hop on the train
Will eSports eventually outgrow traditional sports?...
21 Aug 2019
9694 Views
Written by Jorg Burggraaf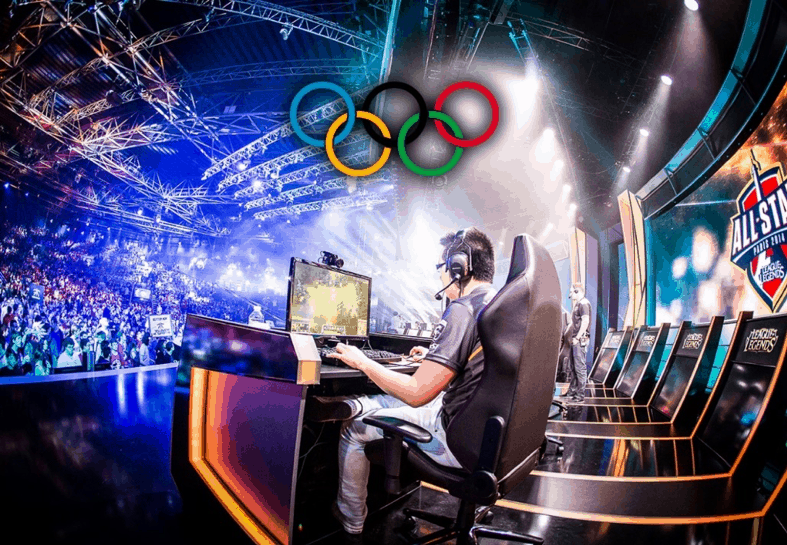 Organized video game competitions (eSports) are facing the trend of receiving a significant increase in mainstream media coverage as a traditional sport (Pizzo, et al., 2018). It is considered the world's fastest-growing sport and the first, together with football, that is truly global. As a result, the top eSports tournaments are already drawing crowds rivaling traditional sporting events such as the World Cup football and the Olympic Games.
Besides, the eSports industry as a whole experienced double-digit growth over the last years and is expected to reach the one billion dollar mark in revenues by 2019. Furthermore, according to Newzoo, brands will invest $1.4 billion in the eSports industry by 2021, representing a total of 84% of eSports revenues.
All these eSports developments resulted in the fact that Olympic organizers are discussing the introduction of eSports as a demonstration sport at the 2024 Paris Olympics.
Hence, eSports is becoming more and more apparent even for audiences not involved in video gaming, and therefore extremely interesting from a marketing perspective. That's why we could ask the question: will eSports eventually outgrow traditional sports?
ESports and its history
ESports represents interactive, tournament level video games, where a 'competitive element' is always involved. It is described by British eSports as the top level of video gaming in terms of skill and professionalization (Cunningham, et al., 2018).
From a historical perspective, eSports may be classified into two eras: the arcade era and the Internet era (Lee & Schoenstedt, 2011). During the arcade era, eSports competitions were mainly based upon setting all-time high scores on games such as Pac-Man, Donkey Kong and Burger Time (Brown, et al., 2018). The internet era was, however, the era where eSports experienced its enormous growth. The introduction of a local area network (LAN) technology allowed people to connect with each other online, making eSports a social activity, where you could actually play against either your friends or random other gamers. Video games and competitions became more accessible in this era, where they eventually shifted almost entirely to the online platform (Brown, et al., 2018).
Esports: current situation and its potential
Newzoo performs market research on the eSports economy every year. Moreover, they make future estimations in terms of participants, revenue streams, viewers and other trends. The report indicates that the global eSports economy will grow to $906 million, a year-on-year growth of 38%. The majority of revenues is generated directly (advertising and sponsorships) and indirectly (content licenses and media rights) through investments made by brands, an increase of 48% with respect to 2017. Thus, brands are seeing the potential of eSports as a profitable business which is not expected to change anytime soon.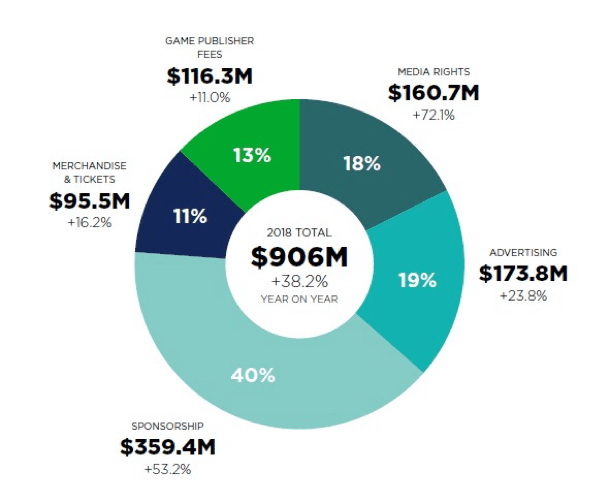 However, eSports revenue is nowhere near revenues generated through other traditional sports as we can see in the following image. Keep in mind that this is information from 2017, and total revenues have already almost doubled.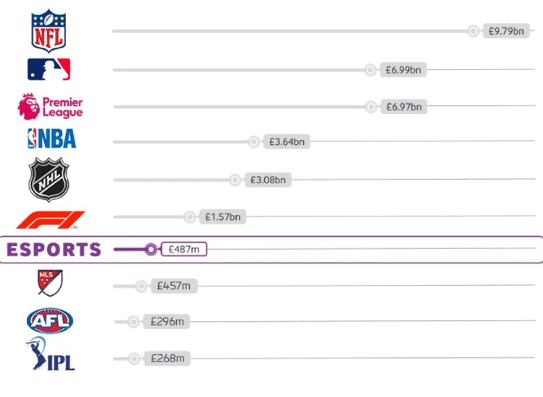 Another indicator of the potential growth of the industry is observed through the total revenue per fan, it shows how well a sport is 'monetized'. Based on audience and revenue expectations the average revenue per enthusiast will increase to $5.20 by 2020 under normal circumstances. In a more optimistic scenario, it will even increase to $11 per enthusiast, battling basketball as depicted in the image below.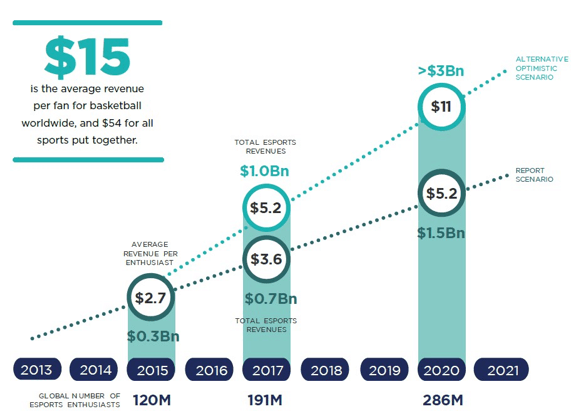 This average revenue per enthusiast is even more significant due to the fact that the content is free to watch and the money spent on merchandise remains relatively small.
Prize money awarded in eSports and traditional sports
As mentioned before, eSports is experiencing a double-digit growth over the last years which is expected to continue in the following years. When it comes to the prize money awarded to eSports, we see an enormous growth since the introduction of eSports. In 2010, only 3 million dollars was provided in the total prize pool of eSports. In the current situation, it accounts for a total of 121 million, which is a 4000% growth over the past 8 years. The tournament with the highest prize pool within the field of eSports is DOTA 2, the image below shows a reflection of the prize money towards major traditional sporting events.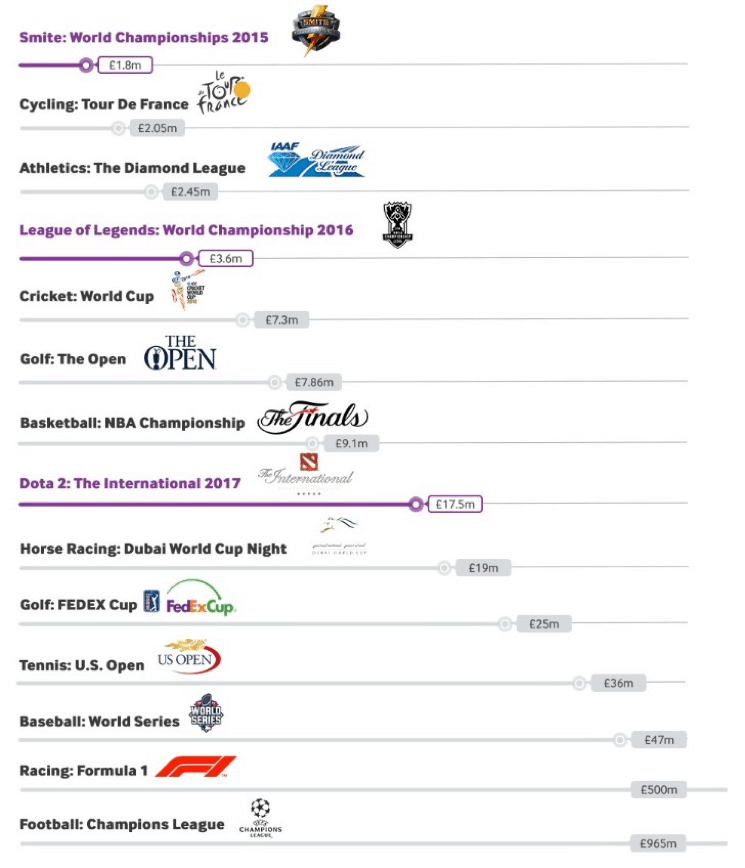 DOTA 2 already overtook major sporting events such as the NBA finals, the Tour de France and the Diamond League. Both, the Formula One and the Champions League football are significantly higher with respect to prize money. However, these are awarded for a whole season whereas DOTA 2 is only an event over a five day period. Thus, if we compare it to single-day or weekly events DOTA 2 has the 4th highest prize pool in sports history beating the most watched sporting event: the Super Bowl.
Viewership and motives
Because of the fact that major eSports events are broadcasted online, on a global level, and most of the time freely available, the viewership amount is compellingly large. Newzoo estimates the total audience by 2021 to grow to 557 million, where 250 million are considered to be eSports enthusiasts. Next, Newzoo estimates a total of 1.6 billion people (over 20% of the world population) being aware of the existence of eSports. Viewership is increasing as time goes, and from 2020 onwards, the eSports audience is expected to outgrow the National Football League (NFL), making it an advertising goldmine.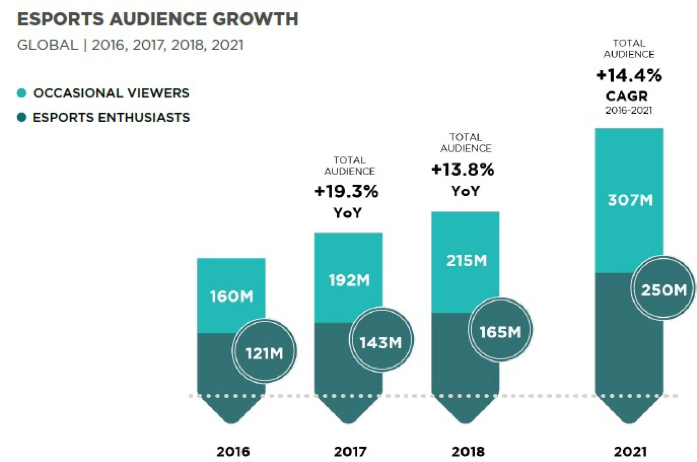 The majority of the eSports events are broadcasted through Twitch. On this platform, an professional gamers or franchises can start their own channel and generate views. Currently, Twitch has well over 100 million unique viewers every month, making it the largest Livestream platform.
Additionally, eSports becomes more apparent on traditional media channels. In both, the Netherlands and France they created an eSports football division, where traditional football clubs license professional gamers to play for their virtual team. These matches are broadcasted through traditional media channels. Large tournaments have also found their way to ESPN broadcasts, outperforming traditional sport viewer ratings and selling out physical sports stadiums. The thinking is simple for football clubs: digital gaming is where the next generation of fans will come from, making eSports a platform for future revenue streams. In addition, it will also help traditional sports teams to increase their fanbase by targeting a different public, tapping into the Asian market.
On the other hand, The growing acceptance of eSports in the sports business will likely lead to eSports being officially accepted as a sport (Hallmann & Giel, 2018). We observe a trend where eSports is perceived more and more as a traditional sport, where gamers are being identified as athletes within society today (Jenny, et al., 2017). Esports teams, just as traditional sports teams have coaches, analysts, contracts, fans, sponsors and merchandise.
Furthermore, spectator motives truly set eSports fans apart, they show far more dedication to engage with eSports content than in any other realm of traditional sports (Brown, et al., 2018). Them being with so many and extremely engaged, the eSports consumers should be regarded as major players within the sporting world.
The answer to the question…
The question we asked ourselves was: will eSports eventually outgrow traditional sports?
Well, the answer is yes.
First of all, the audience is increasing constantly and will soon outgrow the largest traditional sporting events. Regarding prizing money, eSports is already competing with traditional sports making it extremely attractive for both future gamers and potential spectators. However, regarding sponsorship revenues, eSports is still far behind traditional sports which is rather surprising when looking at the audience potential. Thus, there is still plenty of room for investors and brands to hop on the train and engage in this potentially huge market.
Marketing tools/tips to invest in eSports
Then remains the question: how can you effectively engage in eSports? This section provides some take away points for marketers when making the decision to be involved in eSports.
Be willing to take some hits: gamers tend to be skeptical of outsiders, especially big brands. Hence marketers need to be resilient.
Be willing to give up control: leave the content in the hands of eSports stars since they know their audience the best.
Understand the audience: the difficult part is gaining trust of an audience that is highly knowledgeable about technology. Don't fake it because you will not make it.
Find a good fit: look for either product integration or partnership opportunities to organically integrate your brand or product into video games.
Work with micro-influencers: spread your efforts across video game genres by working with several micro-influencers.

Thus, marketers, this is one of those seldom moments where you can see the future and have a chance of shaping it instead of catching up to others.


---
References
Aaron, J., 2017. The Controversial Dichotomy Between Sports and eSports. [Online] Available at: https://www.huffingtonpost.com/jesse-aaron/the-controversial-dichoto_b_6692052.html [Accessed 11 23 2018].
Brown, K. A., Billings, A. C., Murphy, B. & Puesan, L., 2018. Intersections of Fandom in the Age of Interactive Media: eSports Fandom as a Predictor of Traditional Sport Fandom. Communication & Sport, 6(4), pp. 418-435.
Collins, Y., 2018. Why every football club should be paying attention to FC Copenhagen. [Online] Available at: https://www.skysports.com/esports/news/34214/11306890/why-every-football-club-should-be-paying-attention-to-fc-copenhagen [Accessed 19 11 2018].
Cunningham, B., 2018. Why eSports Is The Next Big Thing In Marketing. [Online] Available at: https://www.forbes.com/sites/baldwincunningham/2016/02/25/why-esports-is-the-next-big-thing-in-marketing/#6cd1a1213bfe [Accessed 23 11 2018].
Cunningham, G. B. et al., 2018. eSport: Construct specifications and implications for sport management. Sport Management Review, Volume 21, pp. 1-6.
Fitch, A., 2018. Olympic Channel to embrace esports after Pyeongchang. [Online] Available at: https://esportsinsider.com/2018/02/olympic-channel-exploring-esports/ [Accessed 18 11 2018].
Forbes, 2018. Get In The Game: Seven Smart Strategies For Esports Marketing. [Online] Available at: https://www.forbes.com/sites/forbescommunicationscouncil/2018/08/15/get-in-the-game-seven-smart-strategies-for-esports-marketing/#50a0abf03521 [Accessed 23 11 2018].
Hallman, K. & Giel, T., 2018. eSports – Competitive sports or recreational activity. Sport Management Review, Volume 4, pp. 14-20.
Intergalactic Gaming, 2018. Esports — Bigger than Traditional Sports ?. [Online] Available at: https://medium.com/@info_91865/esports-the-next-generation-of-sports-7ac9ec6d71c [Accessed 23 11 2018].
Jenny, S. E., Manning, D., Keiper, M. C. & Olirch, T. W., 2017. Virtual(ly) Athletes: Where eSports Fit Within the Definition of "Sport". Quest, 69(1), pp. 1-18.
Lee, D. & Schoenstedt, L. J., 2011. Comparison of eSports and Traditional Sports Consumption Motives. Journal of Research, 6(2), pp. 39-44.
Limelight Networks, 2018. New Research from Limelight Networks Shows Traditional Sports Viewership is at Risk as Millennials Switch Their Attention to Esports. [Online] Available at: https://www.businesswire.com/news/home/20180328005610/en/ [Accessed 23 11 2018].
Newzoo, 2017. Free 2017 Global Esports Market Report, s.l.: s.n.
Newzoo, 2018. Free 2018 Global Esports Market Report, s.l.: s.n.
Pizzo, A. D. et al., 2018. eSports vs. Sport: A Comparison of Spectator Motives. Sport Marketing Quarterly, Volume 27, pp. 108-123.
Sandrock, M., 2018. How to connect football clubs and eSports teams. [Online] Available at: http://blog.infrontsports.com/how-to-connect-football-clubs-and-esports [Accessed 24 11 2018].
Velinov, P., 2018. Esports v Sports – Is the Future of Sport Online?. [Online] Available at: https://blog.betway.com/esports/esports-v-sports-is-the-future-of-sport-online/ [Accessed 11 23 2018].
Like this post? You'll find more marketing insights in my new book: International Brand Strategy: A guide to achieving global brand growth, now available from booksellers globally. Order your copy here.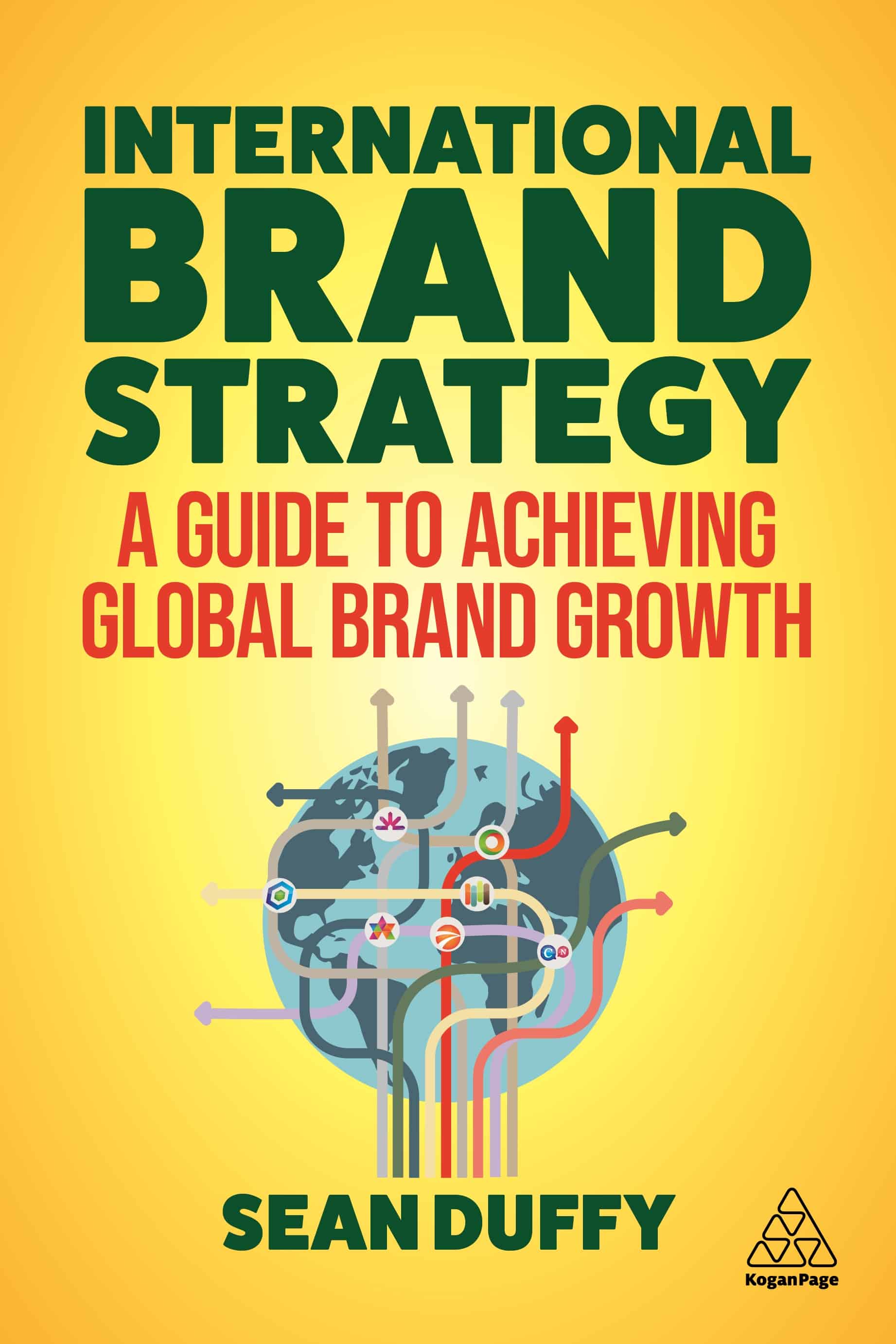 Order Your Copy
Students from the International Marketing and Brand Management program at Lund University are the contributing authors for the BrandBase blog.