eSports: The mainstream entertainment – Why brands should get engaged
ESports is on the rise –video game competitions are rapidly growing, the time is now for brands to get engaged...
10 Apr 2019
2077 Views
Written by Árni Alexander Baldvinsson
Have you ever heard of the term"eSports"? Do not feel embarrassed if you have not. eSports is probably one of the most significant thing many people have never heard of!
eSports is a booming industry where it recently started to gain significant viewership through modernized- live streaming entertainment channels, and has captured tremendous amount of people's time and attention. eSports is growing in popularity, with top tournaments drawing a big crowd of audiences, rivaling traditional sporting events (Pizzo et al., 2018). In the same ways, as traditional sports compete in football, handball, and basketball, the eSports phenomenon includes competition, where it is broadcasted through various channels online or in big arenas. In 2016, 43 million people tuned in and watched the finals of the game League of Legends resulting in higher viewership than NBA finals with "only" 31 million viewers (Kennedy & Rozelle, 2016 ). The eSports industry is here to stay, it is big, and just about to get bigger!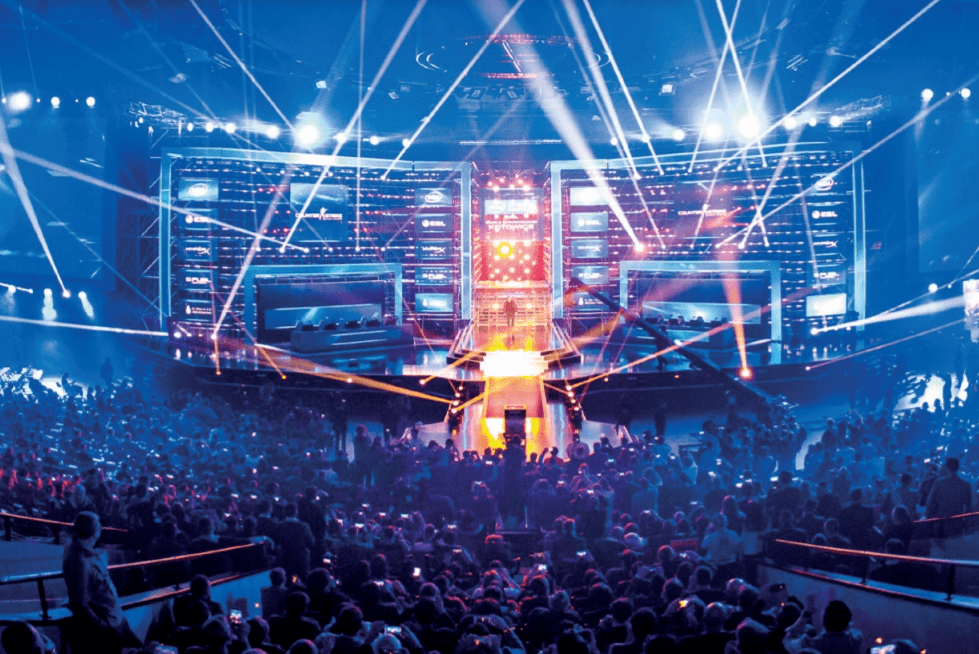 But first, what is eSports?
eSports or Electronic Sports, is a setting where professional and armature players play different types of video games that are coordinated through leagues, ladders and, tournaments. The experience is similar to watching traditional sports events, but instead of watching the physical activity within an event, spectators watch video game players compete through a virtual environment, where the physical act occurs within the digital world (Hamari & Sjöblom, 2017).
Why is eSports the golden goose that people are chasing?
"Watching people play games, is like going to a restaurant and having someone eat your food" said Jimmy Kimmel on Jimmy Kimmel Live, about the ridiculous idea of people watching other people play video games.
It might be difficult to think why anyone would want to see someone else play a video game, especially for someone that has never played any video games regularly. But looking at it in a different perspective, and imagining the football player Messi, or basketball player Steven Curry, play. Just as traditional sports fans like to watch their favorite players perform at the best level, is it possible that eSports fans could argue the same thing?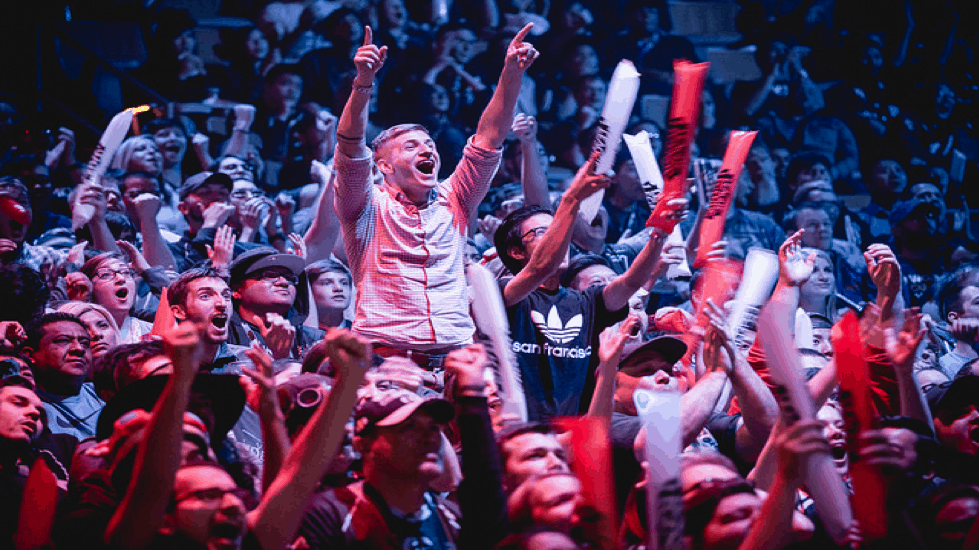 eSports has many of the components of traditional sports – including players, teams, managers, leagues, competitions, events, endorsement deals, players transfer fees, college scholarships, and the dark site of match-fixing, and doping (Pizzo et al., 2018). So, no surprise that eSports are taking off just like any other sports.
eSports are unique when it comes to an individual's success -Anyone can play, it does not matter how tall, strong, thin or fast the person is. eSports provides a larger "playing field" where factors such as gender, culture, and location do not matter. The democratization contributes to the global engaged fan base (Chapman, 2018).
Different types of games – the number of different kinds of games within eSports, encompasses an array of different genres, such as first-person-shooter (FPS), multiplayer online battle arena (MOBA), real-time strategy (RTS), and sport video games (Jenny et al., 2018).
Quality of video games – the advancement of LAN technology has changed the mode of eSports consumption, from human-vs-machine to human-vs-human (Lee & Schoenstedt, 2011). The graphics of video games have evolved last years, more people have started to play, leading to more popularity.
Video games are addicting – video games have a highly addicting effect on people. Playing video games enhances the level of dopamine (Weinstein, 2010). Which contributes to the popularity of eSports.
eSports is a social activity – through video games, friends can play cooperatively or against each other. Many games are team-based, making players collaborate and work with each other through teamwork.
eSports is a career option – video games are one of the most grossing entertainment industries. People are starting to have more profound desire for a career path within eSports, the community has begun to grow beyond just "hardcore" loyals, attracting more audience and acceptance.

But how did eSports become a spectator sport? – Twitch and influential gamers
"For the first time ever, gamers can now finally have a true social network suited for them. Millions gather every month to broadcast, watch and talk about video games"– (Twitch, 2018)
Within the eSports industry, professional or armature players can stream them self, playing the actual video game, (Hamari & Sjöblom, 2017). The players can engage with fans through social media, live-streaming platforms, and in person at tournaments. (Jenny et al., 2018). At the center of this eSports spectator boom, is the online streaming platform Twitch. Twitch gives players a platform to broadcast feeds of their gameplay. Each stream has its chat room, and viewers can interact with each other and the streamer.

Video game streaming is bringing a new method to consumers in regards to branded content (Holt, 2016). Brand-centric content is positively influencing brand equity and consumers attitude through streaming channels. For that reason, many companies are approaching eSports through streaming influencers. Highly engaged consumer in eSports, is likely to be exposed to advertisement through this engagement. Streaming channels such as Twitch, can influence consumers purchasing decisions.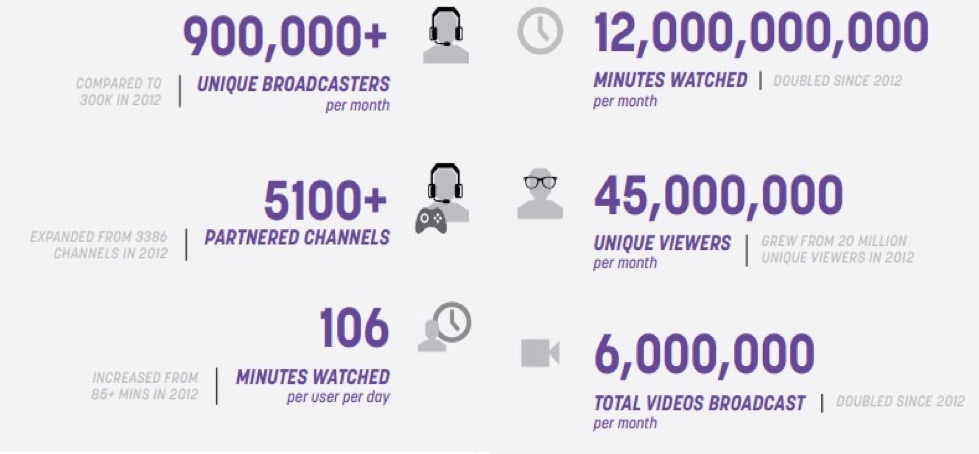 Twitch has become the leading platform for every major tournament (Statista, 2018). Twitch's spectator numbers reflect the growth in eSports. In October of 2012, the company reported over 20 million monthly visitors, in 2018 monthly visitors were 45 million (Twitch, 2018). All in all, it is expected that by the end of 2018 eSports enthusiasts around the world will have watched 6,6 billion hours of eSports video content, with Twitch.tv being the most popular platform (Statista, 2018).
eSports rise to dominance in mainstream entertainment
"I believe eSports will rival the biggest traditional sports leagues in terms of future opportunities, and between advertising, ticket sales, licensing, sponsorships and merchandising, there are tremendous growth areas for this industry."
– Steve Borenstein, Chairman of Activision Blizzard's eSports Division (PMG, p.5, 2018).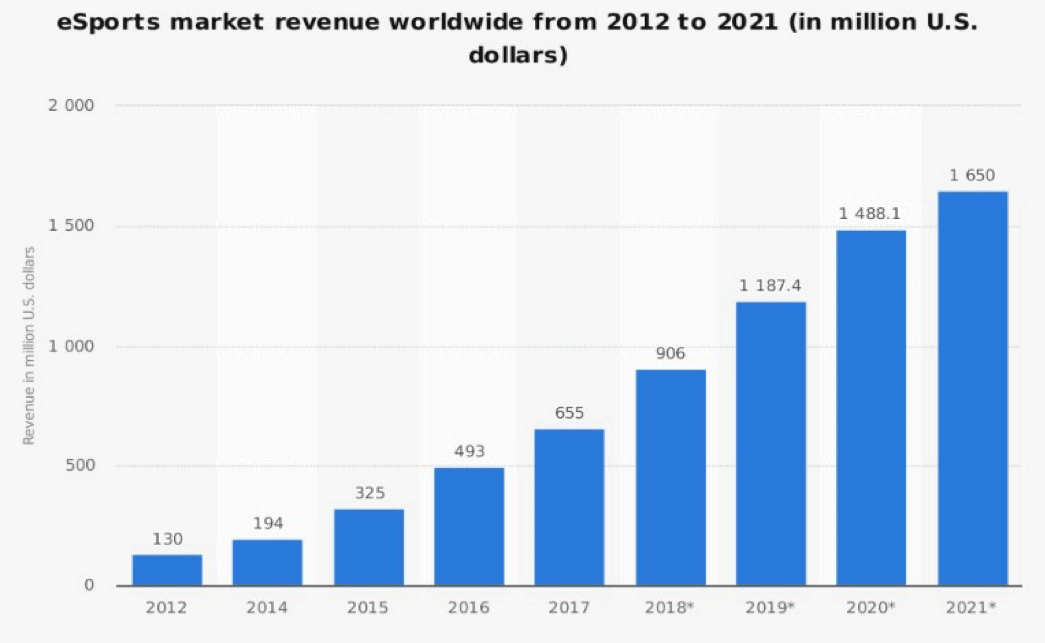 It is hardly surprising that the eSports sector is much of an interest to various organizations, given the global revenues. In 2017 the global eSports market was valued for nearly 655 million U.S. dollars, and enjoyed a worldwide audience of 385 million people (Static, 2018). The eSports industry had year-on-year growth of 38.3%, from 2017 to 2018. The popularity within the video games industry and the desire to spectate online and in-person gaming, has exhilarated over time. By the year 2020 it is estimated that the eSports industry will gain a staggering 1.65 billion dollars. The increased institutionalization and broadening consumer and participant markets of eSports, has attracted major corporate sponsors such as Microsoft, Samsung, and Red Bull (Pizzo et al., 2018).
Why brands should engage in eSports
The entertainment culture is revolutionizing – eSports is offering a new way to reach a demographic that has been difficult to capture, which are younger audiences and less likely to watch linear television, and other professional sports (Deloitte, 2018). 
eSports is one of the biggest and fastest growing industries – eSports has shown impressive growth in revenues, viewership, sponsorship, and content creation over the last years, and the industry does not show any signs of slowing down.
eSports fans are working professionals with spending power – Roughly 43% of eSports fans, have an annual income of $75.000, with just under one third or 31% having income of $90.000 or higher (PMG, 2018).
Advertisement opportunities – Media buys and partnerships are relatively cheap.The modernized entertainment industry allows brands for creative partnerships and advertisements. Brands that are not afraid to get creative might get rewarded (PMG, 2018).
eSports likely to overshadow traditional sports – eSports is one of the most technologically driven sport in the world. There is a strong possibility that eSports will in next years, overshadow traditional sports (Chapman, 2018).
eSports is still relatively small – The eSports audiences, are already significant, and many brands have been risk-averse, given the fact that eSports are not widely understood (Nielsen, 2017). Which means brands that move now have much to gain!

What brands need to know before engaging in eSports
Brands need to have done their homework- Not only understand their objectives. The important part is to understand what audiences want, what they expect, and what their habits and preferences are.
Understand the complexity of the eSports sector- One of the significant challenges for brands is to understand the multitude of how many teams, events, and players there are. What sector within eSports is the best fit for the brand?
Essential to be authentic – The eSports community will share their thoughts through social media. These are people that live online, game online, and express their opinions online. ESports fans can be very unforgiving
Brands need to create experiences – Most of the eSports fans do not trust paid online advertisements. Instead of buying ads, enhance the online experience that is the best way to connect with the eSports enthusiasts.

Now the important question remains. Who will join the game?






Refrences:
Budman, M., Hurley, B., Khan, A., Moreano, E., Pearson, J. and Garia, N. (2018). Esports graduates to the big leagues – can eSports help media and entertainment companies acess a changing audience. Available at:https://www2.deloitte.com/content/dam/insights/us/articles/4677_eSports/4677_eSports.pdf [Accessed 25 November 2018]
Chapman, J. (2018). Esports: A Guide to Competitive Video Gaming. [online] Toptal Finance Blog. Available at:
https://www.toptal.com/finance/market-research-analysts/esports[Accessed 23 November 2018]
Hamari, J. & Sjöblom, M., 2017. What is eSports and why do people watch it? Internet Research, 27(2), pp. 211-232.
Holt, J. (2016). Virtual domains for sports and games. Sport, Ethics and Philosophy, 10(1), pp.5-13.
Jenny, S., Keiper, M., Taylor, B., Williams, D., Gawrysiak, J., Manning, R. and Tutka, P. (2018). eSports Venues: A New Sport Business Opportunity. Journal of Applied Sport Management, 10(1), pp.34-49.
Lee, D. and Schoenstedt, L. (2011). Comparison of eSports and Traditional sports consumption motives. Journal of Research, 6(2), pp.39-44.
Long, A., Drabicky, N. and Rhodes, H. (2018). The emergence of esports & the advertising oppurtunities within the ecosystem. Available at:
https://www.pmg.com/wp-content/uploads/2018/06/eSports-Marketing-PMG-Whitepaper.pdf[Accessed 24 November 2018]
Pike, N. and Master, S. (2017). The esports playbook maximizing your investment through understanding the fans. [online] Nielsen.com. Available at: https://www.nielsen.com/content/dam/nielsenglobal/ru/docs/nielsen-esports-playbook.pdf[Accessed 23 November 2018]
Pizzo, A. et al., 2018. eSport vs. Sport: A Comparison of Spectator Motives. Sport Marketing Quarterly, Volume 27, pp. 108- 123.
The statistics portal (2018). The eSports market. Available at: https://www.statista.com/topics/3121/esports-market[Accessed 24 November 2018]
Tuten, T. and Solomon, M. (2015). Social media marketing. [online] Uk.sagepub.com. Available at: https://uk.sagepub.com/sites/default/files/upm-binaries/89035_Chapter_1___The_Social_Media_Environment.pdf[Accessed 23 November 2018]
Twitch, 2018. Twitch audience. [Online]  Available at: http://twitchadvertising.tv/audience/[Accessed 25 November 2018]
Twitch, 2018. Twitch directory. [Online]  Available at: https://www.twitch.tv/directory/creative/[Accessed 25 November 2018]
Weinstein, A. (2010). Computer and Video Game Addiction—A Comparison between Game Users and Non-Game Users. The American Journal of Drug and Alcohol Abuse, 36(5), pp.268-276.
Like this post? You'll find more marketing insights in my new book: International Brand Strategy: A guide to achieving global brand growth, now available from booksellers globally. Order your copy here.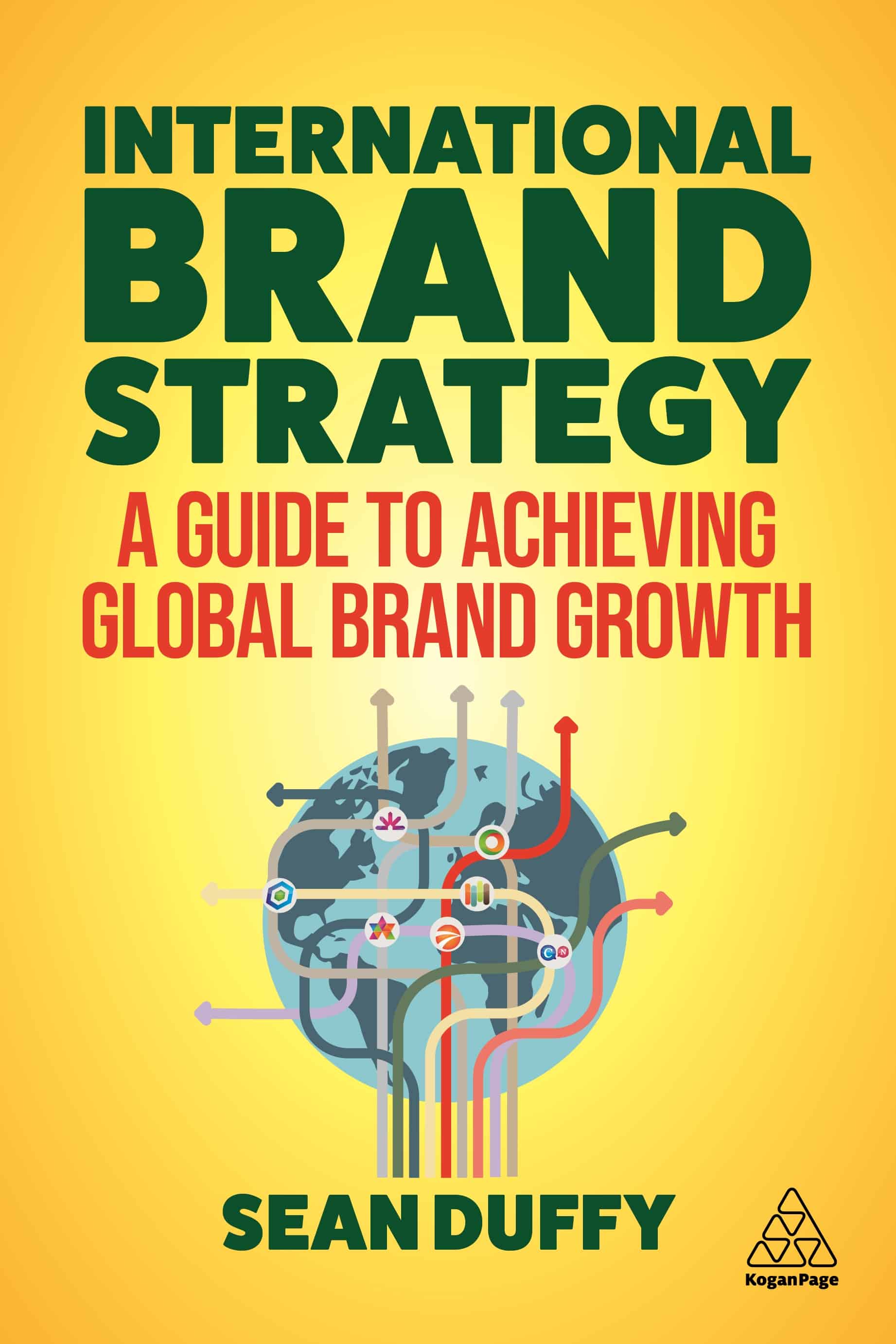 Order Your Copy
Students from the International Marketing and Brand Management program at Lund University are the contributing authors for the BrandBase blog.