Growing international brands & marketing's role – an expert's perspective
Sean Duffy explains the challenges for building strong international brands in a digital era and how marketing can make a difference...
28 Nov 2017
4087 Views
Sean Duffy, an American marketing expert specializing in international brands, is the interviewee of Revista Grandes Marcas (Great Brands Magazine). This post is the English translation of the original article published in October 2017.
If there is a professional with an international vision of brands and how to make them successful, it is Sean Duffy. The American advertiser has worked with clients from more than 30 different countries and also in partnership with agencies from more than 50 cities around the world. Since 2001, he has been at the forefront of the Duffy Agency, a strategic marketing agency for aspiring global brands, and is helping them grow rapidly through an innovative approach to project management and international business. All these came after a successful career in the United States, in various advertising agencies such as BBDO and Knight Advertising. In 1991, Sean moved to Stockholm, Sweden, to work as Creative Director at the country's largest advertising agency, Lowe Brindfors, a part of Lowe & Partners. After ten years with Lowe, working exclusively in international marketing, Sean founded his own agency. Today, he divides his time amongst Sweden, the United States, and Brazil. Yes: Duffy has a connection with our country because his wife is from Rio de Janeiro.
During his 25-year career, Sean Duffy also became a lecturer and teacher at the Lund University School of Economics & Management in Sweden. In this exclusive interview for Great Brands Magazine, this specialist addresses the issues of brand originality, what are the most important points in building a strong brand and his vision for Brazilian brands.
Revista Grandes Marcas: Why are you so interested in brands? Is there any connection from your childhood or family, for example?
Sean Duffy: I grew up in the United States during what can be described as "The Golden Age of Consumer Brands," so I'm sure that had some influence. But I think my interest in brands is mainly a reflection of my analytical tendencies. I like getting to the heart of things, diving beneath the surface to reveal its principles. This pretty much defined my career path. I started as an advertising copywriter with BBDO. That meant working with creative briefs that defined the brand identity I was meant to convey. Being a curious person, I would often question why the brand identity was crafted the way it was. This eventually led me from writing to crafting strategy, in the same way that a pilot might become interested in airplane design, or a stone sculptor might become interested in geology.
Revista Grandes Marcas: And why did you become an entrepreneur and start your own business?
Sean Duffy: Initially, I created the Duffy Agency because, like many business owners, I thought I had a better idea that I could best develop on my own. And also, like most entrepreneurs, I've never stopped looking for a better idea. That is why a few years ago, we concluded that the conventional business model used by us and most agencies was really outdated in relation to the needs of our clients. We have thus transformed our business model by turning the old business model on its head, coining the term "flipped agency" and inverted our logotype. Today, we are more of a consulting company than a conventional advertising agency and aligned our financial interest more closely with those of our clients.
Revista Grandes Marcas: What are some successful cases you have worked on?
Sean Duffy: We are proud of the contributions we have made over the years to well-known brands and large corporations such as IKEA, the United Nations (UN), Volvo, Alli, VF Corporation, Absolut, Pepsico, and GlaxoSmithKline. However, we are even more proud of the work we are doing with lesser-known, mid-sized brands that are currently striving to reach the next level. These are the types of companies we focus on today. For example, we endeavored to make HIV diagnoses more accessible across Africa; we helped revitalize rural economies in developing countries with the global launch of a new type of environmentally and socially sustainable building material. We supported the movement of locally-grown foods in America and Europe. We helped promote the WELL building standard for the residential and commercial real estate markets, and we helped the public understand the benefits and necessity of aquaculture in the current food system.
Revista Grandes Marcas: Is the concept of brands more important for products, for services or for people?
Sean Duffy: All of the above. Brand identity can be developed for anything you can attach a name to, including products, services, people, places, things – even ideas. If you want to manage perceptions associated with products, services, people, places or things, then brand management techniques can be used to shape the image within the market segment.
Revista Grandes Marcas: Do successful brands mean successful companies?
Sean Duffy: Unfortunately not. While a strong brand gives the company an incredible competitive advantage, more is needed to keep the company profitable and growing. In North America, we have seen a number of companies fall apart, even though they had leading brands in their categories such as Kodak, Sears, Borders, PanAm, Polaroid, Lehman Brothers, Columbia House, Blockbuster, DeLorean, Ericsson, and Nokia, to name just a few.
Revista Grandes Marcas: What are the important elements in the development of a strong brand?
Sean Duffy: It requires several parties working together. There are so many aspects that they will not all fit in one answer. But I'll point out some of them, which may help. The first is to ensure that the product or service you are creating offers a clear value. Even if you create a good brand, you have to have a combination of product, price, and place that differentiates and offers clear value in relation to other options in the market. Do not just bet everything on brand promotion. While brand promotion is important, you need to figure out how to be able to sustain this differentiation over time. And, remember that value is not "quality." The market does not respond to quality, only to value. The second point is to be genuine. Think of it as the difference between covering a beautiful piece of wood with paint or staining it with hand-drawn strokes. In the first case, you just take the image that the public wants and apply it to the product or service like paint. This is fast and easy to do but unoriginal. The alternative of working the piece by hand, and understanding the 'grain' of the company takes longer but gives it a unique identity. I work with my clients to make the latter kind of brand.
Revista Grandes Marcas: In what areas has Duffy Agency been doing work in Brazil?
Sean Duffy: Our agency has worked on several projects in Brazil, mainly in the food, beauty and cosmetic surgery segments. This involved interviewing leading Brazilian cosmetic surgeons and conducting interviews and focus groups with Brazilian consumer groups. But I also have a personal connection with Brazil, because my wife is from Rio de Janeiro and we have a house there.
Revista Grandes Marcas: What is your opinion about the Brazilian market and our brands? Are Brazilian brands at the same level as global brands?
Sean Duffy: I believe that Brazil has a vibrant consumer market, with strong ties to its brands. This is based on the relationship I see among my Brazilian friends and family with the brands of their choice. Brazil's media environment seems to me to be more traditional than that of Europe or North America. But I feel that the crafting and management of the main Brazilian brands are world-class. I am impressed with Brazilian marketing as a whole, especially its level of creativity and communication skills. For example, Duffy Agency is part of a global network of about 60 independent marketing agencies called TAAN Worldwide. Our Brazilian affiliate, Opusmúltipla, in Curitiba, consistently demonstrates the most original creative work in the network.
Revista Grandes Marcas: What is your most important advice for new entrepreneurs?
Sean Duffy: Be in love with your new business idea, but not to the extent that it blinds you to the need for a well-defined, long-term marketing strategy. Just because your product may be unique does not mean that you do not have competition. You compete with all the other options buyers have, including non-consumption. And even as you struggle to build your business, don't forget to stop, reflect on the progress you are making despite the setbacks, and enjoy the adventure. You can always start a new business, but you only have one life.
SaveSave
SaveSave
SaveSave
SaveSave
SaveSave
SaveSave
Like this post? You'll find more marketing insights in my new book: International Brand Strategy: A guide to achieving global brand growth, now available from booksellers globally. Order your copy here.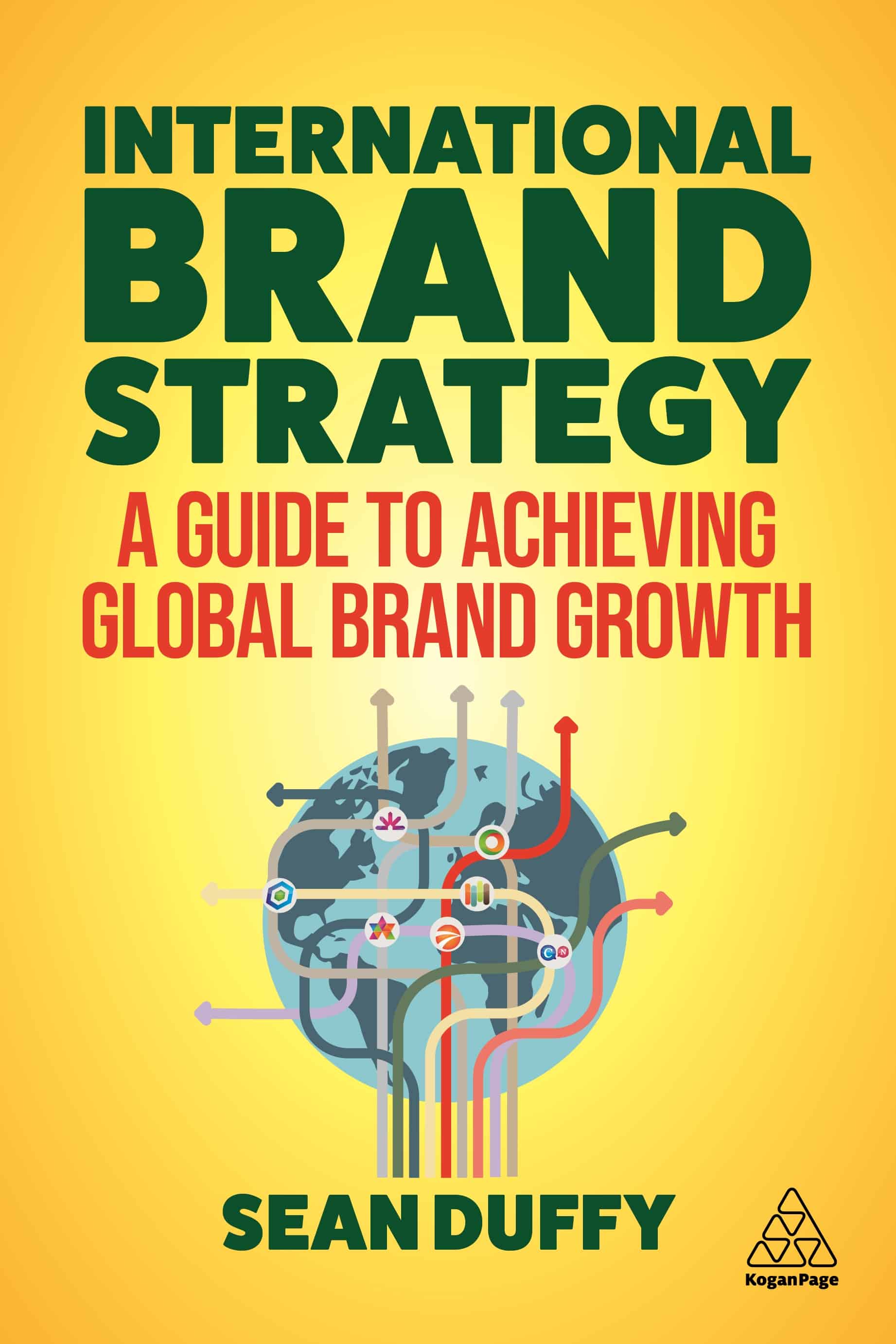 Order Your Copy
Speaker, consultant & founder of Duffy Agency, the flipped digital agency that provides accelerated growth to aspiring international brands.