How to Hook Generation Z with Instagram Stories: A hyped story is not good enough
Generation Z is becoming a hot topic for marketers today, but who are they and how can you capture their divided attention? Let's find out...
8 Jan 2020
5369 Views
Written by: Lovisa Gunnarsson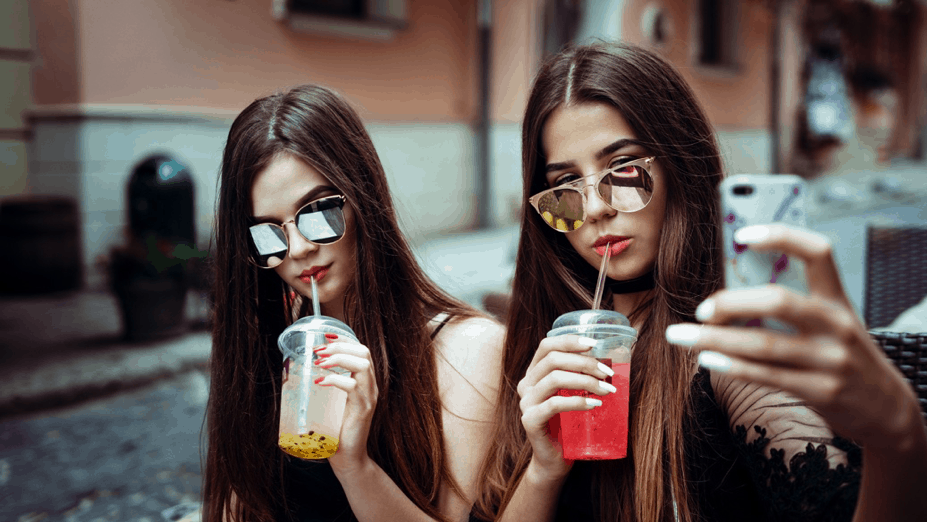 Success for brands on social media isn't easy today, nor will it be tomorrow. Because, as the true digital natives are entering adulthood and growing their buying power companies focus are shifting to the newer generation. Forget the millennials, because Generation Z is a different story. The Generation Z are more complex and critical, making them a challenge for marketers. So the question is what brands should do to capture this tech-savvy generation? The answer is Instagram Stories, but it isn't that simple.
Let's start with some basics
The first thing marketers need to know is Generation Z spends their time on social media (Benson, 2018). Second, on social media, the people have the power. This because social media was initially created for people and not brands (Fournier & Avery, 2011). Moreover, the people control the conversation which is a shift from the traditional media (Labrecque et al., 2013).
Therefore, brands need to play by the social media rules to become accepted on these platforms (Barwise & Meehan, 2010). Brands should not promote their products, instead create value to make them want to follow you and watch your Instagram Stories (Fournier & Avery, 2011). With the new generation, this is more important than ever.
Importantly, marketers need to know Generation Z can't imagine a world before the Internet. Also, their social media usage is different from previous generations which had to adapt to the Internet (Richter, 2018). For Generation Z, Instagram is one of the most popular platforms (Pruett, 2018). Altogether, Instagram has more than 1 billion accounts and over 500 million daily active users (Instagram, n.d.). Moreover, Instagram made a smart move in 2016 by introducing Instagram Stories, which surpassed Snapchat, by having more than double the amount of daily users (Richter, 2018).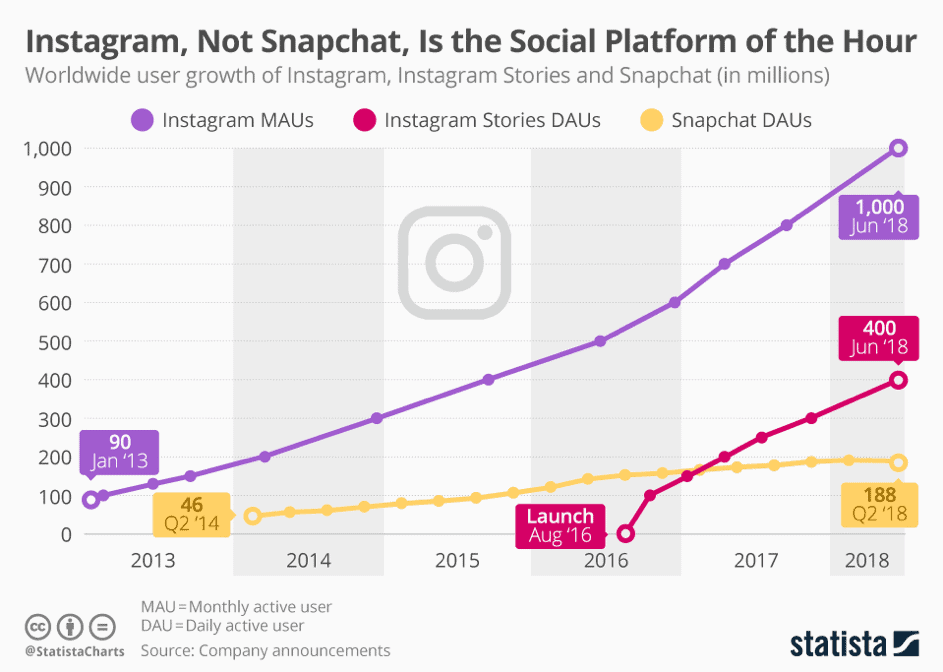 But, who is Generation Z?
Generation Zers are all individuals born between 1997-2012 (Bergh & Pallini, 2018), which are predicted to make up 40% of all consumers in 2020 (Finch, 2015) it is not just their age which is growing. Most importantly though is Generation Z having a strong influence over the purchasing decisions over their parents (Bergh & Pallini, 2018). To get a deeper understanding here are some essential things marketers need to know:
Authenticity is key. Generation Z wants the real thing and knows when it's fake. Therefore, they don't respond to marketing hype and instead to brands who are authentic and transparent (IBM, 2017). Brands need to build up the trust with them. According to a report by IBM 2017, it's important for 60% of Generation Z that brands values their opinions, hence, they want to be heard.
Brand loyalty? Generation Z has redefined loyalty as we know it. However, they want to interact with brands, which should be used to build meaningful relationships with young individuals (IBM, 2017). 
A fear of missing out. Or FOMO is the "anxiety that an exciting or interesting event may currently be happening elsewhere, often aroused by posts seen on social media" (Oxford Dictionaries, n.d.). Generation Z is always connected, and 44% are checking their social media hourly not to miss a thing (Benson, 2018).  
Only 8-second attention span. We are aware the attention span is shrinking, and Generation Z is no exception. Compared with millennial who uses 3 screens at once Generation Z uses 5 (Patel, 2017). This combined makes it even trickery for you to capture their attention.

Why Instagram Stories are the answer
First, on social media, visual communication beats written communication for Generation Z, which is Instagram's primary function (Pruett, 2018). Furthermore, Instagram Stories are ephemeral visual content, which is only available temporarily for the viewer and then disappears after 24 hours (Sheetrit, 2017). Levering on the FOMO phenomena. As said Stories have become very popular among social media users with over 400 million daily users (Instagram, n.d.). Imagined the endless opportunities if reaching these millions effectively. Importantly, this is a perfect platform to reach Generation Z. Here are some more reasons why Instagram Stories and ephemeral is the way to go:
Higher authenticity is in the format (or at least easier with Instagram Stories).
Short and Sweet – fits with their short attention span.
Possibilities to engage the followers.
Exclusivity – only available for a limited period. The FOMO is real.

Three tips to succeed with your brand's Instagram Stories
1. Make it real. Again being authentic and relevant is essential, be true to your brand promise (Barwise & Meehan, 2010). Don't make the content on Stories 'too perfect' or polished, instead, make it look real, spontaneous, and personal. This is further supported by a study that found photos which appears more like an authentic snapshot works better and are more engaging on social media (Colliander & Marder, 2018).
One way is by including user-generated content on your Instagram Stories to enhance your credibility and realness. Also, helping to build stronger relationships with your followers and providing them the feeling of contributing and being valued (Geurin & Burch, 2016). Supporting using user-generated content is that most Generation Zers prefers real people in ads (Benson, 2018).
Share sneak peeks and behind-the-scenes of your brand's operations or productions to create unique value. Takeovers is another way to maximize the use of FOMO. Try to be more real-time and why not go live by sharing what's happening now!
Now let's look at one example. Although, it's not easy to save Stories because as said they disperse. However, one brand which is leveraging the user-generated content approach is the Swedish fashion brand NA-KD. By featuring other peoples' photos both in their feed and Instagram Stories. They have also used their Stories for takeovers, where we can follow a person's day wearing clothing from the brand as seen on the images below.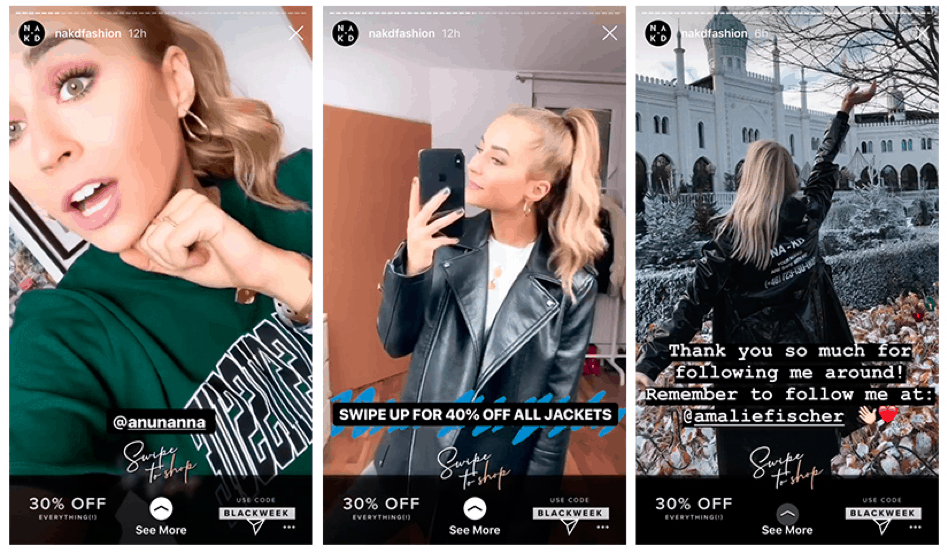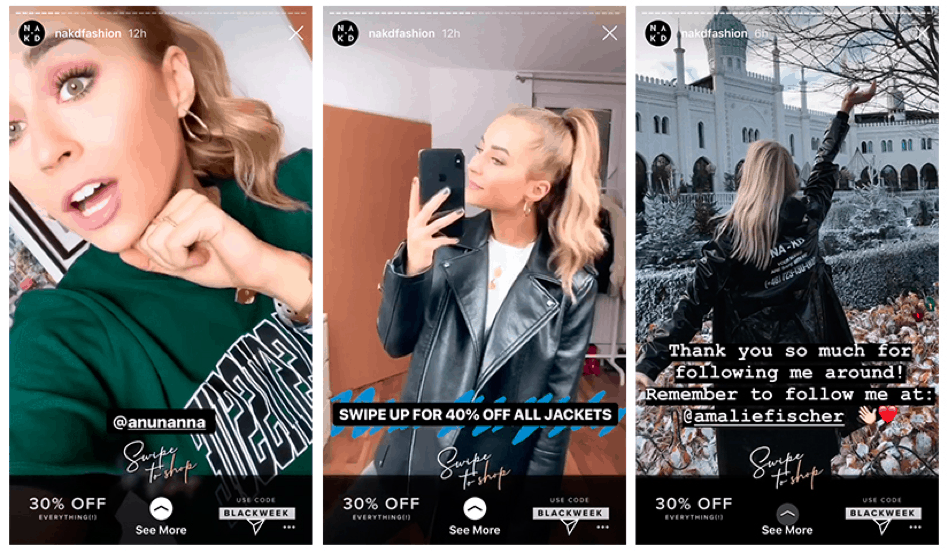 2. Tell a story on your Instagram Stories. Do what it implies in the name tell a story, together with some creativity to capture the Generation Z short attention. Make an impression. Storytelling is a powerful tool for marketers and to tell a meaningful story related to your brand (Singh & Sonnerburg, 2012). The difference from traditional storytelling is that in a social media setting the process is in co-creation with consumers (Singh & Sonnerburg, 2012). The opportunities for creativity are endless.
As National Geographic is the most followed brand on Instagram with 94,3 million followers, as of November 2018, they are doing something right. On their Instagram Stories, they share beautiful content through their photographers' lenses. By educating and sending their message clearly through storytelling which is close to the brand promise. They are simply doing what they believe in which is using "the power of science, exploration and storytelling to change the world."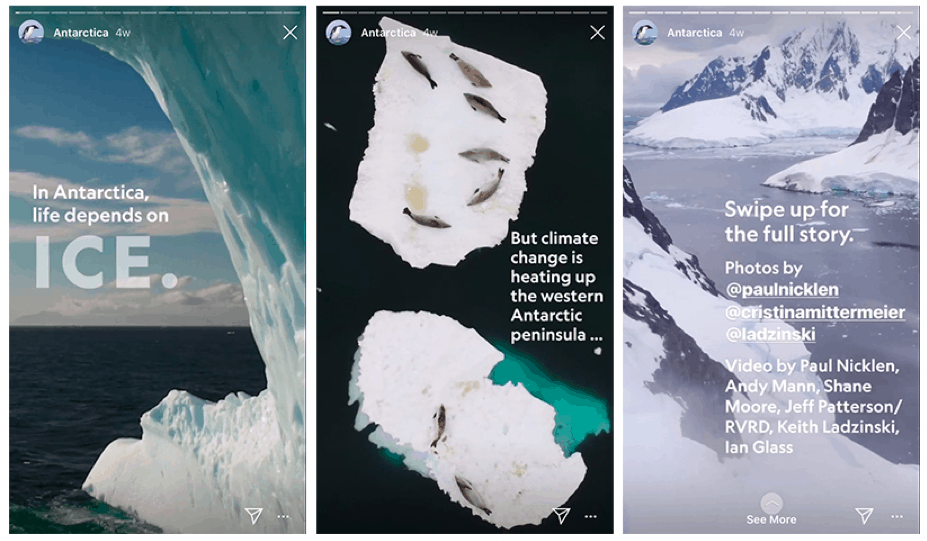 3. Interact. Generation Z wants to engage with brands so let them (IBM, 2017). Instagram is always updating their functions; polls and Q&A's is a relatively new addition to Instagram Stories. Polls are an easy way to let followers vote on alternatives to interact, get customer insights, and have fun with your followers. Ask them which product they prefer or crossroad options in your storytelling. Another way to engage and listen to your audience is to have a Q&A letting the followers ask questions or giving suggestions which you can answer. Build a meaningful relationship with them!
Additionally, the researchers Barwise and Meehan (2010) suggest using social media for gaining customer insights. Who needs expensive surveys when you can use Instagram Stories? Let's look at two examples:
Every week Airbnb has a little series called Travel Tuesday on their Instagram Stories, to invite followers to guess where they are this week. By giving small hints, having a poll, and then sharing user-generated content from this location. It's simple but engaging.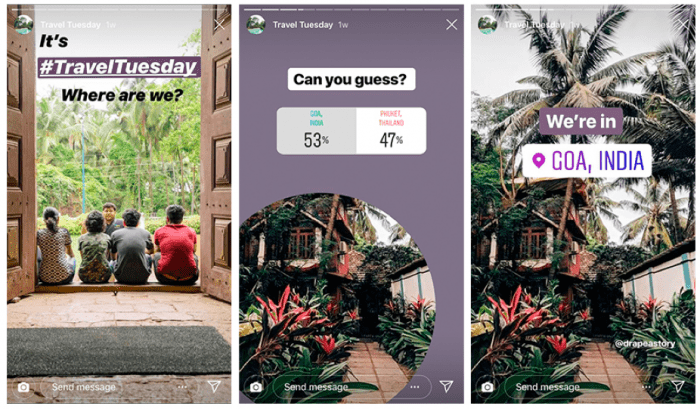 Sephora takes another approach when using polls in their Instagram Stories. By having a section called "Take it to the polls." As easy as it sounds giving two alternatives of their product and let the followers vote which one they prefer.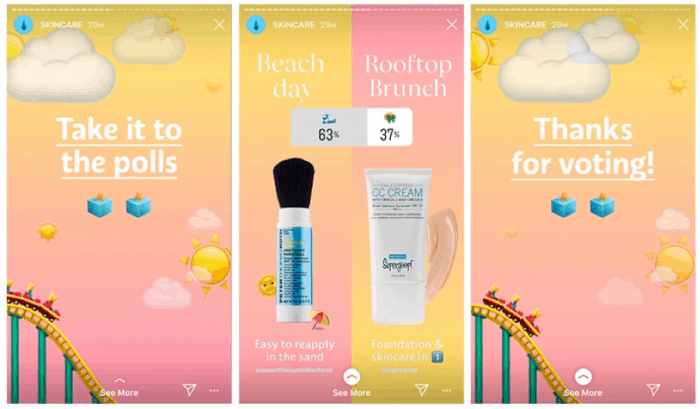 Some final words
Remember to catch Generation Z's attention fast! Build a clear strategy don't just share sporadically. Don't use the same strategy as your Instagram feed, because Stories have a different purpose. When designing the strategy remember your brand promise and let it guide you, don't be someone you're not (Barwise & Meehan, 2010).
Now it's time for you to create some remarkable Instagram Stories and to build a meaningful relationship with Generation Z. However, remember authenticity is key!






---
References
Airbnb, (2018). Airbnb, Instagram.Available Online: https://www.instagram.com/airbnb/ [Accessed 24 November 2018]
Barwise, P., & Meehan, S. (2010). The one thing you must get right when building a brand. Harvard business review, 88(12).
Benson, C. (2018). A Snapshot of Gen Z – How to differentiate them from Millennials, MBuy. Available Online: http://www.mbuy.com/blog/snapshot-of-gen-z [Accessed 24 November 2018]
Colliander, J., & Marder, B. (2018). 'Snap happy' brands: Increasing publicity effectiveness through a snapshot aesthetic when marketing a brand on Instagram. Computers in Human Behavior, 78, 34-43.
Finch, J. (2015). What Is Generation Z, And What Does It Want?, FastCompany. Available Online: https://www.fastcompany.com/3045317/what-is-generation-z-and-what-does-it-want [Accessed 18 November 2018]
Fournier, S., & Avery, J. (2011). The uninvited brand. Business horizons, 54(3), 193-207.
Geurin, A. N., & Burch, L. M. (2017). User-generated branding via social media: An examination of six running brands. Sport Management Review, 20(3), 273-284.
IBM, (2017). Gen Z brand relationship: Authenticity matters, NRF. Available Online: https://cdn.nrf.com/sites/default/files/2018-10/NRF_GenZ%20Brand%20Relationships%20Exec%20Report.pdf?_ga=2.12190775.2049186574.1542455547-1659245767.1542455547 [Accessed 18 November 2018]
Instagram, (n.d.). Instagram: Business, Instagram. Available Online: https://business.instagram.com [Accessed 17 November 2018]
Labrecque, L. I., vor dem Esche, J., Mathwick, C., Novak, T. P., & Hofacker, C. F. (2013). Consumer power: Evolution in the digital age. Journal of Interactive Marketing, 27(4), 257-269.
Natgeo, (2018). National Geographic, Instagram. Available Online: https://www.instagram.com/natgeo/ [Accessed 24 November 2018]
O'Donnell, E. (2018). Elijah O'Donnell, Unsplash. Available Online: https://unsplash.com/photos/7ICU-gxJ1zY?utm_source=unsplash&utm_medium=referral&utm_content=creditCopyText Accessed 24 November 2018]
National Geographic (2018). About National Geographic, National Geographic. Available Online: https://www.nationalgeographic.com/about/ [Accessed 24 November 2018]
Oxford Dictionaries, (n.d.). FOMO. Oxford Dictionaries. Available Online: https://en.oxforddictionaries.com/definition/fomo [Accessed 24 November 2018]
Patel, D. (2017). 5 Differences Between Marketing To Millennials Vs. Gen Z, Forbes. Available Online: https://www.forbes.com/sites/deeppatel/2017/11/27/5-d%E2%80%8Bifferences-%E2%80%8Bbetween-%E2%80%8Bmarketing-%E2%80%8Bto%E2%80%8B-m%E2%80%8Billennials-v%E2%80%8Bs%E2%80%8B-%E2%80%8Bgen-z/#31d93d2e2c9f [Accessed 24 November 2018]
Pruett, M. (2018). Gen Z's Favorite Social Networks: YouTube, Instagram, Snapchat, Criteo. Available Online: https://www.criteo.com/insights/gen-z-social-media/ [Accessed 18 November 2018]
Richter, F. (2018). Instagram, Not Snapchat, Is the Social Platform of the Hour, Statista. Available Online: https://www.statista.com/chart/15034/worldwide-user-growth-of-instagram-and-snapchat/ [Accessed 27 November 2018]
Sephora, (2018). Sephora, Instagram. Available Online: https://www.instagram.com/sephora/ [Accessed 24 November 2018]
Sheetrit, G. (2017). 5 Social Media Trends That Will Have Maximum Impact in 2018, Adweek. Available Online: https://www.adweek.com/digital/guy-sheetrit-over-the-top-seo-guest-post-5-social-media-trends-that-will-have-maximum-impact-in-2018/ [Accessed 24 November 2018]
Singh, S., & Sonnenburg, S. (2012). Brand performances in social media. Journal of interactive marketing, 26(4), 189-197.
Van den Bergh, J., & Pallini, K. (2018). Marketing to Generation Z. Research World, 2018, (70), 18-23.
Like this post? You'll find more marketing insights in my new book: International Brand Strategy: A guide to achieving global brand growth, now available from booksellers globally. Order your copy here.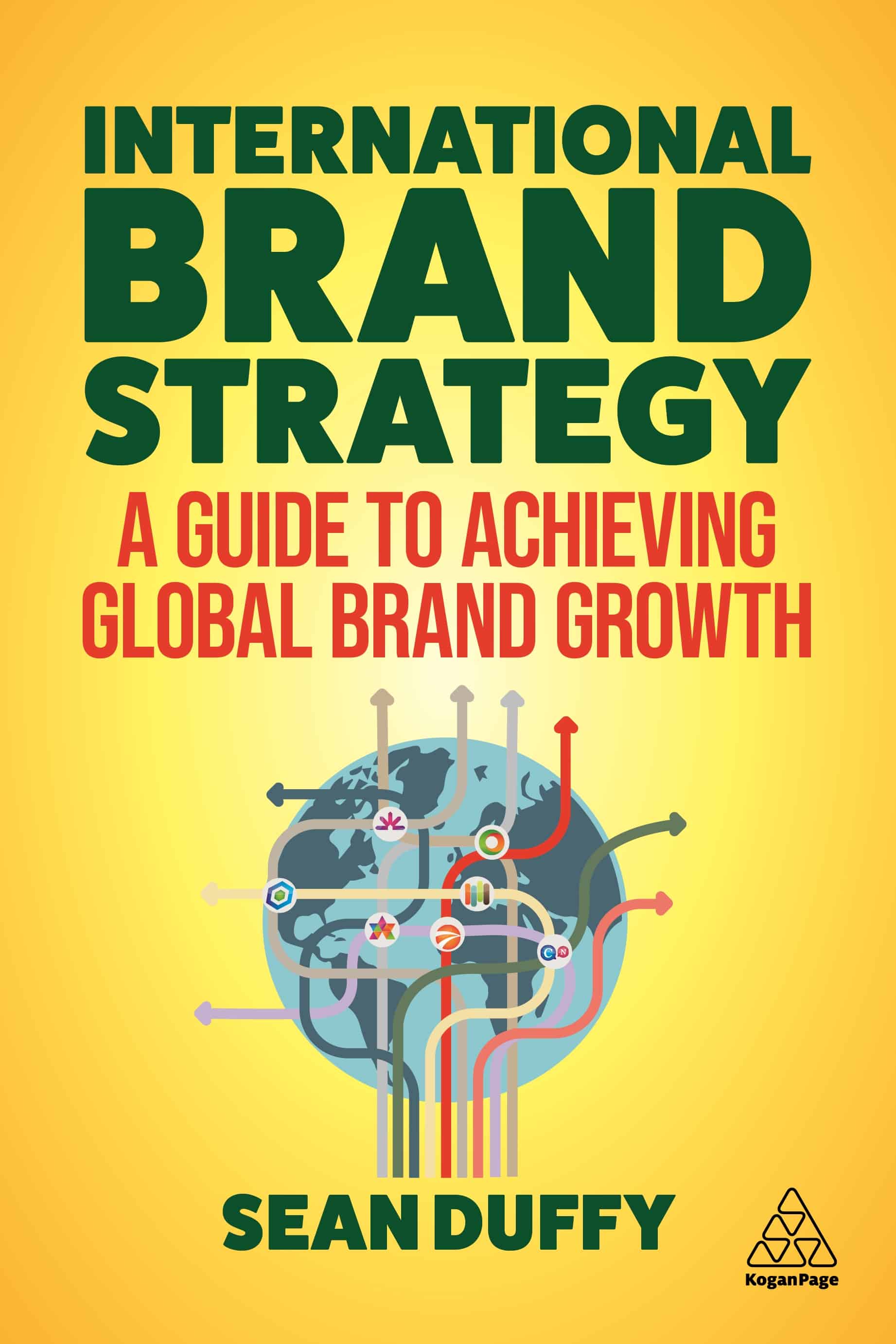 Order Your Copy
Students from the International Marketing and Brand Management program at Lund University are the contributing authors for the BrandBase blog.