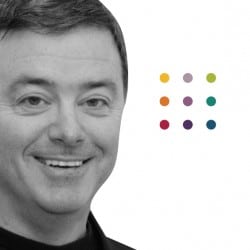 Sean is the founder of Duffy Agency, a strategic marketing agency specialized in international brand development. The agency works as a natural extension of your marketing department filling the expertise gaps your business needs to compete on the international stage. Duffy Agency has worked with clients from over 30 different countries from their offices in Malmö, Sweden and Boston, Massachusetts, along with partner agencies in 50 other cities around the world.
Sean has over 25 years of experience working with strategic marketing in Boston, San Francisco, Stockholm, and Copenhagen. He began his career as a copywriter with BBDO in Boston and later worked as Creative Director for Knight Advertising in San Francisco. In 1991, Sean moved to Stockholm to work as Creative Director at Sweden's largest ad agency, Lowe Brindfors, part of Lowe & Partners. After 10 years with Lowe working exclusively on international marketing, Sean founded Duffy Agency in 2001.
In addition to his involvement with Duffy Agency, Sean also serves as Lecturer and Practitioner in Residence at the Lund University School of Economics & Management and as Mentor in their Masters Program in Entrepreneurship.
As a frequent speaker on strategic international marketing and online brand management, Sean draws on his experience working with dozens of global brands including IKEA, The United Nations, Saab, Volvo, Absolut, VF Corporation, Pfizer, and GSK. Sean is an active member of  TAAN Worldwide where he has served two terms as the European Governor. Established in 1936, TAAN is a global network of over 50 independent marketing agencies with annual billings of 1.5 billion USD.
With offices in Malmö and Boston, Sean splits his time between Sweden and the States.