Influencer marketing on Instagram: reaching consumers in an advertisement avoidance environment
As social media gain popularity and advertisement avoidance attitudes online increase, influencer marketing on Instagram is getting valid...
11 Apr 2018
3609 Views
Written by Liliana Avila
Promoting products through third parties' Instagram personal accounts is becoming a more valid mean to increase brand awareness on social media. In this article we will search the influencer marketing phenomenon on Instagram and how this marketing strategy becomes an effective promotion alternative in a web where user's resistance to conventional commercial content is increasing.
We will first have a look at the environment of brand and marketing management in social media. Then we will review user's perception of commercial content in these platforms. Finally, we will explore what is happening with influencer marketing on Instagram and review some recommendations to succeed in this endeavor.
Managing a brand in a web created for people
Social networks have become one of the main promotion channels in most company's marketing mix1. The immediateness and conversational capabilities of these platforms have enabled brands to build a closer and stronger relationship with consumers. Web 2.0 offers different platforms to constantly share information that vary in depth and length and that can help companies communicate effectively with their stakeholders1. We also have seen how empowered consumers help build brand value by engaging in conversations with companies and becoming co-creators of content1 2 3.
Most brands have successfully migrated to social networks by building a strong online community to connect with their followers. JetBlue, GoPro, Uber and Netflix are just some examples of companies that are permanently generating useful or entertaining content, and that are proactively interacting with users, especially on Instagram. People like to know what is happening with their favorite brands and that is reflected in this interaction and followership.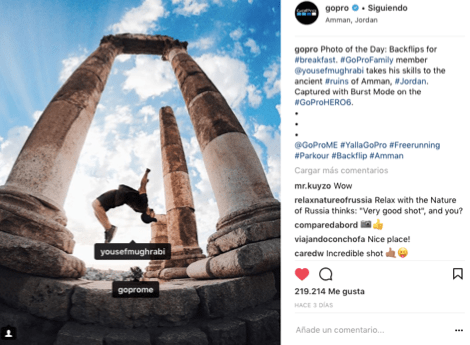 Image 1. Source: GoPro Instagram Account4. Alt. text: GoPro features user's images almost everyday. Their Instagram account has more than 13,4 M followers.
However, most brands wish to reach new audiences to have a broader visibility online. Therefore they are using different marketing solutions that social platforms are offering. The information provided by users in these networks enable companies to better target their advertising to reach the right public5. This is the reason behind the appearance of pictures or videos in people`s Facebook newsfeed of companies they do not follow.
But we have reached a point where spaces originally created for people, such as social media3, are starting to be saturated with marketing content. This is increasing the consumer's avoidance attitude in regards to advertising6 7. As marketers we need to understand the drivers of this phenomenon. This will help us find alternatives, such as influencer marketing on Instagram, to communicate with audiences and not become an intruder in people's online life.
Commercial avoidance attitudes on the Internet
People are not fans of online advertising and we know it. This is not a random affirmation, it is reflected on user's online behavior. According to PageFair's6 most recent Adblock Report, in 2016 the use of adblockers increased by 30%. This study also showed that interruptive ad formats caused a higher level of frustration among users.
The advertising perception on social media is similar. A research8 demonstrated a negative relationship between intrusiveness and the attitude toward the social network advertisement. In general, the public found commercial content to be useless and unhelpful, as well as intrusive and invasive.
Nevertheless, a recent survey on online advertising techniques concluded that users had a positive response to useful advertisements in social media that blended-in with the content7. Or in other words: users can find commercial content useful and attractive if it suits their interests and that it doesn't look like advertising. This is why influencer marketing on social media becomes an effective and less intrusive strategy. Influencer's posts featuring a product can mix with other user's organic publications and would help companies reach the audiences that follow that specific account on Instagram.
Instagram, the place for business?
With more than 800 active users, Instagram is gaining a more relevant space among other social networks and is growing faster than any other platform9. The image-sharing app added a business suite with marketing solutions for companies in 2013 and now has more than 2 million advertisers10. Without a doubt Instagram is the place to be, and statistics prove it: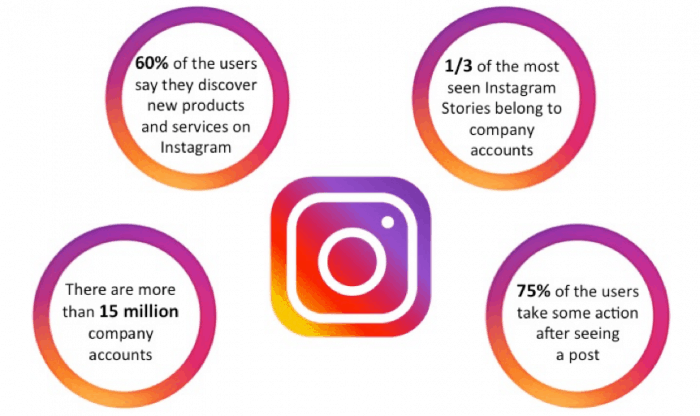 Image 2. Source: Instagram10. Alt text: Instagram stats reflect the growth and impact of their commercial solutions (Source: Instagram)
These numbers are definitely attractive to marketers but the commerciality of Instagram can be a double-edged sword. As has happened with other platforms, people are starting to notice that advertising is flooding their feeds11. Therefore, if deciding to include an influencer marketing strategy in your marketing mix, there are some elements that need to be considered. This brand endorsement goes beyond sponsoring the posts of someone with an impressive number of followers on Instagram.
The effectiveness of the new brand endorsement: Influencer marketing on Instagram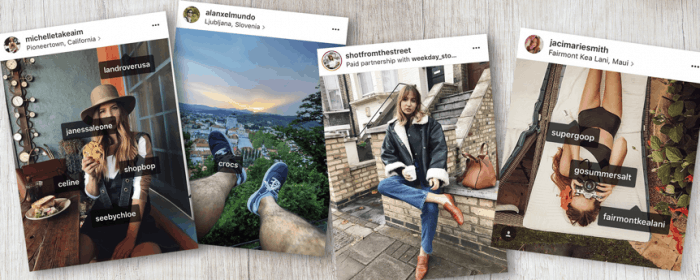 Image 3. Source: Instagram accounts @Michelletakeiam12, @Alanxelmundo13, @Shorfromthestreet14, @Jacimariesmith15. Alt Text: Influencers tag brands in their everyday pictures or posts pictures and videos in with content of a specific partnership.
As social media usage gains popularity and online advertisement avoidance attitudes increase, influencer marketing strategies are becoming more important for brands16. Instagram has become the perfect space for this alternative. A recent study estimates that the annual spend on Instagram influencers in 2017 will pass the USD 1 billion barrier, and that by 2019 this marketing strategy will become a USD 2.3 billion dollar industry17.
What are the reasons for this boom? Instagram influencers have built a new celebrity category on social media. Influencers have gained the confidence of thousands or even million of followers due to their lifestyle or expertise in an area18 (health, beauty, fitness). Companies have identified the power influencers have among consumers and are naming them the new ambassadors of their brands. A survey among marketing professionals confirmed that more than 80% considered influencer marketing to be effective or very effective19.
The trends and size of influencer marketing is gaining a higher legitimacy in online campaigns. This is an opportunity but at the same time a big challenge. We can promote our brands leveraging on the followership of an influencer but need to be careful when doing so. If we do not measure our strategy, we can help Instagram influencers become the new commercial intruders in people's social media.
Here are some key elements to take into account when designing an influencer marketing strategy on Instagram:
Find someone who shares and can reflect the values of your company
Golden rule in brand endorsement! A wrong profile=an ineffective delivered message20. Selecting an endorser that reflects expertise in an area can increase the reliability of the posts on Instagram. You also need to make sure the influencer fits with the profile of someone that would like and use your brand. The endorser's attitude towards the brand can better transfer positive beliefs of the endorsed product18.
Numbers are important, of course, but credibility is vital
The number of followers on Instagram is determinant in identifying if someone is an influencer or not. A big audience increases the reach of the commercial message through brand related electronic word-of-mouth21. However, the authenticity and credibility of an influencer can be negatively affected if they have a big followership but don't follow many accounts themselves. A large difference in the followers/followees ratio can lead to the conclusion that the influencer is mainly aiming for commercial collaborations, which can reflect less authenticity in their Instagram profile16.
Be creative and know what and when to post
Instagram is an image-sharing app and people like to see nice pictures and videos. It is also important that the influencer feature in the picture with your product. Images with faces receive 38% more likes22. Pictures have more engagement than videos and the best time to post is in the weekdays23.
Try to make posts look as organic as possible
Posts should seem natural to the personality of the influencer and be able to mix with their original content. Organic posts receive 9% more likes than sponsored content in influencer's accounts on Instagram24. Brand-related user generated content (UCG) posted by a celebrity generate a less positive attitude towards the brand when compared to organic content posted by a friend21 25. We could say that Instagram influencers are in a status in between being a friend and being a celebrity. This could lead to a better response from the audience when compared to celebrities, who have been related to marketing purposes for decades.
Make sure all posts use the sponsored content tag.
It is true that we do not want post to look strictly commercial, but we have to be honest. There has to be clarity in the relationship between the company and the influencer. The sub-header that reads "Paid partnership with" was added by Instagram in June as a measurement to give transparency to commercial partnerships between brands and influencers. According to a MediaKix26 report, by May this year 93% of influencers in Instagram failed in clarifying the sponsorship of a post with the hashtags #ad or #sponsored.
Review the frequency of the posts related to your brand on Instagram. We do not want influencers to become the new commercial intruders in social media. The excess of sponsored content in an influencer's Instagram profile might affect their and your brand's credibility.
References:
Weinberg B. and Pehlivan E., 'Social spending: Managing the social media mix', vol 54, no. 3, 2011, pp. 275-282.
Hennig-Thurau, T., Hofacker, C.F. and Bloching, B., 'Marketing the Pinball Way: Understanding How Social Media Change the Generation of Value for Consumers and Companies', Journal of Interactive Marketing, vol. 27, 2013, pp. 237-241.
Fournier, S. and Avery, J. 'The Uninvited brand', Business Horizons, vol. 54, 2011, pp. 193-207.
@GoPro, Photo of the Day: Backflips for #breakfast…, [Instagram post], 2017, https://www.instagram.com/p/Bbr1SY7FayI/?taken-by=gopro, (accessed 20 November 2017).
Kelly, L., Kerr G. and Drennan J., 'Try Hard: Attitudes to Advertising in Online Social Networks', Proceedings of the Australia and New Zealand Marketing Academy Conference 2009
PageFair, The state of the blocked web: 2017 Global Adblock Report, [website], 2017, https://pagefair.com/downloads/2017/01/PageFair-2017-Adblock-Report.pdf, (accessed 17 November 2017).
Nielsen Norman Group, The Most Hated Online Advertising Techniques, [website], 2017, https://www.nngroup.com/articles/most-hated-advertising-techniques/, (accessed 17 November 2017).
Luna-Nevarez C and Torres I. Consumer Attitudes Toward Social Network Advertising, Journal of Current Issues & Research in Advertising, vol. 36, no. 1, pp. 1-19.
Statista, Instagram: number of monthly active users 2013-2017, [website], 2017, https://www.statista.com/statistics/253577/number-of-monthly-active-instagram-users/, (accessed 18 November 2017).
Instagram, Stand Out with Instagram, [website], 2017, https://business.instagram.com/getting-started, (accessed 19 November 2017).
Ciaccia, C., 'Will Too Many Ads Drive Away Instagram Users?', The Street, https://www.thestreet.com/story/13468336/1/will-too-many-ads-drive-away-instagram-users.html, (accessed 16 November 2017).
@Michelletakeia1, Pioneertown, you're the cutest…, [Instagram post], 2017, https://www.instagram.com/p/BaKUo-yF5Gs/?taken-by=michelletakeaim, (accessed 20 November 2017).
@Alanxelmundo, Ya vieron los dos primeros videos de #AxmEslovenia?…, [Instagram post], 2017, https://www.instagram.com/p/BaT7oaFHkk6/?taken-by=alanxelmundo, (accessed 20 November 2017).
@Shorfromthestreet, This @weekday_stores coat has been a life saver in the cold this week, [Instagram post], 2017, https://www.instagram.com/p/BbxTCb3l_DB/?taken-by=shotfromthestreet, (accessed 20 November 2017).
@Jacimariesmith, Favorite part of my job is getting to share amazing brands…, [Instagram post], 2017, https://www.instagram.com/p/BbDfWAhDx5G/?taken-by=jacimariesmith, (accessed 20 November 2017).
De Veirman M., Cauberghe V. and L. Hudders L. 'Marketing through Instagram influencers: the impact of number of followers and product divergence on brand attitude', International Journal of Advertising, vol. 36, no. 5, 2107, pp. 798-828.
Mediakikx, Instagram Influencer Marketing Is a $1 Billion Dollar Industry, [website], 2017, http://mediakix.com/2017/03/instagram-influencer-marketing-industry-size-how-big/#gs.Zf5qhU0, (accessed 14 November 2017).
Kapitan S. and Silvera D., 'From digital media influencers to celebrity endorsers: attributions drive endorser effectiveness', Marketing Letters, vol. 27, no. 3, 2015, pp. 553-567.
Augure , State of Influencer Engagement 2015, [website], 2017, https://www.launchmetrics.com/resources/whitepapers/the-state-of-influencer-engagement-2015, (accessed 20 November 2017).
Erdogan, B.Z., 'Celebrity endorsement: a literature review', Journal of Marketing Management, vol. 15, no. 4, 1999, pp. 291-314.
Kim M. and Lee M., Brand-related user-generated content on social media: the roles of source and sponsorship, Internet Research, vol. 27, no. 5, 2017, pp. 1085-1103.
Social Media Today, Why Your Business Needs to Use Instagram in 2017, [website], 2017, https://www.socialmediatoday.com/social-business/why-your-business-needs-use-instagram-2017-infographic, (accessed 20 November 2017).
Osman, M., '18 Instagram Stats Every Marketer Should Know for 2017', Sprout Social, [website], 2017, https://sproutsocial.com/insights/instagram-stats/, (accessed 20 November 2017).
Fractil, How Effective Is #Sponsored Content on Instagram?, [website], 2017, http://www.frac.tl/marketing-research/organic-vs-sponsored-instagram-posts/, (accessed 14 November 2017).
Nielsen, 'Global Trust in Advertising Report', Nielsen, [website], 2015, https://www.nielsen.com/content/dam/nielsenglobal/apac/docs/reports/2015/nielsen-global-trust-in-advertising-report-september-2015.pdf, (accessed 20 November 2017)
MediaKix, Are Celebrities Following FTC Guidelines, [website], 2015, Mediakix http://mediakix.com/2017/05/celebrity-social-media-endorsements-violate-ftc-instagram/#gs.jByiPB0, (accessed 19 November 2017).
Like this post? You'll find more marketing insights in my new book: International Brand Strategy: A guide to achieving global brand growth, now available from booksellers globally. Order your copy here.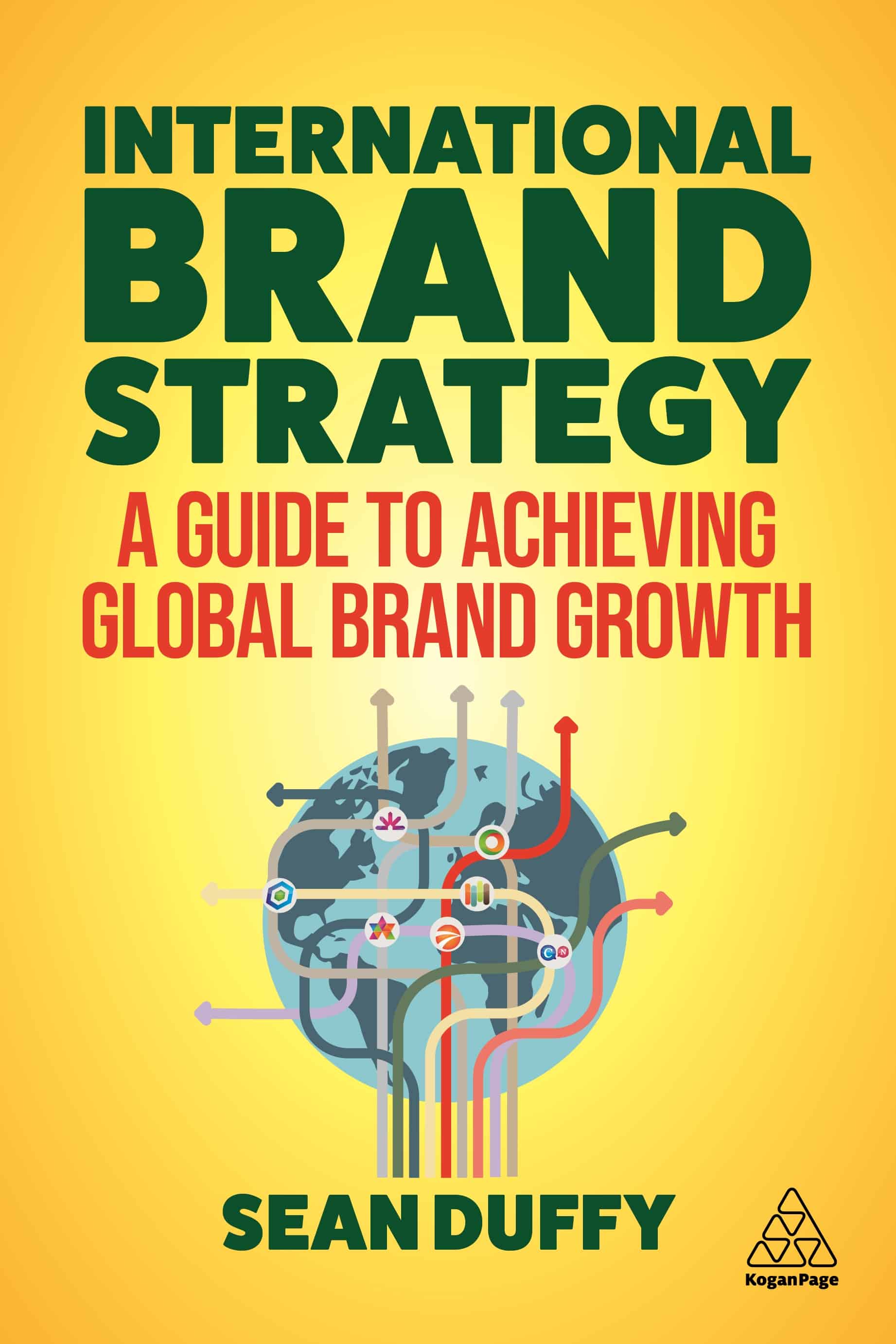 Order Your Copy
Students from the International Marketing and Brand Management program at Lund University are the contributing authors for the BrandBase blog.