Faking the Funk: Avoiding Fake Followers
Brands working with influencers has become extremely popular phenomena, but do companies really know who are these "influencers"?...
24 Apr 2019
2041 Views
Written by Cristina González Bustillo
We all use social media regularly, every day, several times. But are we aware of the advantages that they provide us with?
Social Media update
Since the rise of Web 2.0 apps, Social Media users have not only access to information but also, to create and share content. Consumer can have all the information about brands the need to, and from different platforms and sources. (Labrecque et al, 2013).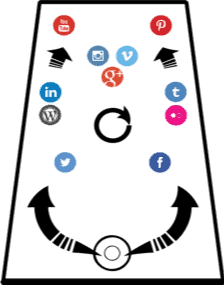 If we compare Social Media nowadays with Pinball:
marketing instruments, such as social media, are the balls
potential consumers are the bumpers and kickers
We can see how users have the opportunity to share their opinion, emotions and feeling with others (bumpers) using social media as a tool, (balls). Consumers have now the power, and brands have to adapt to this. (Hennig-Thurau et al,2013).
The rise of technology allows these consumers to use different devices and platforms to create and share. But, what do they want to create?
Virtual self

The virtual world, the place where users can create their own persona, their virtual persona. In social media platforms, we can freely share content, connect with people, share interests, opinion, and a large etcetera. Creating our extended self, that can be seen we want to and by everyone we want to. (Belk, 2013)
User-generated content (UGC)

Even though there are many social media users that prefer to consume content instead of creating it, user generated content is increasing in popularity. Not only websites or blogs, but also YouTube channels or Instagram accounts are created in order to share content. (Dijk, 2012)
We, I include myself, as social media users, create our virtual identity and post, and we also consume each other profiles, either personal or companies'. And some of those personal accounts are extremely liked.
The more followers a profile has, the more likely it is to be followed. The number of followers will position this profile or person as an influencer, in the middle of his or her network, since it can reach a wider variety of users. Not only the quality of the content is important, or what he or she says but also personality wise. So, how does an influencer need to be in order to be followed? Friendly, approachable, authentic. Like someone you can trust, rely on and ask for advice (Kietzmann, 2011).
Influencers post pictures and videos, share content, express their opinion, and we believe it. But what if this is not real?
Influencer phenomena
Who does not follow any brand or influencer on social media? Exactly. We all do it. And companies are aware of it.
What does social media partnerships offer to a brand?
Increases sales and brand awareness. Influencers suggest and promote the brand products, using advantages for the users such us personalise discounts. Which helps the influencer to engage his or her followers. Win-win situation for both.
Improve online presence of the company and its image on social media.
Gives the user the opportunity to interact. Users can share content, contact the company and participate in promotions or giveaways. Also, they can share their opinion towards the brand and give a useful feedback.
What should the company do while looking for an influencer to work with? As with the corporate values, the mission and the culture of the company (internal influencers), everything must be in line, and external influencers should be in the same line too. (Felix et al, 2017)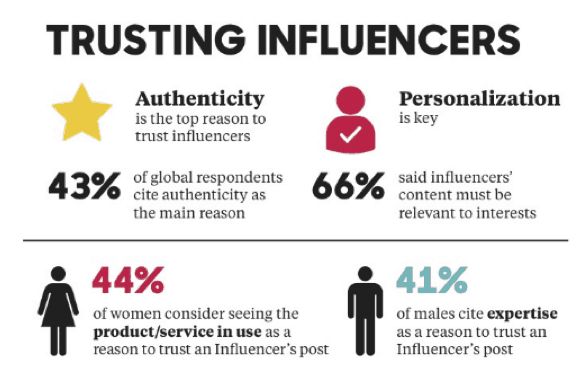 Why companies chose a specific influencer? Because of its authenticity and its personalization.
More than 72% of social media users follow an influencer.
If the profile shows the same internal values as the company it will be a match. Influencers are trust worth. Both for their followers and for brands.
They are trusted, they are followed, companies want to partner up with them. But what if they are not real?
Fake followers
During the last few years, social media users have started to lost trust in platforms. This fact directly impacts companies that use social media to promote their products and their brand. But why is this happening?
All companies are running quickly into influencers. They checked their platforms, their account and their feed. However, they should also look closer into their followers, because they might nor even exist.
| | | |
| --- | --- | --- |
| Rank | Advertiser | %Fake followers |
| 1 | Ritz-Carlton | 78% |
| 2 | Aquaphor | 52% |
| 3 | L'Occitane | 39% |
| 4 | Pampers | 32% |
| 5 | DSW | 29% |
| 6 | Crocs | 25% |
| 7 | Lulus | 22% |
| 8 | Neiman Marcus | 22% |
| 9 | Magnus Ice Cream | 20% |
| 10 | Olay | 19% |
This last spring, March 2018, the list of the top 10 companies who have worked with intagram influencers with the most fake followers was published.
Extremely well-known companies appear in this list.
The luxury hotel brand Ritz-Carlton on the top. 78% of the influencers they work with have fake followers, also known as bots. Therefore, they work with fake influencers too. (AdAge, 2018)
These non-real influencers are just faking the funk; making promises to companies that they can not achieve.
Real followers and social media users shouldn't trust companies and their partnership anymore. There's no guarantee that they are real, that what they share, create and post is real. There is no reason to trust these brands and their collaborations.
As we have seen before, social media platform and partnerships with influencers can provide the company a better image online and brand awareness. But by using this type of influencers, fake ones, they are getting just the opposite. They are now seeing as a fraud.
How to avoid fraud
Despite some companies' fraud in online platforms and have lost all their reputation, there are brands who have success on their journey while working with influencers.
How? Now we will see what to do in order to attain it.
Reputation. When risk is involved in using social media, such as in the case of using fake followers, reputation becomes involved too.
As the Olapic (2017) study shows, social media users trust influencers, and what the value the most is their authenticity. If they are not real, ergo authentic, they can lose followers and not be influencers anymore. And just like a wheel, brands who worked with them won't be trusted either.
In case you want to be sure that you are not going to partner up with a fake profile, there are already some websites that can recognise if an account has bots or real followers.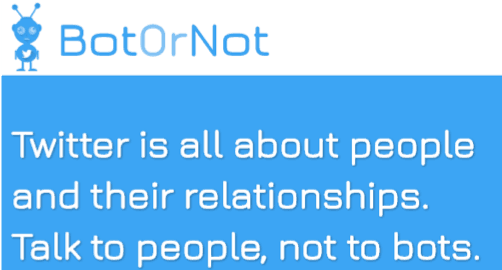 For Twitter accounts, you can use Bot or Not. A website that analyse profiles, in order to avoid fake users.
"The most important value for the brand is right people to work for. The same rule functions in Twitter. Real people will become your powerful tool for your business grows." (BotOrNot.com)
Look after networks. When creating a connection with influencers, brand's goal is to reach potential customers. Consumer-brand connection is extremely valuable for the company, since customers have opinion, and share it. Not only the positive, but also negatives ones. Use social media platforms as a tool to impact customers, and they will have a better attitude towards the brand. (Glenser et al, 2013).
Quality of content. Not every user generated content is valuable, and excess of information can provoke rejection in the reader. Quality is not a synonym of quantity. Select the appropriate and relevant information that you want to post or share with your influencer, being clear and concise. Post carefully both audio-visual and written content, a combination of these can catch easily the attention of the followers. (Dijk, 2012)
Identity. The influencer's personality is extremely important, as mentioned before if must be in line with the brand values. Identifying the suitable influencer for the brand is part of the relationship management of the company. Using social media in this process allows the company to manage the brand and the customer at the same time (Glenser et al, 2013).
Also, what the influencer shares about the brand should be in line, so every part of the collaboration should be in line. If this is properly done, followers would fit too with the value of the company, therefore, they would be potential customers. As a result, the human brand, influencer, can become synonymous with the brand (Khamis et al, 2017).
Last but not least, never forget to double-check influencers. And their real followers.
References
AdAge.com (2018). Study of influencer spenders finds big names, lots of fake followers. [online] Available at: https://adage.com/article/digital/study-influencer-spenders-finds-big-names-fake-followers/313223/. [Accessed 25 Nov. 2017]
Belk, R. (2013). Extended Self in a Digital World. Journal of consumer research. Vol 2013, no. 40, Issue 3, pp 477-500.
BotOrNot.com (2018). [website] Available at: http://botornot.co/. [Accessed 25 Nov. 2017]
Dijk. J. (2012). The Network Society. London: SAGE Publications.
Deighton. J., and Kornfeld. L. (2009). Interactivity's Unanticipated Consequences for Marketers and Marketing. Journal of Interactive Marketing. Vol 2009, no. 23, pp. 4-10.
Felix. R., Rauschnabel. A.P., and Hinsch. C. (2017). Elements of strategic social media marketing: A holistic framework. Journal of Business Research. Vol 2017, no. 70, pp 118-126.
Gensler. S., Völckner. F., Liu-Thompkins. Y., and Wiertz. C. (2013). Managing Brands in the Social Media Environment. Journal of Interactive Marketing. Vol 2013, no. 27, Issue 4, pp 242-256.
Hennig-Thurau. T., Hofacker. C.F, and Bloching. B. (2013) Marketing the Pinball Way: Understanding How Social Media Change the Generation of Value for Consumers and Companies. Journal of Interactive Marketing. Vol 2013, no.27, Issue 4, pp 237-241.
Khamis. S., Ang. L., and Welling. R. (2017) Self-branding, 'micro-celebrity' and the rise of Social Media Influencers. Celebrity Studies. Vol 2016, no. 8, Issue2, pp191-208.
Kietzmann. J.H, Hermkens. K., McCarthy. I.P., and Silvestre. (2011). B.S. Social media? Get serious! Understanding the functional building blocks of social media. Business Horizons. Vol 2011, no. 54, Issue 3, pp 241-251.
Labrecque. L.I., Esche. J., Mathwick. C., Novak. T.P., and Hofacker. C.F. (2013) Consumer Power: Evolution in the Digital Age. Journal of Interactive Marketing. Vol 2013, no. 27, Issue 4, pp 257-269.
Olapic.com. (2017). Why consumers follow, listen to, and trust influencers. [online] Available at: http://www.olapic.com/resources/consumers-follow-listen-trust-influencers_article/. [Accessed 24 Nov. 2018]
Figures Reference:
Figure 1. Social Media in a Pinball environment. [online] Available at: [Accessed 27 Nov. 2018]https://daniellegeva.com/2013/05/08/social-media-pinball-machine/
Figure 2. Trusting influencers study. [online] Available at: http://www.olapic.com/resources/consumers-follow-listen-trust-influencers_article/. [Accessed 24 Nov. 2018]
Figure 3. Top 10 companies with Fake Followers. [online] Available at: https://adage.com/article/digital/study-influencer-spenders-finds-big-names-fake-followers/313223/ [Accessed 25 Nov. 2018]
Figure 4. BotOrNot. [online] Available at: http://botornot.co/ [Accessed 25 Nov. 2018]
Like this post? You'll find more marketing insights in my new book: International Brand Strategy: A guide to achieving global brand growth, now available from booksellers globally. Order your copy here.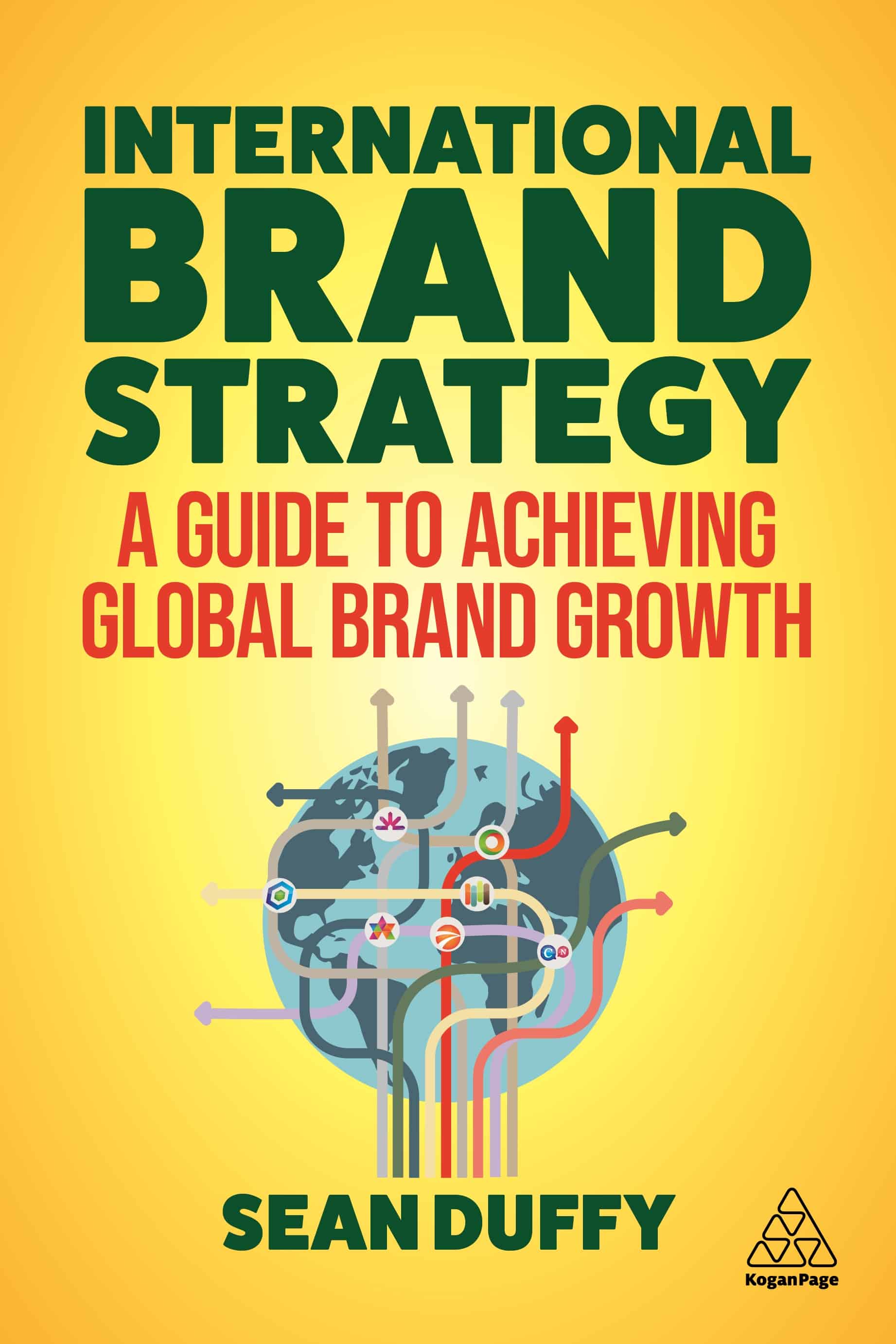 Order Your Copy
Students from the International Marketing and Brand Management program at Lund University are the contributing authors for the BrandBase blog.