Augmented Reality In Marketing – 4 Ways To Promote Your Business
Learn what AR is, why it is not only a marketing fad and how to make your promotional efforts stand out through this emergent technology...
28 Aug 2019
3920 Views
Written by Daria Gîrju
Learn what augmented reality is, why it is not only a marketing fad and how you can make your promotional efforts stand out through this emergent technology.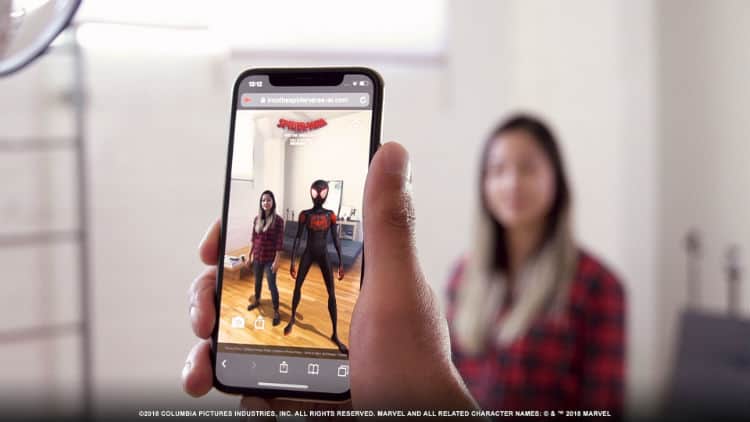 Gone are the days of direct marketing and telemarketing. Instead, we now talk about social media marketing, programmatic ads, remarketing and immersive brand experiences. Consumers are subjected to the law of the limits to attention, which means that the more content is generated, the less likely it is for it to reach the target audience (van Dijk, 2012). This implies that in today's world, marketers are always on the lookout for new means to catch the attention of consumers who, under the pressure of information overload and empowered by the Internet, are becoming increasingly harder to reach and to impress. The newest trend that promises to make you stand out of both the online and offline informational clutter? Augmented reality, or AR in short.
What is AR?
Often times, less technologically-savvy people have a hard time differentiating "augmented reality" from "virtual reality", two concepts that are closely interrelated. Both technologies are currently enjoying a surge in popularity from the general public, in addition to the keen interest they have been receiving from researchers in multiple fields such as computer science, engineering, medicine, education, gaming, advertising and others (Cipresso, Giglioli, Raya and Riva, 2018). On the one hand, virtual reality refers to the technology which can transport its user to 3D computer-generated environments leading to a fully immersive, interactive and multisensory experience. VR has recently become more popular in gaming thanks to the increased availability of VR devices such as Oculus Rift and HTC Vive (Cipresso et al., 2018).
On the other hand, augmented reality is different from VR in the sense that digital elements such as images, information or characters are overlaid on real physical environments and can also interact with these environments in real time (Javornik, 2016). Additionally, you don't need a futuristic-looking helmet to experience AR as many smartphones nowadays support this technology. To best illustrate how augmented reality works, a recent example of a successful application that implements augmented reality is the mobile-game-turned-global-craze, Pokémon GO. The game uses AR technology to superimpose Pokémon characters on the video recorded by the smartphone's camera, allowing the user to catch Pokémons in real time, right in his or her own backyard (Bastow, 2016).
You might think: "What does a video game have to do with marketing?". The very same technology can be used to make creative marketing campaigns that can boost your brand's awareness or can improve the quality of your customer's journey. For example, a study done on the real estate market shows that AR can enhance the purchase experience because it helps the consumer get a better understanding about the product or service before even experiencing it. More specifically, in high involvement decisions, such as buying a house, the use of AR or VR technologies could reduce the time spent on making the decision to purchase (Sihi, 2018). Read on to find out the four ways in which you can use augmented reality to differentiate yourself from your competition:
1. Design Your Own AR Camera Filters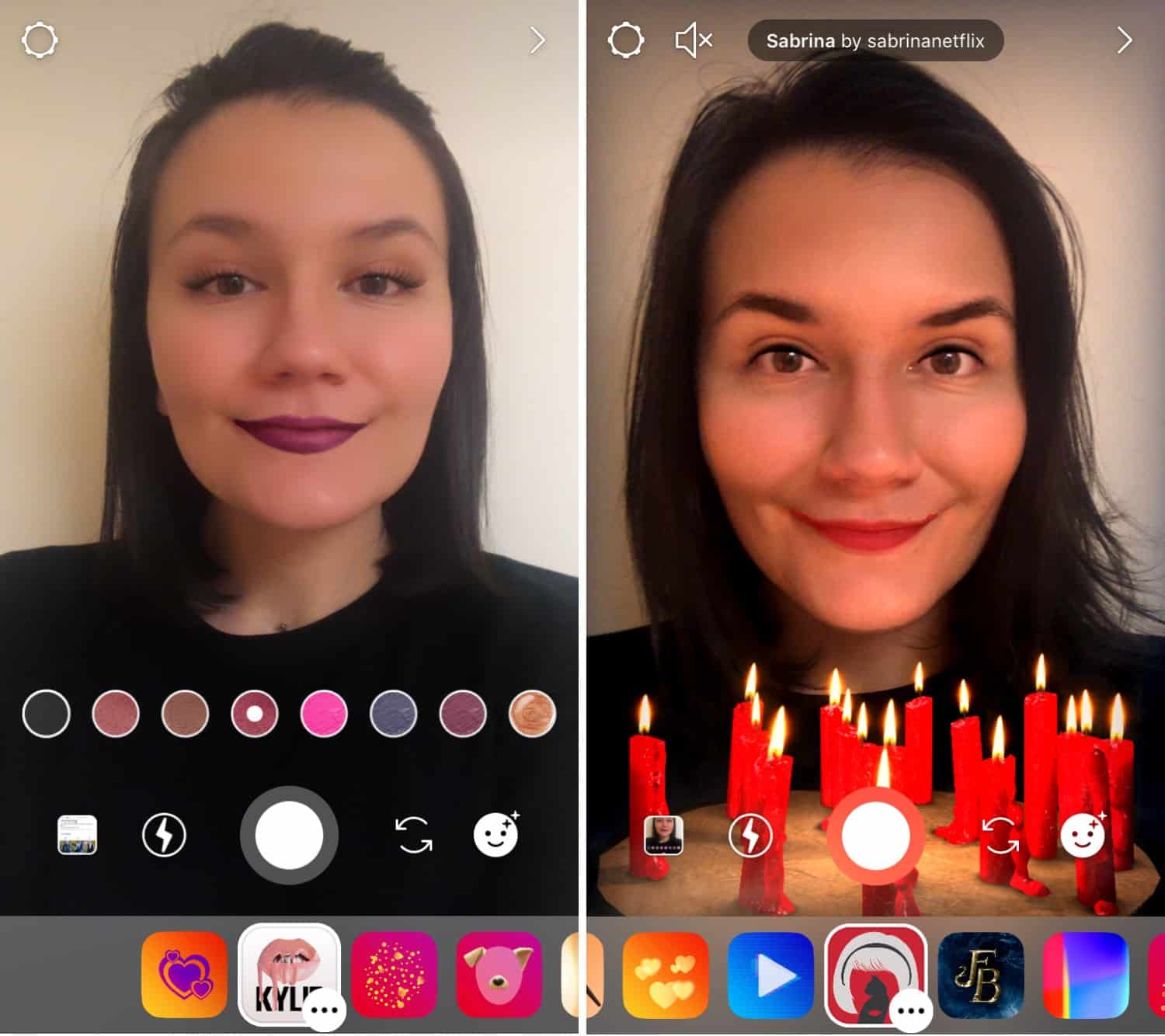 Snapchat's most popular feature is that it enables the users to modify their faces, as well as their surrounding environments, through the use of augmented reality camera filters. After mimicking its ephemeral messaging function, both Instagram and Facebook are following yet again in Snapchat's footsteps by introducing their own AR filters for Instagram Stories and Facebook Stories.
In the post-internet era, the branding focus is shifting to creating conversations, especially on social networks (Christodoulides, 2009). This is why brands are now turning to these platforms to create buzz and brand awareness around their products by allowing customers to play with their customized augmented reality filter. One example is Kylie Cosmetics, which have designed their own AR filter on Instagram Stories to promote their new lipstick line. You can try on various lipstick shades, which not only brings awareness to the brand, but also brings the you closer to the purchase decision. You take a picture, post it on your Instagram Stories and other friends can comment how good that shade looks on you, thus starting a conversation about the brand.
What's more, anyone can now create their own filters as both Snapchat (Lens Studio) and Facebook (Spark AR Studio) have released free software for designing such augmented reality experiences. This means that it will become increasingly easier and cheaper to promote your business using AR filters, which makes now the perfect time to start thinking about adopting augmented reality as part of your online marketing strategy, before it becomes mainstream.
2. Set Up A Virtual Fitting Room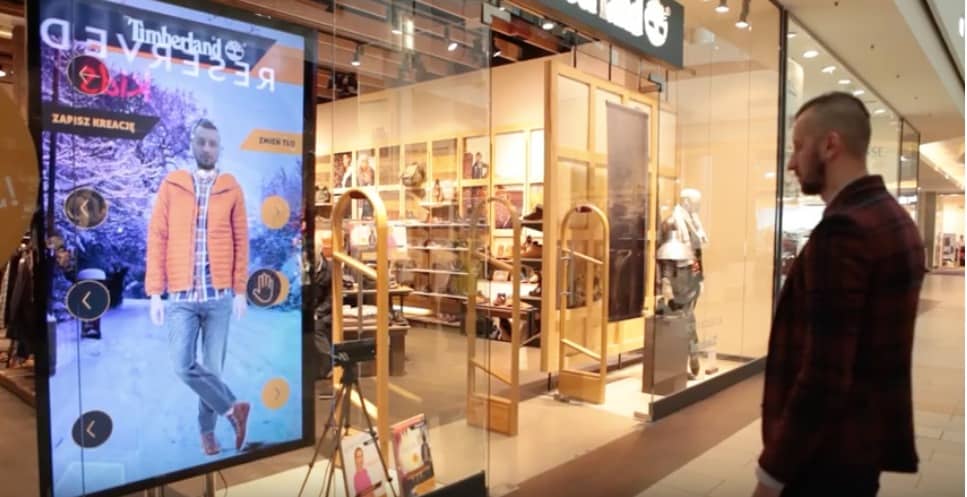 What if you could try on clothes without the hassle of turning the store upside-down to find the right size and undressing in a small and poorly-lit fitting room? Yet again, augmented reality comes to the rescue in the form of "magic mirrors". These devices, which are essentially mirror-sized screens with a camera attached to them, have the power to overlay clothes or makeup on you, saving your time and energy (Scholz and Smith, 2016).
When they are placed at the storefront, they can catch the attention of passers-by and even convince them to go in and check out the products in real life. In this way, the AR-powered mirror generates customer engagement and brand exposure (Scholz and Smith, 2016). For example, in 2014 Timberland introduced an augmented reality screen in the window of one of its stores in Poland to draw the attention of shoppers who could try on the brand's clothes without even entering the store (Sheehan, 2018).
Alternatively, the mirrors can be placed inside the store, in this way saving the customers' time and moving them closer to the purchase decision. One example is the cosmetics brand Charlotte Tilbury who installed a makeup mirror powered by augmented reality technology in its Westfield London Mall shop where the clients could try on various looks (Sheehan, 2018).
3. Create Interactive Catalogues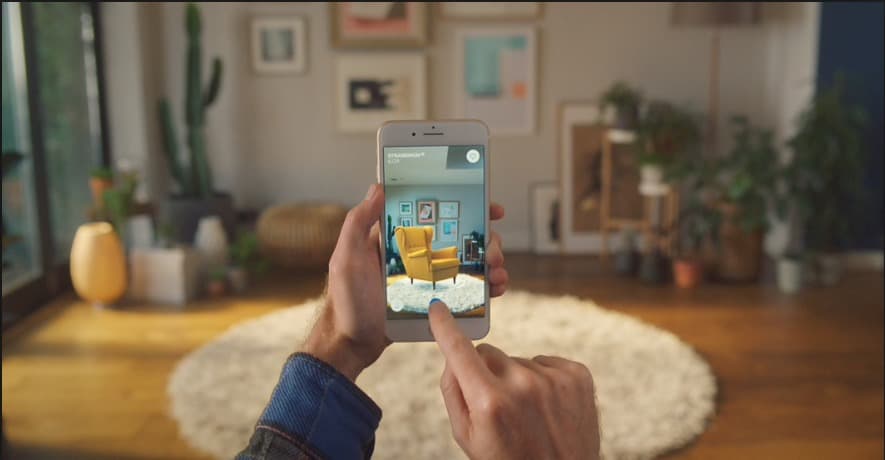 How could you know if that new couch will fit next to the bookcase and, at the same time, match the colour of the walls in your living room? Turns out that augmented reality can provide an answer to such questions, too.
An augmented reality smartphone app can help you visualize those larger-sized products right in the comfort of your own home. The experiential value generated through such product simulations has persuasive effects on the consumer, increasing his or her trust in online shopping and making them more likely to buy something (Huang and Hsu Liu, 2014). An excellent example is IKEA Place, a custom app which allows the clients to digitally superimpose furniture from the brand's catalogue right in their homes. In this way, IKEA creates an immersive customer experience and diminishes any insecurities the clients might have regarding the purchase decision (Scholz and Smith, 2015).
4. Bring Your Brand To Life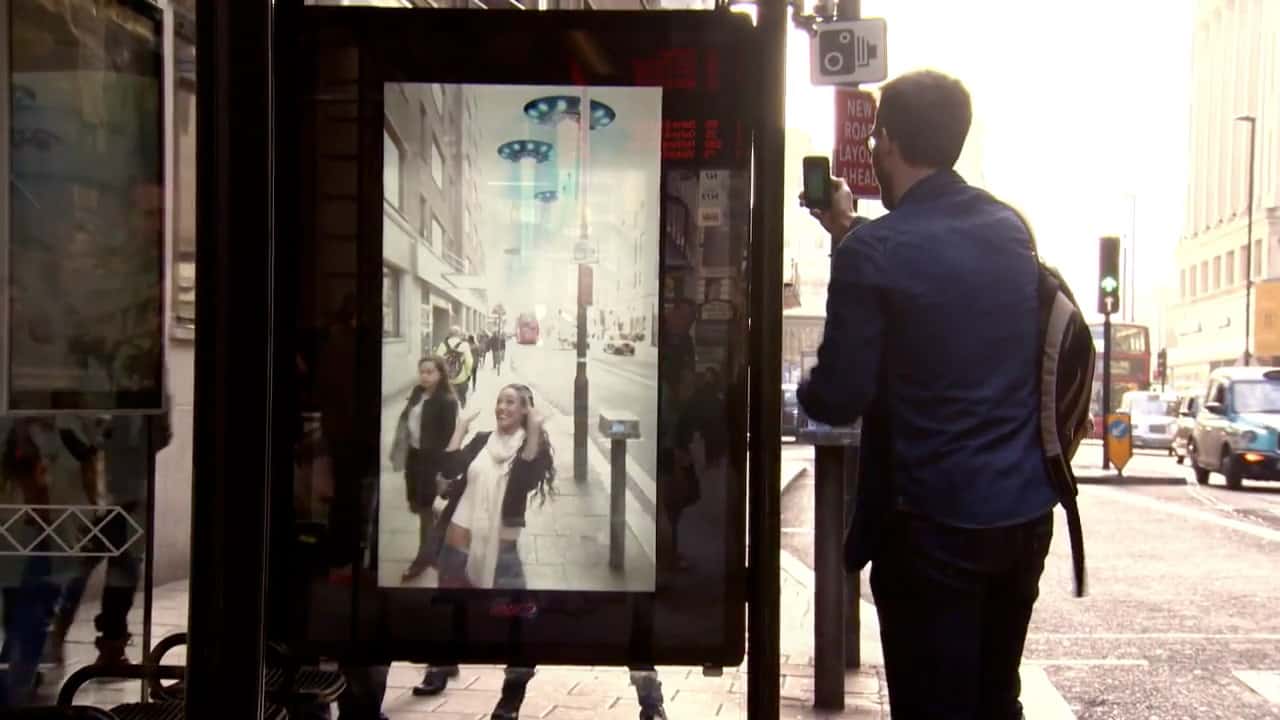 Another ingenious way you can promote your brand is by popping up in a place where people least expect it. The bogus window uses augmented reality and outdoor advertising to bring your brand to life in public spaces such as bus stations or on buildings (Scholz and Smith, 2015). Perhaps the most successful campaign using this type of AR is Pepsi Max's "Unbelievable". By looking through the fake bus shelter window, the people could see a flying UFO, a menacing robot or even a tiger walking down the street, making an otherwise boring experience into something exciting. The campaign went viral, garnering more than 8 million views and a 35% year over year increase in sales for the month when the campaign was live (Grand Visual, n.d.). Their success proves that, if done right, augmented reality is not only a marketing gimmick, but a fantastic promotional tool.
The Future Is AR
In 2015, it was estimated that by 2020 AR will become a $120 billion business (Gaudiosi, 2015) and that is no wonder. With tech giants such as Apple, Snapchat and Facebook backing up augmented reality by providing AR developer software like ARKit for free, it is only a matter of time until this technology becomes mainstream. How will you augment your business?
To get a flavor of how you can promote an upcoming movie by using augmented reality technology in a fun and creative way, visit "Spider-Man: Into The Spider-Verse" Movie's web page on your mobile device and get inspired!



---
References
Bastow, C. (2016). 'There's a Rattata in my bathroom': how Pokémon Go can take over your life.  The Guardian. Available Online: https://www.theguardian.com/technology/2016/jul/09/pokemon-go-take-over-your-life-game-augmented-reality-nintendo-niantic-labs [Accessed 27 November 2018].
Christodoulides, G. (2009). Branding in the post-internet era. Marketing Theory, vol. 9, no. 1, pp.141-144.
Cipresso, P., Giglioli, I., Raya, M. and Riva, G. (2018). The Past, Present, and Future of Virtual and Augmented Reality Research: A Network and Cluster Analysis of the Literature. Frontiers in Psychology, vol. 9.
Gaudiosi, J. (2015). How augmented reality and virtual reality will generate $150 billion in revenue by 2020. Fortune. Available Online: http://fortune.com/2015/04/25/augmented-reality-virtual-reality/ [Accessed 28 November 2018].
Huang, T. and Hsu Liu, F. (2014). Formation of augmented-reality interactive technology's persuasive effects from the perspective of experiential value. Internet Research, vol. 24, no. 1, pp.82-109.
Javornik, A. (2016). Augmented reality: Research agenda for studying the impact of its media characteristics on consumer behaviour. Journal of Retailing and Consumer Services, vol. 30, pp.252-261.
Grand Visual. (n.d). Pepsi Unbelievable Bus Shelter Case Study. Available Online: https://grandvisual.com/work/pepsi-unbelievable-bus-shelter/ [Accessed 28 November 2018].
Scholz, J. and Smith, A. (2016). Augmented reality: Designing immersive experiences that maximize consumer engagement. Business Horizons, vol. 59, no. 2, pp.149-161.
Sheehan, A. (2018). How These Retailers Use Augmented Reality to Enhance the Customer Experience. Available Online: https://www.shopify.com/retail/how-these-retailers-are-using-augmented-reality-to-enhance-the-customer-experience [Accessed 27 November 2018].
van Dijk, J. (2012). The Network Society, London: Sage Publications
Sihi, D. (2018). Home sweet virtual home: The use of virtual and augmented reality technologies in high involvement purchase decisions. Journal of Research in Interactive Marketing, vol. 12, no. 4, pp.398-417.
Like this post? You'll find more marketing insights in my new book: International Brand Strategy: A guide to achieving global brand growth, now available from booksellers globally. Order your copy here.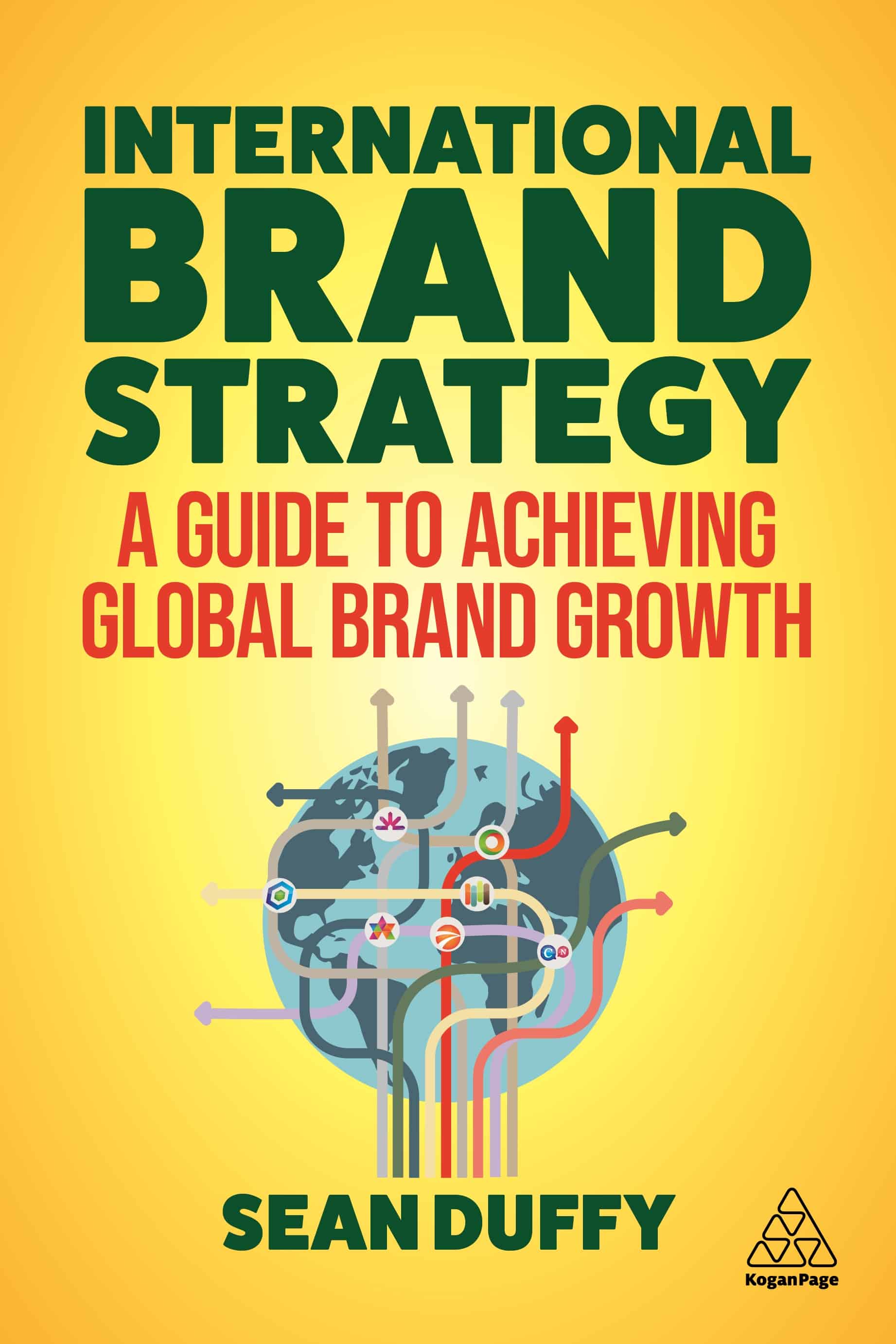 Order Your Copy
Students from the International Marketing and Brand Management program at Lund University are the contributing authors for the BrandBase blog.